You can finally stock up on your favorites for the year, whether it be for indulging at home, office, or distributing in your place of business. Refreshing peppermint filling covered in decadent dark Fazer chocolate is the perfect after-dinner refreshment. Fazer chocolate is made from fresh milk and high quality cocoa beans and is paired with cream made out of real peppermint for a rich, authentic taste. Originally created in 1961, this candy remains today Fazer's best-known premium product. You recognize the Fazermint design by its silver packaging with the green logo and instantly know it's quality.

Ingredients: sugar, cocoa mass, glucose syrup, cocoa butter, milk fat, dried skimmed milk, soy lecithin (emulsifier), natural flavor (peppermint oil), artificial flavor (vanillin). Contains: Milk, soy. Manufactured on equipment that processes tree nuts, wheat.
ITEM #: FAZ-24496
COUNTRY: Designed in Finland, Made in Finland
Price is for 3.0 kg (6.6 lb) box of Fazermint candy.
There are approximately 390 candies per box.
Please note: Only available for shipping within the United States.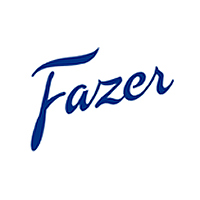 Considered a part of Finnish heritage, Fazer is a brand that most Finns have grown up with. Starting in 1891 as a small café in Helsinki by founder and Finland native Karl Fazer, Fazer has become one of the largest names in the Finnish food industry today. This brand is loved worldwide for ... More Fazer
100% Recommend this product
(
31
of 31 responses)
By Ben
Bartlesville, Oklahoma
Gazer Mints are the best!
March 14, 2023
Product received quickly and in good condition from Finn Style. Will order from them again.
By Janette
North Richland Hills, Texas
The Best Mint Chocolates
March 5, 2023
These are my all time favorite chocolates. and arrived in perfect condition. They are fresh and taste wonderful. I love giving them as gifts to people, as they are not often found in the US. I was very happy with this company's ordering process and delivery time.

By Deymian
Deming, Washington
High quality mints
January 16, 2023
I am a connoisseur of mints and the Fazemint chocolate creams are my number one choice. They are a perfect balance of creamy mint to chocolate.
I highly recommend these for yourself or as gift for someone special.
By John A.
Brandon, Mississippi
Excellence
October 24, 2022
Arrived in a short time after ordering..in perfect condition..packaging very good.
Pros
Will continue to order in the future..
Cons
Get the price down..let?s have some specials..,lol
Best ever PRICEY
March 24, 2022
Best quality chocolate and mint cream
PERIOD !!!

PRICEY

Quality doesn't come cheap !
Pros
Dark chocolate
Melts on your tongue
Perfect consistency mint cream
Not overly minty.
Best chocolate creams
December 20, 2021
Got them and they are almost all gone. These are the best
The Best!
December 13, 2021
I have been eating Fazermints for years. When the stores stopped carrying them, I found the large boxes at FinnStyle. The service has always been flawless. The mints are simply amazing. You must try them to understand the quality of the mint cream and chocolate. Sooo glad I found FinnStyle to supply my craving for Fazermint!
By Cathy
Dublin, California
Fantastic Mints
November 25, 2021
These creamy mints covered in premium dark chocolate are always fresh and delicious and always arrive in perfect condition.
Absolutely the cheapest for the amount, that I have ever found for this product. If you like mints, these are the cadillac of mints. Excellent!
order came fast and they are great and fresh.
Outstanding
December 2, 2020
In 1972 I lived in Finland for three months and Sweden for two. I got addicted to Fazer mints then, and got them whenever possible. Over six pound is a pandemic indulgence ,and I will share some...perhaps. Finn Style got them to me fast, fresh and flawlessly packed. I have never tasted anything close to these, and will increase my workouts accordingly. They are dark chocolate with liquid peppermint cream, and worth whatever they cost.
Pros
Fast, fresh delivery. As always from Finn Style, well packed, well packaged and prompt.
Delicious!
November 3, 2020
I bought Fazermints as a birthday present to myself for my 73rd birthday, I hadn't had Fazermints for years and remembered how much I had enjoyed them and I'm happy to say that they are as good as I remembered.
Delicious mint
October 28, 2020
Good turn around on the item. These are my favorite mints.
By Ernest S.
Vero Beach, FL
Simply the Best!
October 21, 2020
Love this product, dark chocolate with a delicious refreshing center.
Best quality year after year!!
December 15, 2019
Very fresh Fazermints shipped very quickly. Thanks for making these available! These top quality mints are the ONLY mints we buy . None can compare!! I put these in clear Christmas trees for gifts and hope to have enough to enjoy for at least a few months,
By Marti
San Francisco, CA
My favorite candy!
October 30, 2018
This has been my favorite candy for a long time. I can not find them in the stores that
used to carry them and am so glad that I can purchase them online. I buy them in bulk
and store them in the freezer so I always have a supply.

The mint is perfect, the chocolate is perfect, and the combination is wonderful.
Dark Chcolate and cool liquid mint
October 15, 2018
Love this huge box of mints - lasts me throughout the holiday season and beyond. Especially good if you keep them in the fridge. Dark chocolate becomes crisp and the cool lioquid minty center is yummy and refreshing. - It is my all time favorite chocolate mint!
Perfect candy to keep on hand
December 8, 2017
I originally bought a large box of the mints to have at home and bag some to give to friends and family for Christmas. They are the perfect combination of soft, sweet mint encased in dark chocolate. Having one is very satisfying for the sweet tooth. I think this will be in my candy dish from now on.
I purchased a second box I bought for the Finland 100 Gala in Minneaapolis. We had a large glass bowl filled with them on the dessert buffet table for the guests. They were a huge hit at the Gala.

Best mints ever!!!
December 8, 2017
These are by far the best mints around. I order them every Christmas and this year Finnstyle was the only company that could get them to me in time!! Thank you so much!!! Looooooovvveee these mints!!
Wonderful Iconic Finnish Fazer Chocolate Covered Mints
December 6, 2017
The candy I grew up with - so good! This large package rivals the price I was getting the mints at, but they have discontinued selling these. Happy to find a great deal on them here!
Pros
The price of this box is very good!
Fazer candy
November 11, 2017
Great for Finland 100 celebration. One for everyone.
The Best
November 6, 2017
Always fresh and delicious. Prompt delivery, great customer service!
My favorite candy
March 16, 2017
Good service, good fresh candy, good price and free shipping. What's not to like? I keep mine in the fridge and eat morning and evening with my coffee. Yum.
Razer International Creams bulk box
November 15, 2016
These are my absolute favorite candy! I have purchased several times from Finnstyle, and will definitely be back for more!
Favorite candy
October 30, 2016
Finn has the best price and I get the candy quick and fresh! Great service!
Pros
Quick service, fresh product
My favorite candy at a truly good price
May 15, 2016
My order was received promptly, even earlier than I expected. The chocolate was fresh and perfect despite being delivered to our warm Florida climate.
Intense chocolate and mint flavors
May 14, 2016
Fazermints are a combination of rich, dark chocolate and creamy mint. I'm not wild about chocolate the way many people are, but this chocolate's richness and intensity of flavor are delicious to me. The creamy and intense mint filling is the perfect complement to the chocolate. I'm hooked!
By Eric S.
Sheridan, Wyoming
A GREAT GIFT IDEA!
March 12, 2016
I've been buying Fazermints for years, initially for myself. Lately, I have been sending 6-pound boxes to friends and acquaintances as gifts. They are no longer available locally, but FinnStyle's packing and shipping is exemplary. The packages always arrive here in a week when ordered on the net.

Pros
Everybody loves Fazermints. They make great Christmas gifts -- especially for businesses who can share them with customers.
By Marlin S.
Salt Lake City, UTAH
Fazer mints
March 11, 2016
Fazermints are my very most favorite candy. I share them with all my friends and would recommend them to everyone.
By Carol
Castro Valley, California
Why Not Buy In Bulk
February 3, 2016
I bought the Fazermint Chocolate Creams Bulk Box and then bags of Fazer Marianne Mints & Fazer Marianne Toffee Mints
PUT them ALL in a bowl and mix them up!!
Perfect when friends and family visit.
I prefer mine chilled in the refrigerator OR mix them in my ice cream....yum yum !!!
Pros
Great customer service and follow-up on back orders.
Wonderful tasty delicate mints
Anne
from Merced, California asked:
October 18, 2020
My question is about shipping the Fazermint chocolates to California as the temperature is still quite warm. Any chance the candies would melt during transportation?
1 Answer
We ensure candy is delivered unmelted. If you have any issues upon receiving the shipment, please just let us know and we will make it right.
Submitted by:
Order Desk
on October 20, 2020