Fazermints are a refreshing peppermint filling covered in decadent dark Fazer chocolate is the perfect way to treat yourself or loved ones. Fazer Fazermint chocolate is made from fresh milk and high quality cocoa beans and is paired with cream made out of real peppermint for a rich, authentic taste. Originally created in 1961, Fazermint remains Fazer's best-known premium product. You recognize the Fazermint design by its silver packaging with the green logo and instantly know its quality. Ingredients: Sugar, cocoa mass, glucose syrup, cocoa butter, milk fat, dried skimmed milk, emulsifier (soya lecithin), flavourings (peppermint oil, vanillin), enzyme (invertase). Chocolate contains cocoa solids 47 % minimum. May contain traces of hazelnuts.


ITEM #: FAZ-11254
MATERIAL: 5.1 oz (144g)
COUNTRY: Designed in Finland, Made in Finland
Please note: Only available for shipping within the United States.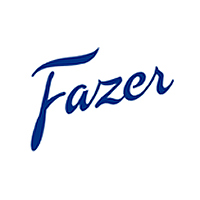 Considered a part of Finnish heritage, Fazer is a brand that most Finns have grown up with. Starting in 1891 as a small cafť in Helsinki by founder and Finland native Karl Fazer, Fazer has become one of the largest names in the Finnish food industry today. This brand is loved worldwide for ... More Fazer
97% Recommend this product
(
107
of 110 responses)
Remind me of the years I lived in Finland! Every bite is refreshing.
Pros
Will order more after the summer
These mints are wonderful. Easy to order, and shipping is very timely.
Good for mint lover
April 7, 2023
It has deep mint flavor with chocolate.

Fazermint Chocolate Creams
February 20, 2023
Delicious. Can't say no more than that.
By Kersten
Point Arena, California
No other mint chocolate lives up to it!
February 20, 2023
I was lucky enough to live in Finland between the ages of 3 and 6 and was spoiled by Fazer chocolates. When we moved back to the states I couldn't find a candy I liked as they all tasted artificial. I spent decades disappointed by chocolate mints that did not taste like the real thing to me. When I finally rediscovered Fazermint Chocolate Creams I was home.
Fazer mints
February 20, 2023
I ordered these for my sister, who loves them. We can't find them locally. They are wonderful, and have the best flavor of any chocolate mints I have had.
Fazermint Chocolate Creams
February 20, 2023
The best mint chocolate. I grew up on this candy. My sister always gave me a bag or box for Christmas. Now I ordered my own I have at least one piece everyday thank you so much '§Ôł'§Ôł'§Ôł
Pros
Just what you want in a chocolate mint. Not too sweet with the dark chocolate just enough for a treat
Frazier Mint Chocolates
February 17, 2023
They are the best and once again they arrived safely and quickly. Never disappointed with Finnstyle!
Outstanding!
January 30, 2023
Superb after dinner mint!
By Marianne
Southern California
Fazermint mint creams
January 12, 2023
A classic favorite our whole family longs for all year.
By William
Westminster, Ca.
wonderful
December 17, 2022
Tradition in our family when my dad was a kid in the 1920s. grandma would find somewhere 5 candies to put on the Christmas tree. They had no money for gifts in war torn Hungary but they would savor the chocolate covered mint creams as a gift from Saint Nicolas. Our family has remembered the hardships of old and still puts these candies on our Christmas Tree for a little over 100 years. Thank you for a wonderful product.
William S.
Delicious mints, will definitely buy again!!
Amazing!!
October 20, 2022
Fazermints are incredible! Beyond delicious! Arrived super fresh. So happy to have these treats on hand for the holidays!
By Finnishinaformerlife
Illinois
Melt in your moth deliciousness. My favorite.
By Annie
Belmont, Massachusetts
Elegant mints
March 20, 2022
These have to be the best mints ever! They are creamy with a thin dark chocolate covering. Perfect for after dinner or a late night pick-me-up. Lovely.
Delicious mints
February 14, 2022
Delicious dark chocolate mints to add to any order
MINT PERFECTION
February 1, 2022
The dark chocolate and creamy mint filling are perfect. I keep mine in the fridge and they'€™re addictive. I'€™m order more now.
Excellent gift!
December 27, 2021
I gave Fazermint Chocolate Cream Boxes to four families and they all enjoyed it is a wonderful gift!
What does this mean?
December 22, 2021
Fazer Mints are creamy, melt-in-your-mouth good with just a hint of delightful mint and dark chocolate. They are addictive!!

I even like the sophisticated silver wrappers!
Pros
Everything I mentioned in my comments.
Nothing else compares
December 7, 2021
Luscious dark chocolate. Smooth peppermint creme filling. Perfectly balanced. Best of its'€™ kind!
Pros
Fresh, individually wrapped
Cons
Tough to limit portion size!
Just enough mint
November 26, 2021
Great mint to serve after a Holiday ~ Christmas meal
Pros
Nice dark chocolate coating with a pleasant creamy minty inside
Very tasty! Hard to go wrong with the dark chocolate and mint combination.
By Andrea
Los Angeles, California
Best mints ever!!
February 23, 2021
I have been eating this candy since I was growing up. It was so nice to find it again. These are the best mint covered chocolate candies. Delightful to eat.
Fazermint review.
February 18, 2021
This chocolate was absolutely delicious! I highly recommend it.
By Bob B.
Norfolk, Virginia
Great Taste, Outrageous Shipping Cost
February 18, 2021
I have visited a Fazer plant in Finlandsnd it was fabulous. I got hooked on these tasty treats but it costs almost $10 for shipping.

Pros
Great product. Classy packaging. Crisp fresh taste.
Cons
Shipping costs don?t work
By Victoria
Gaithersburg, Maryland
Still wonderful
February 11, 2021
I first had these 43 years ago as an exchange student to Finland and they'€™re still as wonderful as they were all those years ago.
Pros
Not overly sweet
Pleasant mint taste
Best mints in the world
February 3, 2021
I bought five boxes and I gave one to my brother-in-law and my husband ate the rest of the four boxes my poor daughter never got any they're just as good as they were the first time I tasted them 40 years ago
Pros
Creamy and has an excellent dark chocolate coating
Very creamy
December 22, 2020
I placed my order 3 weeks ago. I don'€™t know why it took so long to get them but they came today. Many years one could find them in supermarkets. I haven'€™t enjoyed there mints in years. I was so excited to receive my order. I'€™ love them. A wonderful finish to any meal or a treat anytime.
Fazermints
December 19, 2020
Always delicious!
Terrific chocolate
December 17, 2020
Very good. Friends loved it.
Favorite chocolate!
December 14, 2020
This candy has been a tradition for our family at Christmas time every year since my now grown children have been little! We may live in the USA but our roots go back to Finland and we like to celebrate our heritage with the delicious candy! It melts in your mouth and you just can'€™t eat one!
Delicious candy
December 10, 2020
Fazer chocolates never disappoint.
Dark chocolate with luscious mint filling
December 1, 2020
The combo of the Fazer dark chocolate and the creamy, luscious mint filling is excellent! No other mint chocolate comes close to this goodness so no wonder it has become a family favorite for Christmas and birthdays!
Best chocolate ever!
November 5, 2020
Delicious!!
Love these!! My family fights over them!
Fazermints
October 19, 2020
Perfectly delicious!
By Karen
Cheyenne, Wyoming
Smooth dark chocolate with soft white mint filling. What'€™s not to like?
one of the best cream mints i have had. Would highly recommend, even though they are a little pricey.
Pros
Great taste. Nice presentation
By Eleanor
Washington, D.C.
Nothing like Fazermints. The best treat - perfect chocolate, delicious cream, and ideal for quenching a craving without too much sugar.
Fazermint peppermints
April 24, 2020
These little dark chocolate covered peppermint creams are so good! I ordered three boxes and hope to make them last a while.
By Cathy
Dublin, California
Fazermints
April 23, 2020
These are the creamiest and best mints you will ever have. The chocolate is also wonderful.
Cons
There are no cons to this product or Finnstyle
By Joyce
Bakersfield, California
BEST EVER CREAMY MINTS!
April 9, 2020
I used to get these from my retailer in a plastic container. They quit carrying them and
I finally found them again. There is nothing that compares to this quality chocolate with creamy mint.

So delicious!!! (maybe too delicious)
March 24, 2020
I just placed my third order for this season, Really fine candy.
Delicious
January 26, 2020
Well package and delicious product
My favorite chocolate, great price and quick shipping
December 12, 2019
Thank you so much for your quick shipping of this great product. This is my favorite melt in your mouth chocolate of all time. In years past I could find it everywhere now it is hard to find. Your price is the best anywhere.
By Carolyn
Dripping Springs, TX
Best chocolate!
December 10, 2019
This are the best. I will give them as Christmas gifts to everyone I know.
By Solveig
New Mexico, US.
Good for small hostess gift
November 30, 2019
My friends love these mints. They find them delightful. I give them as a small gifts for various occasions.
Pros
Attractive packaging. Good taste.
Cons
A little too sweet for my taste
We love Fazermints
February 9, 2019
Our family loves Fazermints. The dark chocolate outside is a wonderful contrast to the cool mint taste. The only reason we give them 4 stars is for the outside paper wrapper. It practically falls apart while unwrapping the candy.
Pros
High quality dark chocolate coating.
Cons
Paper wrapping is fragile and falls apart during unwrapping.
By Julie W.
San Francisco Bay Area
Frazermint ~ the creamy European treat!
January 27, 2019
I first tasted Frazermints on a trip to Finland in 1980, just before graduating from university. We were there to meet many, many relatives on the west coast, in Osterbotten. Tasting Frazermints again after all of these years reminded me just how much I loved the minty taste and creamy filling as we made our way via Silje or Viking line across the Sea of Bothnia to Helsinki so long ago. It was so wonderful to share this box of Frazermints with my two kids who have yet to visit Finland and Sweden with me.
By Nancy
Des Moines, Iowa
Fazermint Chocolate Creams Box
January 22, 2019
The Fazermint chocolates were as delicious as I remembered. The box is very decorative, and would make a nice gift.
Candy from heaven!!!!
January 20, 2019
Oh my goodness..... Never had these before and they are simply delicious. Melt in your mouth mint.

I could buy these by the barrel if I were a millionaire!!!!!! Every one out there, give them a try.
Delicious
December 30, 2018
The best mints I'€™ve had in a very long time, will definitely get more of these!
By Cleo
Grand Rapids, Michigan
Frazer mints
December 17, 2018
The mints arrived when promised and were fresh. I wish I could buy them locally.
By Sonja
Montreal, Quebec
The greatest tasting chocolate in the world
December 15, 2018
Finnish chocolate is always the best for those with Great taste in candy, or discerning Consumers with a European sensibility.
For non-chocolate eater
December 8, 2018
Not everyone loves chocolate, but the non-chocolate eater in our family can'€™t wait to have these lovely chocolate mints every Christmas'€"along with those who love chocolate!
By Debra L.
Indianapolis, in
I love this chocolate
December 4, 2018
If you like dark chocolate and mint this little candies are the right choice. I love to keep them around for the quick chocolate fix.
It's ok
November 14, 2018
I think this candy is ok. Didn't really enjoy the minty taste and it is way too sweet for me. But it is reasonably priced and it is good to try something different.
By Bruce
Chicago, Illinois
Fazer is the best!
October 31, 2018
Fazermint Chocolate Creams is a wonderful treat of the best chocolate with a mint cream surprise inside. Finnstyle has the best price for these Finnish Fazer Chocolates.
By June
Grand Rapids, Michigan
Unable to locate product
May 4, 2018
I have been searching for this product for sometime, no store in the Grand Rapids, Mich area carry it
Lovely Little Chocolate Mints
April 13, 2018
Good chocolate quality. Very fresh and creamy on the inside with a clean, natural, not-overly-sweet mint flavor.
Best MInts
February 17, 2018
I haven't found a mint that tops this one! Maybe more expensive ones equal the taste experience, but these are the best available for a very reasonable price. Why buy any others?
Pros
Melt in your mouth/great taste
Best chocolate covered mints!
January 26, 2018
My husband's favorite...hard to find in the US, but now we can order from FinnStyle!
Creamy chocolatey love
December 18, 2017
Have to order these every few months especially around Christmas.
Pros
Dark chocolate outside, mint cream inside
Great chocolate mints
December 3, 2017
I bought several boxes as gifts. They are very light, but very good!
Best candy ever
November 27, 2017
This is such a delicious dark chocolate with a smooth and creamy center that is just the right amount of mint. the combination of flavors is incredible.
By Joscelyn
Big Bear Lake, California
Fantastic
November 21, 2017
Fazermints are the best there are. They used to sell them at "Smart and Final" here in California, but for some reason have not had them on the shelves for quite a few years. i was so glad to find them at FinnStyle and can once again enjoy them.
Most delicious chocolate mint creams ever!
September 24, 2017
Every year around the holidays, if I place a Finnstyle order (and somehow I always do!), a box of these Fazermint chocolate creams is always part of my order. It's my holiday gift to me! :-) The bittersweet chocolate is high-quality and the mint cream is smooth and delicious. I don't eat a lot of candy these days, but I make an exception for these. In addition, they always arrive in perfect condition from Finnstyle.
This is Finland in a wrapper :)
December 23, 2016
I wanted to get something for my clients in the US and knowing that they have kids, I thought that chocolate would be a great option. FinnStyle's selection and prices are very reasonable and the purchasing process was super-easy! Everything that I ordered got their on time and my clients were able to enjoy their delicious Finnish confectioneries with a hot cup of coffee, as I recommended they do :) Kiitos FinnStyle!
Fazer Mints
December 17, 2016
Great tasting mints!
Pros
Fresh
Tasty
Individually wrapped
By Pauliina
Denver Colorado
Amazing Fazer Mints
November 19, 2016
These are a staple at holiday time here. The blend of mint and chocolate is wonderful. I grew up with these and I remember those times when I eat them....
Pros
Outstanding flavor! An absolute favorite!
By Lauren
Altavista, Virginia
Fazer does it again!
October 11, 2016
Delicious little minty chocolates. Just like a miniature peppermint patty. :)
Delicious Mints
April 30, 2016
Fazer mints are the best!
Pros
Delivery was prompt . No complaints, I will purchase from Finn again.
By Cate
Alexandria, Virginia
best mint chocolate ever
April 19, 2016
Good website for ordering, fast service (as long as it's not prior to Christmas). One of the very few places I can still find this marvelous candy.

Pros
great product, great service
By Annebsheffield@gmail c.
CT
Pure pleasure
March 25, 2016
Top quality.
By Nicole
Franklin Square, NY
Favorite Mint Candy
March 17, 2016
The dark chocolate outside is rich but not overly rich, just right, and the smooth creamy mint is just the perfect flavor and texture to make this candy incredible! I love mint and chocolate but this is by far my favorite combination of the two!

Very different from the typical mint chocolates out on the market, unique and delicious!
One of better known Finnish candies
February 21, 2016
These really melt in your mouth, not at all like some chocolate mints that are commonly stocked in grocery stores, well worth the special order.
Absolutely delicious!
January 30, 2016
Decadent dark chocolate with creamy mint inside!
Delicious!
January 18, 2016
These candies are wonderful. We enjoy them very much.
By Carol S.
Castro Valley, California
Hard to find
January 4, 2016
Great service, quick delivery, packaged well, great price, and yummy. Would like to order in bulk than buying the individual 150g box but will definitely reorder especially when they have sale their price.
Pros
Great service delivering product
Cons
Offer buying in bulk for this product, but it is NOT a "con"
By Carole
Silverton Oregon
Fazermints
January 3, 2016
Theses mints are the greatest melt in your mouth!!!!
Love these chocolate mints!
December 26, 2015
So glad that we are able to find these again after so many years.
Pros
shipping was right on time as stated.
Best.Candy.Ever
December 25, 2015
Creamy mint - dark chocolate, what is there not to love about this candy. Hard to find - expensive - but worth it.
FAST SHIPPING, PERFECT CONDITION
December 5, 2015
HARD TO FIND FAASEDRMINTS AVAILABLE HERE - THANK YOU!
SO Yummy
October 30, 2015
Bought these to have on hand at Thanksgiving, but they may not make it that long!
Sweet and sweet!
October 28, 2015
These little bursts of mint robed in dark chocolate are the absolute treat. Individually wrapped, so share with your friends, or save for yourself. Five pieces equal one serving. The chocolate is sweet without being cloying and the mint is very bright and '€" well, minty. A good peppermint flavor that leaves you wanting to breathe in to absorb it over and over again. All in all, a very good candy that is more for adults, but can be enjoyed by the kids. But save it for the adults!
Pros
It's chocolate and mint - perfect!
Cons
I wish there were more in a box. :-(
best mints ever
October 18, 2015
Always happy with this delicious mint....service your company provides and how prompt the product arrives.
Absolutely the best candies ever !!
April 7, 2015
Our guests love them after dinning. If we run out they certainly let us know they aren't happy........
By HARRIET R.
LANCASTER PA
very good...do you have bulk packaging for these candies avaiable?
January 6, 2015
VEY PLEASE
Do you have bulk amount avaiable to purchase of thid candy?
Quick service
December 29, 2014
I love these mints and haven't been able to find them anywhere around me anymore. This was a great place to order them from. A good price and quick delivery. Will definitely order these from here again.
Awesome
December 27, 2014
These are the best!
By Tom
Berkeley, California
Minty, but the chocolate coating is disappointing :(
December 27, 2014
Purchased since I enjoy Fazer Mariannes and thought that inverting the formula (mint on the inside, chocolate on the outside) would be great. Unfortunately, the chocolate coating is pretty tasteless and forgettable. The mint paste inside is good, but doesn't make up for the chocolate. Skip these and buy the Fazer peppermint bar or Mariannes instead.
GREAT MINTS!
December 19, 2014
Best dark chocolate mints I've had. So glad to have found them at Finn Style.
By Susan
British Columbia, Canada
Bummer wish they would have been that price when I ordered
December 15, 2014
First timer. Excellent experience! Live in Canada and items were shipped as promised
Cons
Wish this product was sold locally
By Docnaz
Weatherford, Texas
Free Shipping!
November 17, 2014
We looked all over for these mints, but the shipping was twice as much as the cost of the item! What a good deal!
Pros
Free shipping. Candy i. Perfectcondition
By Cookie
Des Moines, Iowa
Only Place To Buy These Mints
March 17, 2014
My mother loves these mints and this is the only place we can find them. They are inexpensive and delicious. Your delivery was very fast. We will certainly be buying more!
FAZER mints are back in the USA!!
March 4, 2014
These mints are the real thing...just like the mints available at Costco about 20 years ago. I used to buy those bulk mints and put them inside glass trees for nice Christmas gifts. Now they come in tiny boxes- about 1/2 the size of how Target used to sell them about 5 years ago. Why the distribution in the US is so scarce is hard to fathom as these are the finest mints made. They are decadent dark chocolate with liquid mint centers. Andes is pedestrian. Fazer is for royalty. No joke!
This is my second order of 10 boxes. I know there is a loyal following out there for these mints. Let's see them available in bulk sizes. I'm trying to do my part...smile. Thanks to Finnstyle for making them available.
Pros
You will not find a better mint anywhere.
Cons
Tiny boxes! Let's see more options for purchasing larger quantities!
By Judi
Huntington Beach, CA
Delicious
January 7, 2014
I buy these when I'm in Finland. So glad I can get them here.
Pros
Delicious dark chocolate and creamy mint.
Sherie
from Columbia, SC asked:
October 19, 2014
I used to buy a tub of these for my mother every Christmas. Is there a chance you will have the tub available this year? Why are they so hard to find???
1 Answer
Hello, Unfortunately we do not sell tubs - just the boxes. They are only brought into the US through a company in Chicago that distributes to a limited number of companies. We are lucky to be one of them.
Submitted by:
FinnStyle Staff
on October 20, 2014
Judy
from Sarasota fl 34243 asked:
September 12, 2014
Do you plan to get these back in stock
1 Answer
Hello, Yes, we should be getting a shipment sometime in October. =)
Submitted by:
FinnStyle Staff
on September 15, 2014
Veikko
from Lynchburg, VA asked:
October 14, 2013
How many individual pieces are in this 150g box?
1 Answer
There are approximately 20 pieces in each box of the Fazermints (5 pcs in each serving, serving size is listed as about 4)
Submitted by:
FinnStyle Staff
on October 14, 2013