A favorite among Finn's and sweet-fanatics alike, the Fazer Dumles consist of a soft toffee inside surrounded by a decadent milk chocolate coating. The individually wrapped Dumle candies in this 7.75 oz bag are perfect for sharing on-the-go, serving in a dish at a party or stocking up for yourself. It's nearly impossible to just try one Fazer Dumle toffee candy!

Ingredients: glucose syrup, sugar, vegetable oil (palm), whole milk powder, cocoa butter, whey powder, cocoa mass, milk, skimmed milk powder, salt, soy, lecithin (emulsifier), artificial flavors (caramel, vanillin). Contains: Milk, soy. Manufactured on equipment that processes tree nuts, wheat.
ITEM #: FAZ-24330
COUNTRY: Designed in Finland, Made in Finland
Please note: Only available for shipping within the United States.
Each bag contains approximately 30 candies.
Net weight: 220g (7.75 oz)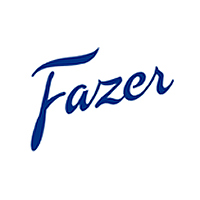 Considered a part of Finnish heritage, Fazer is a brand that most Finns have grown up with. Starting in 1891 as a small cafť in Helsinki by founder and Finland native Karl Fazer, Fazer has become one of the largest names in the Finnish food industry today. This brand is loved worldwide for ... More Fazer
95% Recommend this product
(
40
of 42 responses)
Buy two bags!
April 25, 2023
My family had not tried these until I ordered them from Finn Style. I recommend you order two bags because they are so delicious. I cannot think of a candy made in the US that is equivalent to these.
By Karen
Cheyenne Wyoming
Great smooth taste
April 14, 2023
Chocolate and caramel'ۦwhat more do I need?
By Janette
Camarillo, California
A Lovely Soft Toffee
January 30, 2023
This makes a nice after dinner treat with a cup of coffee. It is easy on one's teeth because it is so soft, creamy, and has a delightful taste. Each bag has 30 wrapped pieces and giving each of your friends a bag of Fazer's Dumle Originals would make a nice gift.
Pros
Such a nice creamy texture,
A favorite
January 22, 2023
Finnish candy overall is great. These toffees are simple and satisfying, and reasonably priced when you consider how many are in a package. They are a repeat purchase for me.
Delicious
December 23, 2022
Fazer's Dumles are the best! I hope they'll never stop making these.
Fazer Dumle Toffee Candies
March 23, 2022
They are delicious.
Our kids really like these
These are the best everyone loves them
Didn'€™t know I needed these in my life! Not overly sweet; nice soft chewy texture.
The best toffee candy
June 15, 2021
So tasty!
By Claudia
Tampa, Florida
How can you not love this product?
May 11, 2021
Super , super , super the best!
Delicious soft caramel covered in chocolate.
Sticker label is incorrect
January 22, 2021
The stick-on label says '€œmilk chocolate confection with crunchy candy pieces. Net Wt 7.05 oz (200g)'€

The candy pieces are not crunchy and this is a different label and wt than was on the last bag of Dumle candy that I received. So it appears a mistake was made somewhere.

The product is very good, just labeled incorrectly.
By Christy
Rogers, AR USA
Heaven in your mouth
November 29, 2020
So creamy. The toffee taste with the feel of a caramel. Yummy
Great caramel filled mild chocolate
April 23, 2020
My husband's favorite candy
These candies are wonderful. The chocolate is so smooth and creamy. Then toffee inside is just the correct touch of enjoyment. Thank you for making them available!
Great candy!
December 14, 2019
Fell in love with these in Finland years ago, glad to know I can get them in the US!!!
Fantastic service!!!
By H e.
Bridgeton New Jersey
Dumble toffee
December 9, 2019
Brings back childhood memories and we'll definitely order again
By Stacey
North Beach Peninsula, Washington
If you like chocolate caramels, this is the one for you!
By Armando
San Martin, CA
Hands Down My Favorite
March 18, 2019
More than toffees as we are used to, Dumles are really chocolate covered soft caramels.

Despite the distinction, you'€™d be hard pressed to find one that is as delicious as this excellent candy.

The formula is perfection, the caramel melts so perfectly and evenly in your mouth, the taste evolving as it'€™s thins and are absorbed by your taste buds.

I'€™ve never encountered a caramel as tasty and balanced as this one. I guarantee that they'€™ll keep you coming back here for more.
Candy that everyone loves
Pros
Great to have on hand for gifts and treats
By tytt?rentyt?r
Boston, MA
as I remembered
March 3, 2019
I think the translation is off - these seem more like toffee-flavored caramels. As I remembered, this brand is kind of like Nestle but (in my opinion) a step up in quality.
The toffee is so creamy, and the chocolate is classic Fazer taste. You won't be disappointed with these treats!
Incredible toffee surrounded by chocolate
October 17, 2017
A wonderful combination of flavors! Awesome chocolate with soft toffee inside - the toffee is so good! Absolutely will buy more - and recommend to others!
Dumle is delicious!
January 24, 2017
What a treat! The flavors are amazing and wonderful.
Cons
Sticks to teeth, much like caramel does, so brush about 30 minutes after eating them.
Hard to have just one.
Sweet and creamy.
December 30, 2016
Biting into these pillows of chocolate and caramel perfection is as close to being in heaven while still on earth. The creaminess of the chocolate perfectly compliments the gooiness of the caramel. Every bite is an extreme pleasure. These are by far my favorite of the Fazer confection offerings. I dare you to share! But you should - your friends will be glad you did.
Pros
Creamy, gooey, sweet, perfect!
So creamy and delicious!!!!!! 5 stars all the way! Will order again
Fazer dumle toffee candies
March 30, 2016
These are my new "weakness" They taste fresh just out from the Fazer candy factory!!!!
By Mardi L.
Charleston, SC
Heaven in your Mouth!
February 27, 2016
If you love Fazer chocolate, toffee, and caramel, this is the perfect candy for you! So creamy, luscious, and flavorful that it's heaven in your mouth. Better get more than one package because you will eat it up!
Pros
Perfect size for a snack of deliciousness
Chocolate Toffees are the best in the world
April 27, 2014
Stocking up for Summer. Must have these.
best chocolate caramel candy ever
March 25, 2014
I love Dumle. Delicious.
deeelicious!
December 28, 2013
Excellent product and great customer service getting it!
This is my daughters favorite candy!
My favorite caramel and chocolate combo
October 31, 2013
These simply melt in your mouth! The caramel is soft and the chocolate covers it just perfectly. A favorite for both children and adults in our home!
By Nicole
Toronto Ontario
What is there not to like?
June 12, 2012
Sweet, creamy, and simply delicious!
Our family's favorite candy from Finland!!
fazer dumle
December 29, 2011
fazer dumle is soft caramel wrapped in milk chocolate. It was very milky and not too sweet. whatever candy Fazer makes you can't go wrong.
We don't know what that means,"Dumle"
December 11, 2011
First time we have tasted it. It was ok. It has something in the ingredients which I didn't care for, but my husband loved them.
Pros
My husband liked the taste.
Cons
Something in the ingredients.
The dream comes true :)
November 22, 2011
The freshest and tastiest treat... Poses just one BIG problem: how NOT to eat it all at once?