Karl Fazer Milk Chocolate is considered the deepest reflection of the Finland's top-rated brand, Fazer. The iconic "Blue" bar Giving Fazer chocolate first arrived in 1922. Today, it still retains the original recipe and the famous blue wrapper symbolizing pure Finnish nature. Giving and receiving Fazer candy remains a Finnish custom and FinnStyle is happy to be able to bring this nostalgic and timeless tradition to the U.S. The bar is made from fresh milk and high quality cocoa beans, which gives it the creamy texture and rich taste that fans of fine chocolate crave worldwide. Ingredients: milk, sugar, cocoa butter, cocoa mass, sunflower and soy lecithin (emulsifiers), salt, natural flavor (vanilla). Contains: milk, soy. Manufactured on equipment that processes tree nuts, wheat.
ITEM #: FAZ-24349
COUNTRY: Designed in Finland, Made in Finland
Net Weight: 7 oz (200g)
Please note: Only available for shipping within the United States.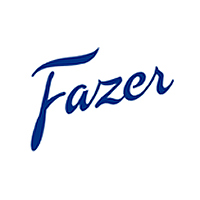 Considered a part of Finnish heritage, Fazer is a brand that most Finns have grown up with. Starting in 1891 as a small café in Helsinki by founder and Finland native Karl Fazer, Fazer has become one of the largest names in the Finnish food industry today. This brand is loved worldwide for ... More Fazer
99% Recommend this product
(
136
of 137 responses)
milk chocolate bar
May 16, 2023
Yummy
Nothing can beat Finnish chocolate
May 10, 2023
Seriously, nothing can beat Finnish chocolate.
Possibly the finest milk chocolate available.
May 9, 2023
My wife was born in Finland and always claimed that Fazer was the finest milk chocolate made. After having sample Fazer I whole heartedly agree.
Milk cholate bar
May 4, 2023
I purchased these products for a client of mine. I know she loves the cholate but I think the shipping is pretty pricey. Would love to buy local if I knew who sold them.
Janelle
Always a favorite
February 13, 2023
Always a favorite of ours. Great taste .
By Chester B.
Bellingham, WA
Chocolate heaven
January 17, 2023
The best chocolate bar in the universe.
Real chocolate
January 17, 2023
A truly heavenly chocolate experience. Real chocolate melting on my tongue. I love America, but this chocolate is far superior to any American product.
By Arja
Wadsworth Illinois
Fazer Milk Chocolate
January 16, 2023
my favorite chocolate!!
Smooth and Creamy
January 16, 2023
This is a perfect after dinner dessert. Reminds me of mybrecent trip to Finland. My cousin gifted me a bar. So glad I can order it here!
We will never go back to American chocolate!
January 16, 2023
My nephew introduced me to Finnish chocolate when he brought some back after a trip to Finland. This stuff is so good! I bought several bars to give out as gifts, and everyone who has received one has had the same reaction. I love how big they are, too. It's such a great gift to give!
By Marianne
Southern California
Fazer blue
January 12, 2023
Best milk chocolate our family loves.
Best chocolate ever!
January 12, 2023
I am not new at tasting Fazer blue ( plain milk chocolate) I was introduced to it over 40 years ago. It's the most popular chocolate bar among my family and circle of friends . Truly the most delicious chocolate ever!!!!!!!!!!!
Pros
Delicious and versatile, I enjoy it as it is or decorate my cakes with it .makes a great gift for friends and neighbors during the holidays .
Cons
It is impossible not to eat a whole row or keep goi g to the bar for more.
Best chocolate ever!
January 2, 2023
Great products delivered with speed and efficiency. Wonderful customer service!
Simply Delicious
December 26, 2022
One of the best chocolate bars! Love them!!!!
Best chocolate in the world
My favorite chocolate!
December 18, 2022
I haven't eaten "American chocolate" since I was introduced to Fazer chocolate two decades ago... the BEST!
Pros
Creamy - melts in your mouth.
Not too sweet
Cons
Price - duty-free is best, when you can get it!
unbeatable
November 17, 2022
Hard to beat Fazer Blue chocolate. (The name refers to the paper it's wrapped in.)
We stock up when in Finland, and are grateful that FinnStyle provides a way to obtain it in the US.
Fazer Milk Chocolate
May 11, 2022
Good value for the quality chocolate from Finland.
Pros
Tastes as delicious as always.
Cons
Expiration date too close from the date I received the chocolate.
By Eila
Pittsburgh, Pennsylvania
Favorite chocolate
April 11, 2022
Having grown up in Finland this is the candy bar I like. It's not overly sweet and has a real coco flavor.
Milk Chocolate
March 16, 2022
Smooth, delicious, melt-in-your-mouth chocolate.
The best chocolate and perfect shipping
January 19, 2022
I was concerned they would melt during shipment but they were packaged and shipped very carefully. Everything was intact and didn't melt. Thank you so much finnstyle!
The best chocolate you'll ever taste!!
January 3, 2022
I had high hopes for this chocolate and it blew them out of the water.. this chocolate is off the charts good. I wish I bought more!! Will definitely buy the "sininen†again! Can't go back to chocolate here in US!
Pros
Delectable
Smooth
Tastes amazing
Cons
Literally no complaints except I only bought one haha :)
By Frederick
Knoxville, Tennessee
We took our children to Europe for 2 weeks fifteen years ago. They decided, as part of the trip, to sample every country's chocolate they could find to determine the best. All 3 determined Finland's Fazer Milk Chocolate was clearly the best. I am so glad to find access to this family's favorite without having to travel to Finland. The family was surprised and delighted to get a bar in each of their stockings.
Cons
It is a very large bar and and tastes so good it is hard to eat in moderation.
By Kirsti L.
Delray Beach, FL
Best chocolate ever
December 29, 2021
You'll never be disappointed when buying Fazer Blue! Everyone just loves it and it opens many doors for you when giving a bar as a thank you for services rendered.
The very best chocolate anywhere
December 29, 2021
I was thrilled to find our favorite Finnish chocolate bars available here . I ordered them for my " grown†children for Christmas and they were so surprised and delighted.
Pros
Very easy to order from Finnstyle. No need to wait for a trip to Finland to find your favorite treats.
Arrived in one piece
On time
Just Delicious !
By Linda
Wappingers Falls, New York
Best Chocolate hands down!
December 14, 2021
I'm so happy that I have this wonderful company to deliver a little bit of happiness. I miss my grandmother buying Finnish chocolate for me. Thanks to Finnstyle, I have a little bit of Finland back in New York. There is nothing that compares to Finnish chocolates. Thank you for having that in my life and bringing it to me from so far away. Finnstyle is a wonderful company in which I have been ordering this chocolate every year. It's a Christmas miracle for me! Thank you again!
Pros
Great communication, fast shipping, and wonderful products!
By Christy
Rogers Arkansas
Best Chocolate Ever!
November 25, 2021
I fell in love with Fazer chocolate on a trip to Helsinki and was so thrilled when I found Finn Style!
I would give 100 stars if I could!
November 19, 2021
This is by far the very best chocolate money can buy! As a native Finn and immigrant to USA, I can say without hesitation that being able to buy this over here is like having Christmas every day. I most recently purchased the 22-bar box when it was on sale, and all my friends got to enjoy this wonderful treat along with my family. If you have not ever tried this, DO NOT HESITATE!!!! Makes a very welcome stocking stuffer, too.
Memories from Childhood
November 15, 2021
My mother always sent me this chocolate for Christmas. It brought back memories. The best chocolate in the world!
The Best!
August 30, 2021
Fazer blue, "sininen', is the classic of all Fazer chocolates. Very rich and unlike any other chocolate here in the U.S. I bought this to share with my American friends and they were all taken aback how delicious it was.
Best Chocolate
July 1, 2021
I am definitely biased as this was the first chocolate I had that was from somewhere other than the USA when I was a young kid. I remember how soft and creamy it was when my Finnish grandmother shared with me for the first time. It NEVER disappoints. Every time I have gotten this chocolate it never lasts as long as I want because I can't stop eating it.
Pros
Delicious enough to keep eating until it's gone.
Cons
Delicious enough to keep eating until it's gone.
Milk chocolate bar
May 10, 2021
Excellent chocolate bar! Lower sugar! Great find.
By Helena
Travelers Rest SC
Good product fast service
May 3, 2021
Fast service well packed pleasant people helping
on phone
delicious
February 17, 2021
This is the classic Fazer chocolate, and it's delicious. Since I can't get over to Finland right now to stock up with a suitcase full, ordering here is the next best thing.
Fazer Blue chocolate
February 8, 2021
The best milk chocolate
Still superior
January 24, 2021
As half-Finns living in the US, my sister and I spent the early years of our childhood eating Hershey's chocolate. However, upon our first visit to Helsinki with our Finnish mother, our grandparents introduced us to Fazer chocolate...and I am forever in their debt! Sorry, Hershey's, but Fazer is so much better than any American chocolate by far! I bought these for my neices, who have now been introduced to the magic of Fazer and they loved it! Thanks for the sweet nostalgia!
Pros
Taste, quality, fast shipping
Always good!
January 19, 2021
When you crave a nice bite of chocolate!
Best chocolate
January 3, 2021
Never disappoints
Amazing chocolate
January 1, 2021
I love Fazer chocolate. I believe it is the best brand I have ever tried. My family looks forward to receiving a bar each Christmas!
Our favorite
December 27, 2020
Fazer Sininen is still one of our favorites. Smooth and great taste.
The BEST milk chocolate
December 26, 2020
We get to Helsinki occasionally and always bring home a haul of Fazers chocolate bars (among their other terrific candies). Everything they make is great but the milk chocolate is the best. It's so good to know it's readily available from FinnStyle.
Nice fresh product!
December 21, 2020
I often bring chocolate with me back when I travel to Finland but I was glad to see how well the product was packaged and it was like fresh off the store shelf.
Pros
The personal touch was nice!
The creamiest and best
December 20, 2020
Fazer blue is the best chocolate! I love gifting to my friends so that they too can enjoy the best taste of Finland đŸ «đŸ ®
Awesome
November 27, 2020
The best
By Katerina
Bakersfield CA
Delicious!!
November 2, 2020
I grew up on this chocolate! It's creamy and delicious!!
The Best Chocolate Ever
November 2, 2020
I discovered Karl Fazer when I was on vacation in Finland. Since then, all other chocolate has been ruined for me!
Pros
Everything! Texture, flavor, sweetness, creaminess, etc.
Tastes like Finland
October 29, 2020
There is no chocolate in the world that tastes quite like Fazer. The Fazer blue milk chocolate bar is a classic. I count on FinnStyle to help me fill my annual craving.
Best milk chocolate
April 30, 2020
Excellent, as always! I've been buying this for many years.
Good milk chocolate
April 28, 2020
It is not QUite as sweet as a Cadburys Milk chocolate bar but it makes a welcome change
Love at first bite
April 23, 2020
This was the first Karl Fazer chocolate candy I ever had 10 years ago in Helsinki.
It has remained my favorite
Pros
Can?t go wrong with this choice
By Laurie
Laurie Sarkipato Heim
smooth, y.ummy Finnish chocolate! The best
April 23, 2020
If you ever want wonderful milk chocolate don't pass up Frazer's - I give them away at Christmas and they are great gifts,
Best chocolate in the world!
April 5, 2020
Highly recommended.
what more is there to say
March 31, 2020
This has been my favorite chocolate for 50 years! It's childhood memories and creamy milky chocolate. It's not dark chocolate sophisticated, but I choose it first over all other chocolates (and I do know other chocolates).
By Laura-Maria
Seattle WA
The best chocolate in the world
January 17, 2020
Fazer chocolate never disappoints. It's my husband's favourite and makes a great gift!
As delicious as I remembered
December 28, 2019
This chocolate was as delicious and fresh as it was when I ate it at Finland. I will order it again.
an old favorite
December 22, 2019
it's classic. it's loved.
Amazing!!!
December 14, 2019
Absolutely Delicious!
By Carolyn
Dripping Springs, TX
The Best!
December 12, 2019
The best chocolate in the world!
CHOCOLATE!!!
December 10, 2019
This is the best chocolate! You can not find anything like it in the US.
By Sylvia
Boca Raton, Florida
Excellent
December 7, 2019
The best chocolate there is!
Excellent chocolate - get it before the summer heat arrives
May 16, 2019
Delicious chocolate both the Blue labeled Milk Chocolate Bar and especially enjoy the Milk Chocolate Bar with Hazelnuts. Order now if you'r in a hotter, warmer area than the norther US, because they won't ship it in the summer for obvious reasons. So I just ordered my six month supply enough to get us through the summer and into the fall.
Our package was packed & shipped on the same day we ordered and it arrived in excellent condition.




mmmmmmmmmmmmmmmmm... childhood...
April 25, 2019
As a Finn who has lived in the States for nearly 30 years, I miss certain flavors; not very many - real ruisleip?(rye bread), ruusunmarjaviili (fermented dairy product with cream top and rose hip puree on bottom) and savustetut nahkiaiset Porin torilta (hot-smoked lampreys straight from the smoker) and Fazerin sininen. It truly is the best chocolate bar there is. Not too sweet, not too "waxy," not too anything. Just honest chocolate. Thank you for carrying it!
Best Chocolate in the World!
April 13, 2019
Smooth wonderful flavor. My daughter showed up asking for chocolate the day it came and she was so happy! The sale price was awesome!
Pros
Very smooth not grainy chocolate.
The best in the WORLD!
April 3, 2019
No joke, the best milk chocolate I have ever had.
Classic Fazer
March 16, 2019
You can't think of Fazer without the classic "blue" bar coming to mind. Delicious!
Most Delicious
January 20, 2019
I can't get enough of this chocolate bar, but my common sense tells me to order a few bars quarterly.
The chocolate melts in my mouth, so delicioius.
Simply the best
January 15, 2019
Half of my carry on bag is filled with Fazer chocolate when I come back from Finland. In between visits, I definitely buy it from FinnStyle, which is always well-stocked and often offers it at a discount.
By Sonja
Montreal, Quebec
Fast shipping, the vest chocolate in the world!
December 15, 2018
Finnish chocolate is always the best for those with Great taste in candy, or discerning Consumers with a European sensibility.
Fazer Blue
December 6, 2018
Best milk chocolate in the world
The quality of the Fazer Blue Mild Chocolate is amazing...smooth, rich, and ofnso tasty...find myself grating some to add to hot chocolate!
Fazer chocolate bar
November 5, 2018
The best chocolate you can buy
Favorite chocolate!
November 1, 2018
Birthday present for our son-he never gets tired of this chocolate!
World's best milk chocolate!
May 22, 2018
Absolutely delicious, smooth, creamy & unfortunately, addictive :)
Best chocolate anywhere
May 21, 2018
I have ordered from Finn Style a couple of times and have always been satisfied with the service. We love the chocolate and will order it again when you resume shipping after the summer.
By Sinikka
Annandale, NJ 08801
Mother's Day Fazer
May 18, 2018
Nothing came close to the pleasure my
mother received from unwrapping her
Fazer milk chocolate bar, Finnish blueberry
pie was a far distant second!
This creamy chocolate is always much loved .
By Liisa
Jefferson, Colorado
Finnish chocolate - the best!! candy arrived fresh, wrapped, and very quickly!
Quality
February 27, 2018
Best chocolate ever!
Wife loved it
February 20, 2018
The bars are huge. The package is really attractive. So far my wife has the chocolates spread over the dining room table so she can look at them - hasn't opened a one yet. That was not the plan, I wanted the chocolate.
Pros
The packaging looks great.
Cons
Your wife will admire the package for weeks and won't let you eat them.
By Carol
chill44481@aol.com
Best chocolate in the world!
February 12, 2018
Grandkids agree.
Best chocolate in the world!
January 27, 2018
Creamy and delicious. In my opinion, the best chocolate in the world.
Try it! You'll like it!
January 22, 2018
Thank you for carrying this on your website. It is one of my favorite treats and not easy to find in the U.S. It is sweet, but no overly sweet. This is a large bar, and one can pinch off a little bit at a time. Has a creamy texture that goes down a little too easy. YUM!!
Creamy and smooth
December 9, 2017
An extremely rewarding experience, Fazer Blue was not marketed with the fabled "Blue Moment" (or Nordic winter twilight) for no reason. It is creamy and smooth in texture, melts in your mouth and has robust chocolate flavor.

A true favorite of my expat and American friends alike.
Absolutely delicious!!
December 5, 2017
As always Fazer milk chocolate was delicious. It just melts in your mouth. Delivery was very prompt.
Best chocolate
November 24, 2017
Best chocolate!
Fazer Chocolate Bars
November 7, 2017
The Fazer Blue Chocolate Bar is great tasting milk chocolate from Finland. Perfect size for sharing!
Pros
Fazer chocolates have a unique, unforgettable flavor.
The best in the world!
November 6, 2017
Best chocolate anywhere! Love, love,, love it!!
Great product!
June 5, 2017
I've tried a lot of chocolate, and this is easily the best chocolate I've ever had. Not too sweet. Milky and smooth. Every mouthful is absolutely bliss.

It is very difficult to get this chocolate in the U.S., and even more difficult to get it from a company that'll ensure there aren't any issues. With FinnStyle.com I've been impressed at every turn. Will definitely be reordering this winter!
By Kate
New York, New York
World's Best Chocolate
May 3, 2017
Love, love, love this chocolate! Shipping was really fast.
Scrumptious!
April 20, 2017
Best chocolate in the world!
Great chocolate
April 16, 2017
Great chocolate
World's Best Chocolate
March 19, 2017
This bring my childhood right back to me, melt in the mouth wonderful chocolate.
Pros
Not too sweet, just perfect.
By Pamela
EAST STROUDSBURG
By Minna
, newpaltz, new york
The number 1 chocholate
December 12, 2016
Number one chocholate in a whole world!
Best chocolate ever!
December 12, 2016
I absolutely love this chocolate and love that finnstyle carries it because it is the only way I can get my favorite chocolate!!!!
Excellent!
November 20, 2016
This is my husband's favorite milk chocolate ever.
Fresh and delicious
November 15, 2016
This is a family staple for us. Happy that it arrived fresh and yummy!
By marilyn
Grapevine, Texas
Love Fazer
November 14, 2016
The order cam very quickly!
Delicious, my favorite chocolate. So happy Finnstyle carries it.
Kris
from rockville, maryland asked:
December 28, 2017
Do they use vanillin in this milk chocolate bar?
1 Answer
Yes... Ingredients: Milk, sugar, cocoa butter, cocoa mass, emulsifier (soya lecithin), salt, flavorings (vanilla, vanillin). Cocoa solids 30% minimum and milk solids 20% minimum.(May contain traces of hazelnuts and wheat.)
Submitted by:
FinnStyle Staff
on December 29, 2017