Crispy peppermint adds a crunch and flavor to Fazer�s decadent milk chocolate. The Fazer Company has been using fresh milk and top quality cocoa beans to make its chocolate since 1891. Its mouth-watering recipe is bound to delight all who bite into this delectable chocolate.

Ingredients: sugar, whole milk power, cocoa butter, cocoa mass, glucose syrup, soy lecithin (emulsifier), vegetable oil (palm, shea), salt, natural flavors (peppermint oil, vanilla extract), artificial flavor (vanillin). Contains: milk, soy. Manufactured on equipment that processes tree nuts, wheat.
ITEM #: FAZ-24328
COUNTRY: Designed in Finland, Made in Finland
Net Weight: 7 oz (200g)
Please note: Only available for shipping within the United States.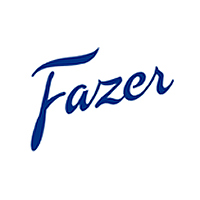 Considered a part of Finnish heritage, Fazer is a brand that most Finns have grown up with. Starting in 1891 as a small café in Helsinki by founder and Finland native Karl Fazer, Fazer has become one of the largest names in the Finnish food industry today. This brand is loved worldwide for ... More Fazer
100% Recommend this product
(
27
of 27 responses)
By Tami
Birmingham, Alabama
If you haven't had Fazer you haven't had chocolate!
January 16, 2022
You can't go wrong with anything from the Fazer brand - but the chocolate is out of this world. Do yourself a favor and order a couple of each!!
Tastes like Christmas, Finnish style
October 29, 2020
My holiday season is never complete without a Fazer peppermint crisp bar. It takes what's best about the classic Fazer blue milk chocolate bar and combines it with just the right amount of Marianne peppermint flecks. It's sweet enough to melt in your mouth, but it has a satisfying crispy crunch too.
Best chocolate peppermint candy
April 30, 2020
This is the only chocolate-peppermint candy I buy. It's the best!
Great Chocolate
April 19, 2020
This milk chocolate is fabulously smooth and flavorful. I would buy this again.
By Barbara
Prescott Valley, AZ
Perfect combination of flavors!
January 28, 2020
Chocolate and peppermint flavors together are my absolute favorite! Marianna mints with fazer milk chocolate? The best! You can always count on finnstyle to send your candy order promptly. It is packaged perfectly so not one candy bar has ever arrived broken! I save this one for me and give the milk and dark chocolate flavors for gifts!
Festive and rich flavor
December 30, 2019
I love the crispy Marianne peppermints infused within the familiar creamy goodness of Fazer chocolates. This is a particular favorite of mine for the holidays, as it has a crisp, fresh, appropriately festive flavor. Those with tender teeth should beware, though. The peppermint crisps are quite hard and crunchy if instead of letting the chocolate melt, you prefer to chomp down.
Fazermints are AWESOME
December 12, 2019
Difficult to find these fazermints but FinnStyle always has them and sends quickly
By Carolyn
Dripping Springs, TX
Perfect gift
December 12, 2019
This chocolate bar is the best and a perfect gift!
Perfect pitch between peppermint and chocolate.
October 26, 2019
A new found love is Karl Fazer Chocolates. I just tried this gem, peppermint chocolate bar. This bar has the perfect amount of peppermint taste blended with expertise and their famous chocolate.
I highly recommend this special treat to all chocolate lovers. It makes the perfect holiday gift as well!
High quality, delicious, holiday joy!
Super Good
December 4, 2018
Also big hit among our kids and their school friends!
By Bruce
Chicago, Illinois
Great Chocolate.
October 31, 2018
The Fazer Peppermint Crisp bar is one of my favorites. Perfect for the holidays.
Very tasty candy bar
January 22, 2018
Enjoyed it thoroughly, even though I had to share it ;)
By Linda
Eagle Mountain, Utah
My friend loves this bar
November 7, 2017
I bought this for my friend from Finland and she said it is her favorite chocolate bar. She even mentioned she prefers this as a present to other gifts.
Fazer Chocolate meets Marianne Mint Candies
April 3, 2017
Fazer chocolate bars have been a family favorite from several generations back. The Fazer Marianne Mint Candies were one of my favorites as a teen. The Fazer Peppermint Crisp Bars combines the best of Fazer chocolate with the crispy, crunchy peppermint flavor of the Marianne mints. The family has chosen this bar as our other 'must order' along with the Hazelnut bars themselves. Ordering some now before it gets too hot to ship chocolate.
Perfect Chocolate
January 2, 2017
Great tasting and a perfect gift!
By slnt
Clifton Township, WI
delicious holiday combo
November 22, 2016
creamy chocolate with peppermint is a Christmas tradition
Chocolate is the best'
December 11, 2015
New combination. It is very good. Different change from Marianne candies
Fazer Chocolate with a Peppermint Twist
November 8, 2015
If you like Fazer chocolate and Peppermint, you will love this! Smooth and creamy chocolate with high quality peppermint flavor.
delicious
October 19, 2015
Arrived in perfect condition
By Tom
Berkeley, California
Delicious!
December 27, 2014
This is a large chocolate bar that breaks easily into uniform squares. The chocolate has a good mouth feel and pleasant flavour. The peppermint is present without being overpowering or biting. Well worth ordering for a special treat.
By helena t.
travelers rest , sc
excellent item, fast service, will shop again
April 11, 2014
happy new customer, nice first experience and excellent quality
I love this chocolate!
March 29, 2014
I got this as a Christmas gift along with Taika bowls. Hard to say which part of the gift I liked better! This is great milk chocolate, and the peppermint gives it an unusual twist. Highly recommended!
Perfect combination
December 21, 2013
Love the peppermint flavor!
Very good option
December 10, 2013
Although I really like the original milk chocolate, this is a great alternative as well!
Most delicious mint chocolate bar on Earth
January 8, 2012
Fazer stuns with this gem. The same creamy, perfect mil chocolate Fazer is known for with ground pieces of peppermint to give it the perfect accent. Not too minty, the balance is superb.

Also, FinnStyle delivered this to me quickly and fully in tact on the busy week before Christmas.
Fazer chocholate is the best in the world. There are nothing even close to it. And for Xmas the divine milk chocholate with Peppermint: Pure perfection. Peppermint bark....goodbye!