Let Fazer's decadent chocolate melt in your mouth this holiday season. Comprised of delicious milk chocolate with pieces of hazelnut, this chocolate bar is nothing short of indulgent. Perfect as a stocking stuffer or as a treat to yourself, this Finnish favorite will be love at first bite.Ingredients: milk, sugar, cocoa butter, hazelnuts, cocoa mass, soy lecithin (emulsifier), salt, natural flavor (vanilla extract). Contains: milk, hazelnuts, soy. Manufactured on equipment that processes other tree nuts, wheat.
ITEM #: FAZ-24327
COUNTRY: Designed in Finland, Made in Finland
Net weight: 7 oz (200g)
Please note: Only available for shipping within the United States.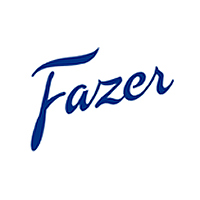 Considered a part of Finnish heritage, Fazer is a brand that most Finns have grown up with. Starting in 1891 as a small café in Helsinki by founder and Finland native Karl Fazer, Fazer has become one of the largest names in the Finnish food industry today. This brand is loved worldwide for ... More Fazer
100% Recommend this product
(
57
of 57 responses)
Good chocolate.
November 12, 2023
My family loves this chocolate.
What's not to like? Chocolate and hazelnuts go so well together.
Best chocolate in the world!
January 2, 2023
Well worth the price if you are a chocoholic like me.
By Patricia
Kalamazoo, Michigan
Hazelnuts!
December 11, 2022
Good Chocolate and Hazelnuts - nothing better!
Absolutely love these candy bars!!
November 28, 2022
These don't last very long in our home! They are definitely one of our favorites. SO good. We try to keep a supply on hand at all times!
By Jaana
Boston, Massachusetts
Traditional Finnish chocolate.
March 23, 2022
Creamy milk chocolate with large chunks of Hazelnuts. Such a good taste!
Fazer is the ONLY chocolate for me
March 20, 2022
Best chocolate ever and well packed by FinnStyle. Thanks!
Very Tasty
February 18, 2022
I love the hazelnuts and chocolate!
The Best Chocolate Bar
February 8, 2022
I love the Fazer chocolate bar with hazelnuts. It's absolutely delicious.
By Aging B.
Lyndhurst, OH
Absolutely delicious! Great Value, too!
December 30, 2021
Really, really yummy chocolate. Great price, fast shipping.
By Catherine W.
Minnesota
Fazer with hazelnuts
December 28, 2021
We love Fazer chocolate as we are of Finnish descent (I am 100% Finnish according to my DNA). My grandchildren almost expect some Fazer chocolate for Christmas. It's always a winner!
Pros
Very prompt delivery. I love FinnStyle's service.
Cons
There are no "cons" for Fazer chocolate. I gift it often to my Finnish-derived family!
Melt in your mouth
November 26, 2021
Next best thing if you can be in Helsinki
Delicious
November 26, 2021
Dry tasty and delicious when room temp.
Creamy and crunchy
November 11, 2021
Creamy and crunchy
Wow! So Yummy
August 30, 2021
Fazer chocolate is so rich and combined with whole hazelnuts? So hard to resist. Excellent combination.
The very best Fazer milk chocolate with hazelnuts you will ever have
March 18, 2021
This is one of two of my favorite Fazer milk chocolate bars 200 g size . My other favorite is the plain milk chocolate.
I have been enjoying it for over 26 years of course I either bought it in Finland during my visits or I received it in the mail from friends and family in Finland . Now I bought my last 10 bars from Finnstyle. As fresh as ever . It should last until we visit Finland late summer ( I hope).
Cons
I could eat the whole 200 g bar in a day if I don?t practice self control .
By Anonymous
Raleigh Durham, NC
Best chocolate ever!
February 26, 2021
All the chocolate products by Fazer are delicious. It is difficult to stop eating once you start. Highly recommend!
Best chocolate
December 27, 2020
Fazer chocolates never disappoint me. Hazelnut bars are my new favorites.
Best milk chocolate comes from Fazer!
December 12, 2020
Love Fazer's hazelnut milk chocolate bar. My husband says Fazer's milk chocolate is the best he has ever had
Delicious!!
November 22, 2020
You will never be disappointed when buying any products from Fazer, the best chocolate ever!!
Delicious!
November 6, 2020
This Fazer chocolate bar is one of my all time favorites. The chocolate is not too sweet and hazel nuts are big so you really get to enjoy the flavor of each. Love it!
Perfect Combination
November 2, 2020
The world's best chocolate, combined with delicious hazelnuts. Perfect!
Pros
The right balance of fantastic chocolate and nuts.
Decadent, Rich Milk Chocolate
August 2, 2020
While I usually opt for dark chocolate, this milk chocolate is one of my favorite chocolates - the milk chocolate is so rich and the hazelnut is a great texture balance.
The best milk chocolate with hazelnuts
April 23, 2020
The best hazelnut milk chocolate in the world! The hazelnuts are nice and whole.
Not surprised, but also...surprised (in a good way)
March 22, 2020
Clearly it comes as no shock or surprise to anyone that Finland makes and sells the finest, most delicious chocolate in the world.
That's just a given. A well established fact.
What was surprising, pleasantly so, was how FAST the order arrived.
Being in the U.S., I'm accustomed to getting my Finnish favorites in a week or more, usually via Amazon, but the package arrived from Finnstyle in just a couple of days. To Hawaii no less!
It perhaps sounds corny or over-the-top to say, but to have a shop/company like Finnstyle is a real blessing and luxury
Fazer makes great chocolates.
February 16, 2020
Very tasty. Love the crunch of the nuts.
Pros
Good product. Fast shipping.
Cons
Expensive as far as candy bars go.
By Eduardo
Davenport, Florida
Smooth Bar with The hazelnut taste you expect
February 4, 2020
Not much I can add to it. I give it 4 stars simply because I am more of a dark chocolate person, but the texture of the chocolate itself pairs amazingly with the whole hazelnuts!
By Barbara
St. Louis, Missouri
Perfect Extra Touch!
January 26, 2020
I bought this candy to add to a "Get Your Hygge on" basket for an upcoming gala silent auction.
I'm sure it will draw in the chocolate lovers!
Pros
Attractive package.
Finn Style quality.
Fresh!
Perfect
December 17, 2019
As expected, this is nothing short of perfect.
Chocolate is to love
April 23, 2019
Love hazelnut and chocolate combination.
By Armando
San Martin, CA
Fazer Hazelnut is my new weakness
March 5, 2019
Man, these Finnish chocolates are some of the best, if not the best, non-gourmet chocolates that I've ever had!!!

Although I'd love to live there, one advantage is that these irresistible & mouth-watering chocolates will not tempt me every time I go the the grocery store, pass a newsstand, fill up on gas, you get my drift.

Unbelievably delicious!
Thanks to fall weather am able to savor the wonderful taste
October 24, 2018
During summer months, due to heat encountered in shipping, FinnStyle doesn't sell the Fazer chocolates. Finally we're in fall, ordered and recieved shipment of Fazer milk chocolate bars and chocolate with hazelnuts. Both are delicious and delivery was as promised.
By Sari
Chicago, Illinois
Fazer chocolate
October 23, 2018
The best chocolate!
Best chocolate ever!
October 13, 2018
Milk chocolate with hazelnuts is our favorite, but all Fazer chocolate is amazing!
Chocolate
January 27, 2018
Delicious
Delicious
January 22, 2018
The first time I tried this chocolate was when we were visiting Finland. It has a creamy texture and no bitter taste. Bought several bars to give to my friends....(and kept one for myself. )
Chocolate Lovers Beware!!!
December 7, 2017
This could be seriously addictive! Fabulous chocolate...not "waxy", incredibly creamy, wonderful ...and oh the hazelnuts! This was my first experience eating Fazer chocolate....it will not be my last!
By Carol
Portland, Oregon
My favorite chocolate
November 7, 2017
Delicious chocolate and speedy delivery. Alway's a pleasure to shop with you.
By Andres o.
Mcallen Texas
Chocolate divinamente suculento !!!
November 6, 2017
Today is my lucky day, I am so happy to have found Fazer Chocolate, just bought a whole box !!!! (I could not decide whether to buy the original or the one with hazelnuts)
Kitos !!!!
Pros
Chocolate divinamente suculento !!!!!
Cons
I am afraid my stock will run out very very fast.. oh well
Great chocolate
April 16, 2017
Great chocolate
Family Favorite
March 2, 2017
Fazer is a family favorite from several generations back. We have family in Finland.
The Fazer Milk Chocolate with Hazelnuts Bar is the flavor that goes missing the fastest from the Fazer Chocolate Bar Gift Pack, so I have to order extras.
This time, I decided to just order several of the Hazelnut bars themselves, since this is what the family enjoys the most.
By John
Vancouver Washington USA
Dank choco
January 1, 2017
Tasty. Smooth. So good i locked it off my fingers.
Best chocolate Around
December 16, 2016
Cant beat fazer chocolate.
Cons
never enough in the wrapper
By Minna
, newpaltz, new york
My favorite!
December 12, 2016
Love Finnish chocholate!
By Married F.
Greenwich, CT
Love the Hazelnut bar the best.
May 10, 2016
The most wonderful chocolate made today.
Pros
Always brings a smile and brightens the day of whoever you gift it to!
Fazer milk chocolate with Hazelnuts
March 30, 2016
I have not had these chocolates for a long time and forgot how good they are. The nuts are very fresh which in many other chocolate /nut combinations are old. Nothing but the best!!!!
Good chocolate
December 30, 2015
Fazer chocolate with hazelnuts is one of my favorites. The hazelnuts taste better than in other hazelnut chocolates of other brands and the cholocate is great. The only thing was that it was not the freshest, a few months to expiring date.
Won't be shared
November 28, 2015
I bought as a gift and noticed it wasn't offered to be shared...
By jim
Central California
A Good Quality Flavorful Chocolate
November 15, 2015
Fazer is a national favorite in Finland and is exported to many countries. I developed an appreciation for Fazer when I lived in Finland. I have not found a variety of Fazer chocolate I do not like but the hazelnuts are a favorite. The rich but subtle flavor of hazelnut blends nicely with the chocolate. It is best at room temperature. Finns say that there are two kinds of chocolate: children's chocolate and adults' chocolate. This is definitely for those who can appreciate the difference.
DELICIOUS BUT HAVE HAD BETTER MILK CHOCOLATE
November 7, 2014
I've tried the milk chocolate bar without the hazelnuts before and preferred the dark chocolate. This time, I tried it with the hazelnuts, but still prefer the dark chocolate. This milk chocolate bar with nuts is good but I've had better. My family liked it better than I did. Everyones taste is different.
milk chocolate w/hazelnuts
January 21, 2014
best chocolate
By Nathalie
Los Angeles, CA
Fazer is the best chocolate in the world.
December 10, 2013
Love!
Very delicious!
June 7, 2013
I really enjoy the smooth and creamy taste of the fazer chocolate bars, but especially liked the addition of hazelnuts to this specific bar. One of my favorites for sure!
The Best Chocolate Available
January 6, 2013
This chocolate is the creamiest and the most delicious I have ever had. I bought ten bars for Christmas, and gave five of them as presents and kept five bars for myself. Unlike most European hazelnut chocolates, these hazelnuts are whole, not crushed. The chocolate is creamy and very fresh. It is also amazingly reasonably priced. People who receive this chocolate as a present are absolutely amazed how good it is.
Pros
The chocolate bar is large for its price. It is so good that it is hard to stop eating it. It is absolutely a culinary pleasure. I love giving it as presents.
Cons
I cannot say anything negative about the Fazer hazelnut milk chocolate.
Delicious!
January 1, 2013
I love Karl Fazer chocolate, but the one with the hazelnuts is sooo delicious! I bought this for family for Christmas, they were happy to receive it!
Fazers milk chocolate with hazelnuts
November 22, 2011
A wonderful, tasty experience.....
Pros
Very smooth, high quality chocolate.
Straight from my childhood
November 19, 2010
For me, Finland is always associates with best coffee, pastries and chocolates in the world... And my childhood fondest memories. I haven't been there for a long-long time and "revisiting" sometimes (often) disappoints. But not Fazer !
Lizzy
from Chicago il asked:
January 3, 2018
Is there any cross contamination with other tree nuts or peanuts?
1 Answer
Yes - the machines used for this product are used for other products where pine nuts, etc are made.
Submitted by:
FinnStyle Staff
on January 11, 2018