Fit for royalty, these juicy jellies have a rich history to tell. In 1902, this marmalade was sent to King Edward VII in a wooden coronation box. Since then, they have been given as wedding gifts to Queen Elizabeth in 1947 and most recently to Kate Middleton and Prince William in 2011. Still sporting the famous coronation crown, this candy box will please crowds with their sugar-coated outer shell and juicy, jelly center. The set of twelve candies has an equal number of apricot, black currant, lemon and strawberry jellies, all equally delicious. Kept as a special treat for yourself or gifted as a stocking stuffer, the Fazer Finlandia Fruit Jellies won't last long. Ingredients: Sugar, glucose syrup, glucose-fructose syrup, water, gelling agent (#440), acidity regulators (E337, E330), flavorings, colors (E120, E160a, E163).


ITEM #: FAZ-24331
COUNTRY: Designed in Finland, Made in Finland
Prize is for box of 12 candies.
Net weight: 9.2 oz (260g)
Please note: Only available for shipping within the United States.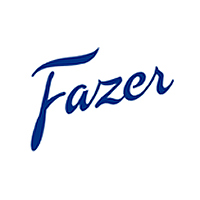 Considered a part of Finnish heritage, Fazer is a brand that most Finns have grown up with. Starting in 1891 as a small café in Helsinki by founder and Finland native Karl Fazer, Fazer has become one of the largest names in the Finnish food industry today. This brand is loved worldwide for ... More Fazer
98% Recommend this product
(
50
of 51 responses)
Fazer Finlandia Fruit Jellies
December 25, 2022
Delicious! The whole family enjoyed!
By Melissa
Massachusetts, USA
Made my own gift basket - just great!
December 22, 2022
I purchased as a gift and created my own gift basket with multiple Finnish products. I was really proud to give it! Thank you FinnStyle for making me the "best gift-giver" this year!
Delicious!
December 6, 2022
Fruity Finnish candy. What's not to like?
By Jennifer
Cambridge, MA
So delicious - I stock up every year from FinnStyle
November 30, 2022
It is sometimes difficult to find these Fazer Finlandia fruit jellies. I love them and when they are in stock at FinnStyle, I make sure to buy a few boxes.
Not your average jelly candy!!
November 28, 2022
These jelly candies have been a favorite of ours for some time. Flavors are simply delectable!
Love to give as gifts!
Pros
Sale price is always great !!
A wonderful, tasty gift!
November 21, 2022
I discovered these amazing Fruit Jelly confections in the gift shop of the National Nordic Museum last Christmas, and our family loved them! I was disappointed this year that the Museum didn't carry them, but then I was thrilled to see that Finnstyle sells these treats! I ordered enough for hostess gifts and presents for my extended family and friends. Truly, they are fun to eat, and so tasty!
All time favorites!
November 9, 2022
What's not to love about these jellies! Love the variety in this package. We get these all the time and are never disappointed! Except we keep running out... !! :-)
So tasty!
January 11, 2022
These are the best fruit jellies you ever tasted!
Makes a great dinner gift.
Cons
Lemon flavor ones should be more tart.
By Marcy
Portland, Oregon
I will be adding this candy to every order I make. It's delicious and very good quality. By far the best gummy candy I've ever had!
What a treat !
December 6, 2021
I love these jellies but this time it's not for me it's for a dear friend . It's great gift for the holidays .
Pros
They stay fresh for a long time .
By Samantha
Ontario, California
please bring this back!!!
Classic Finnish marmalade
December 1, 2020
Marmalade is not for everyone but the flavor combination of this box is delightful and makes a great addition to a cheese platter (instead of chocolate) if you feel like cutting them up into smaller pieces and enjoying a little bit of sweetness at a time. Apricot is my current favorite!
Other jellies should be jealous
October 29, 2020
These are NOT the hard, dense fruit jellies sticky enough to pull out grandma's dentures! Finlandia fruit jelly candy has a light, delicate taste and texture that elevates it from any other fruit jelly candy I have ever tried. It's such a cut above the rest, other fruit jellies should be jealous.
Wow, what flavors!
January 10, 2020
I love theses fruit jellies b/c the flavors are so natural. I have eaten other marmalade candies and I hate the artificial flavors in them. Once I found the Fazer Fruit Jellies I'm not eating any others any more. These are so, so good.
Refined sugary decadence
December 30, 2019
In all honesty, I love and adore the over-the-top sugariness of these jellies. Tangerine flavor (or is that orange?) is my absolute favorite. I prefer these over the traditional 'green jellies', as I feel that despite their sweetness, they are not overpowering. One jelly is usually a perfect serving. They are dense and flavorful and carry with them a sweet sucrose whisper of nostalgia.

Also the packaging is very elegant.
Pros
Not overly sweet
Elegant packaging makes for a perfect gift
Cons
Black currant is often not a crowd pleaser
Festive delight
December 25, 2019
Apricot. Lemon. Strawberry and black currant flavored jellies are all delicious, and not overly sweet. An elegant gift anytime!
not for me but very sophisticated
December 22, 2019
I love Fazer in general and these fruit jellies are very nicely done. They are pretty and dense with flavor and not sweet childrens jellies. However, they are a bit too much for me. Large enough that each one takes several bites and those bites do not seem like dessert but more like the fruit they are. More sophisticated customers should appreciate them more.
back in the day
December 3, 2019
Years ago, these jellies came shaped like the fruit they represented....also came in a lovely wooden box..back in the day!
By Armando
San Martin, CA
These pack a whole lot of flavor!
March 5, 2019
These are excellent! The taste is outstanding and the quality unsurpassed,.

I'm giving it 4 rather than 5 because the sugar coating to size seems a little off to me. Perhaps experimenting with smaller jellies and different sized sugar crystals would help?

Either way, you'll enjoy them!
Cons
None that are disqualifying
Juicy and chewy, great flavor
YUMMMMMMMMMMMMMMMM
December 18, 2018
I love these jelly balls to roll around in my mouth until I must bite them
By Patricia
Salt Lake City, Utah
Delicious!
December 16, 2018
These perfect naturally flavored fruit jellies have become a holiday tradition for me and my family!
By Carolyn
Dripping Springs, TX
The best!
December 9, 2018
Everyone I give these to say they are the best candy in the world! The box is beautiful. A wonderful gift.
By gaelan
San Francisco, CA
delightful!
March 16, 2018
these are so delicious, and they are vegan as well!
Delicious!
January 26, 2018
My first taste of the jellies was at the Fazer café in Helsinki many years ago. I was happy to know that now I can order
from FinnStyle! (the discount was a plus!)
Worth the money!
January 16, 2018
Best fruit jellies I've eaten
Very good!
January 3, 2018
I love these fruit jellies
Fazer Fruit Jellies
December 22, 2017
Delicious, as usual
Delicious!
December 17, 2017
So excited to give my 90 year old Dad and 86 year old Mom their favorite candy from their homeland!
Bought 4 boxes of these for Christmas - sooo good!
Pros
Excellent flavored candies!
The best jellied candy I have had.
Yummy gumdrops
December 7, 2017
These are oversized gum drops and several flavors come in the box. They are about an inch in diameter and come apart easily so you can choose to eat only half of it , if you desire a little something sweet and save the other half for later. So glad that you continue to carry these during the holiday season. Makes nice gifts for others.
The best.
December 29, 2016
Best Holiday candies!
By Pamela
EAST STROUDSBURG
Fresh and very liked
December 26, 2016
package came on time goods where fresh and very liked
Grandmothers love them!
December 23, 2016
I live in Finland and usually am able to send things out to my family with enough time before Christmas that they'll arrive in time for the holidays. This year was another story and I wanted to make sure that my grandmother who turned 94 earlier in December got something nice from us for both her big day and the holidays. FinnStyle came to the rescue again and got these to her in short order. She loved them so much and couldn't stop saying how big and tasty they were. Kiitos oikein paljon, FinnStyle!
By Cynthia
Minneapolis, MN
Love the different flavors!
December 9, 2016
A Christmas staple in our home.
By Pauliina
Denver Colorado
Finnish fruit jellies - amazing!
November 19, 2016
Memories of Christmas and of gifts from relatives - these jellies have been in my life for many years. Very delicious!
Love these!!
November 15, 2016
These are the best Fruit Jellies ever!!
By A M.
Greenfield, Massachusetts
Fruit Jellies for Christmas
October 29, 2016
Large, perfect and delicious Jellies.
My family have had these every Christmas since 1989. We love them!
Pros
Safe for people with nut allergy. Fun to eat.
Great product
December 23, 2015
The fruit jellies are beautiful and always make a wonderful statement. Very unique
Some form of magic
December 12, 2015
These little candies come to you, you don't expect much. They are amazing. So pure, soluxurious. Do yourself a favor and just buy some, you won't regret it.
Finlandia fruit jellies
January 1, 2015
Great flavor, my grandchildren were happy - missed then last
year. There used to be pear flavor which was my favorite, woner
if it is still available!?
By Tom
Berkeley, California
Delicious!
December 27, 2014
As someone who prefers fruit candy over chocolate, I am always on the lookout for new jellies to try. Fazer's Finlandia have a strong fruit taste with no artificial aftertaste or strange mouthfeel. I purchased two boxes for Christmas Eve and everyone loved them. The only potential drawback is the size of each of the 12 fruit spheres. They are a lot of candy, each one is about the size of a medium hen's egg. You may want to halve them before you put them out for guests.
Best Fruit Jellies one could ask for!
December 24, 2014
I was searching around the internet looking for Fazer Finlandia Fruit Jellies for a while. I did not know the name; so, I googled and came upon the pictures and googled again. FinnStyle had it in stock and I ordered 10 of these because I have been wanting to eat this for a long time. First time I ate these jellies was in 2004 while living in Scotland when one of my Finnish friends brought this for me after his visit home for Christmas. Next time when he went back to Finland for holidays the only thing I asked was to bring some of these jellies. There is a mesmerizing taste to it. I loved it and gave couple of packets to my friends as Christmas presents and they loved it too. I wished they had included the green jellies in this packet!
Pros
Best jellies I have ever eaten. Just as the description says, it is presentable to Royalty though I don't fit that description!
By Caroline J.
Fridley, Mn
Great tasting
December 16, 2014
My Father was so happy to get this package...we are going to come in when he visits...
Caroline Johnson
Fazer Jellies
November 28, 2014
This product brings back memories of receiving these candies from my aunt in Finland every Christmas. I'm purchasing them for family members. I wish you had the all green jellies as well.
The best jelly candy in the world
November 14, 2014
I love fruit jellies. I travel a lot and I have tried jelly candy from different countries. To my taste, these are the best. I am glad I finally found them online.
Cute Gummy Candy
October 25, 2014
Very flavorful candy that tastes just like the fruits they take after. They even come in a cute box :3
By Michele
Northern Virginia
Delectable candy
October 21, 2014
These have a special story in my family, so that makes them extra special, but these candies are truly amazing. There is no other jelly candy like it here, so I wait for them each year and order several for my family as well as gifts. The fruit taste is not obnoxiously sweet as it can be with many jelly candies, but more true to the taste of the fruit itself.
The Best
November 5, 2013
I have eaten Marmeladia since I was a child. I love them! I am so glad that FinnStyle is finally selling them!
In Finland our cousins called them Christmas Marmalade Balls. In US it does need to be what you have them.
November 1, 2013
I am just delighted you were able to get the Fazer jelly balls this year. I learned about them in Finland at Christmas time last year and carried many boxes back for my family. Please continue to order them. Yum! I think once people discover what these are they will continue to have high interest. Thank you!
They were on my doorstep the next day. Thanks for the free shipping when order was $60 plus.

Elk
from Massachusetts asked:
December 7, 2015
Finlandia Fruit Jellies contain High Fructose Corn Syrup?!!
1 Answer
Ingredients: Sugar, glucose syrup, glucose-fructose syrup, water, gelling agent (#440), acidity regulators (E337, E330), flavorings, colors (E120, E160a, E163).
Submitted by:
FinnStyle Staff
on December 8, 2015