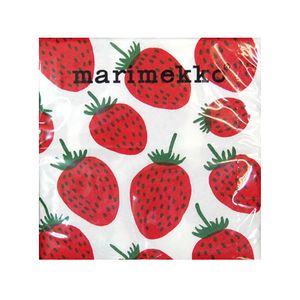 Marimekko Mansikka Napkins
This item is no longer available.

These bold and punchy Marimekko napkins are sure to thrill your guests. Featuring the bold Mansikka "strawberry" pattern by Maija Isola, these napkins have a wonderful pop-art look. Perfect for summer parties or soirees, these napkins are bound to be a hit.

Measures: 6-1/2" x 6-1/2" (16.5 x 16.5 cm) when folded.

(Sold in packages of 20.)

Please note: The Marimekko logo is on the packaging, not on the napkins.



---
Home
>
Discontinued / Out of Stock - 4
> Marimekko Mansikka Napkins
Marimekko Mansikka Napkins