Homelessness has reached epidemic proportions across the continent of Europe.

According to the 2018 report from the European Federation of National Organizations Working with the Homeless (FEANTSA), the EU is facing a homelessness crisis.



"This past year has resolutely confirmed the existence of another Europe: a Europe not merely ignored but also misunderstood, not just despised but also forgotten - a Europe of the homeless. The homeless population has increased steadily in almost all EU countries."

Although this information may be hard to swallow, there is one exception to these reports - Finland. The Nordic country is devoted to putting Housing First for their citizens, the name being adopted from the United States' homelessness policy.

Finland has beyond achieved their expectations to resolve the issue, with a homeless population of 7,000 citizens today - 5,000 of which are in some sort of housing accommodation while getting back on their feet. This number is statistically significant, as around 30 years ago their homelessness population was at a high of 18,000 individuals.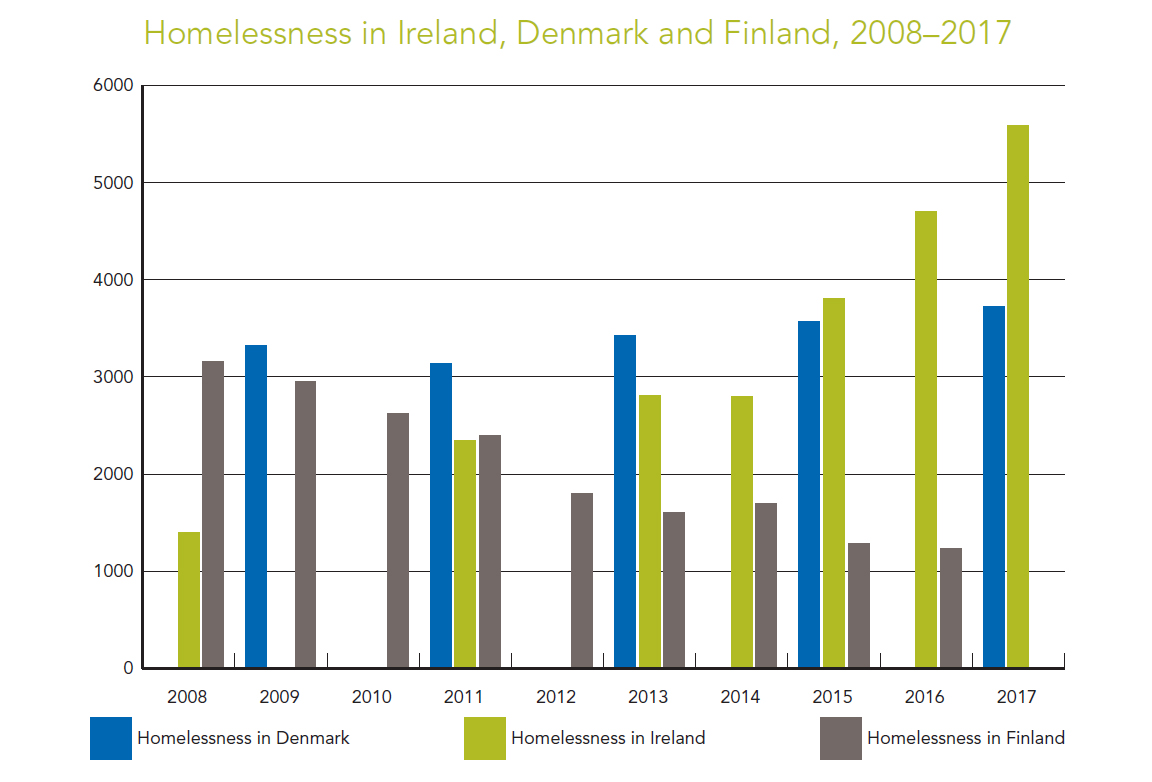 The U.S.'s Housing First Policy - A Good Start

The United States approach towards managing homelessness involves a "staircase" model, implying that one who is seeking housing must first complete a certain amount of preliminary steps before being considered for housing or housing assistance. These steps may include and are not limited to: obtaining a job, going through a drug rehabilitation, and steadily maintaining their financials.

The Housing First policy has been enforced in the U.S. in various forms since the 1980s, but has never been applied as a nation-wide policy - making homelessness still extremely prevalent across America.

As homelessness populations continue to increase in America, and are currently at a high of approximately 554,000 people, there are some obvious problems in their approach towards resolving the issue. A few of the main criticisms of the Housing First approach in the U.S. include the non-customizable standards that are not fitting to each area's homelessness, and also that although the program may be able to place an individual for housing, they are often not provided with the necessary support and resources to move on to post-Housing First living accommodations. These criticisms have provided Finland with information and ideas that have led to their foolproof approach to intervening and solving the issue.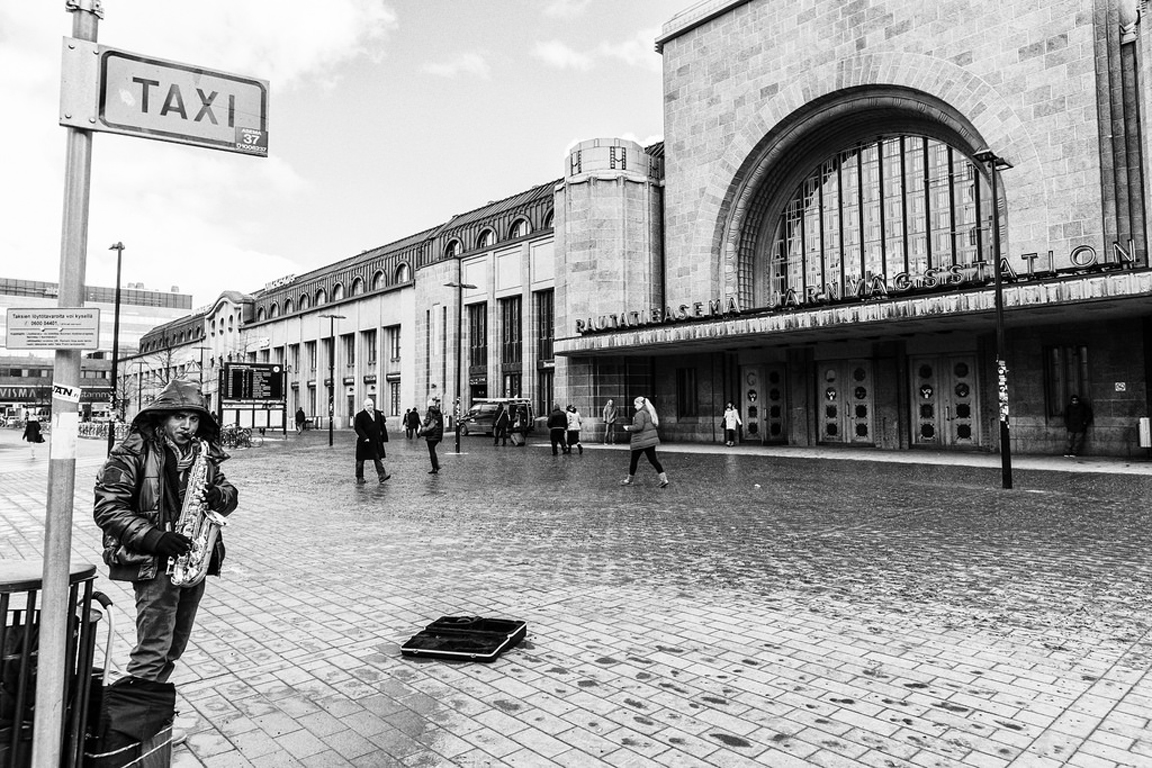 A man playing saxophone for money outside Helsinki Central Station. Image courtesy of Alfredo Roccia
"Ending homelessness, not managing it"

With hundreds of thousands of people in Europe struggling with homelessness, it is no surprise that Finland took necessary action to end this epidemic in their country. With original policies in Finland providing a steady decline in homelessness since 1987, the Finnish Government elected to implement a brand new policy to alleviate the long-term problem in the most effective way. In 2008, the Finnish Government launched PAAVO I, a three-year plan that utilized the Housing First as its organizational principle, with an end goal of completely eliminating homelessness by 2015.

"Basically, we decided that we wanted to end homelessness, rather than manage it," Juha Kaakinen, CEO of the Y-Foundation, an NGO that helps to provide 16,500 low-cost apartments for the homeless, told the Christian Science Monitor. In Kaakinen's Ted Talk, he talks about the group's long-term goal and their philosophies and influences regarding their approach. He also provides some background information on how their name, Y-Foundation, came to be. The name "Y" is descendant from the Finnish word "ykisainen" which translates to "lonely" or "single."

The first step of the three-year plan involved constructing and solidifying the housing units. By the end of PAAVO I in 2011, 1,519 units were built and functioning. In addition to the housing costs, it was also important that the units were staffed to provide 24/7 care for residents who needed it. There are a set of rules that residents must abide, one being that visitors must be pre-approved in advance to be able to stay overnight. Something that may be surprising to some is that substance abuse rehabilitation is recommended and provided if the individual wants it, but is not required to obtain their housing.

One resident is Fernando. He's lived at Rukkila for three years now. "I am dealing with my problems here," he told the Christian Science Monitor. "In the meantime, it's nice to know that whatever happens I have a roof over my head no matter what."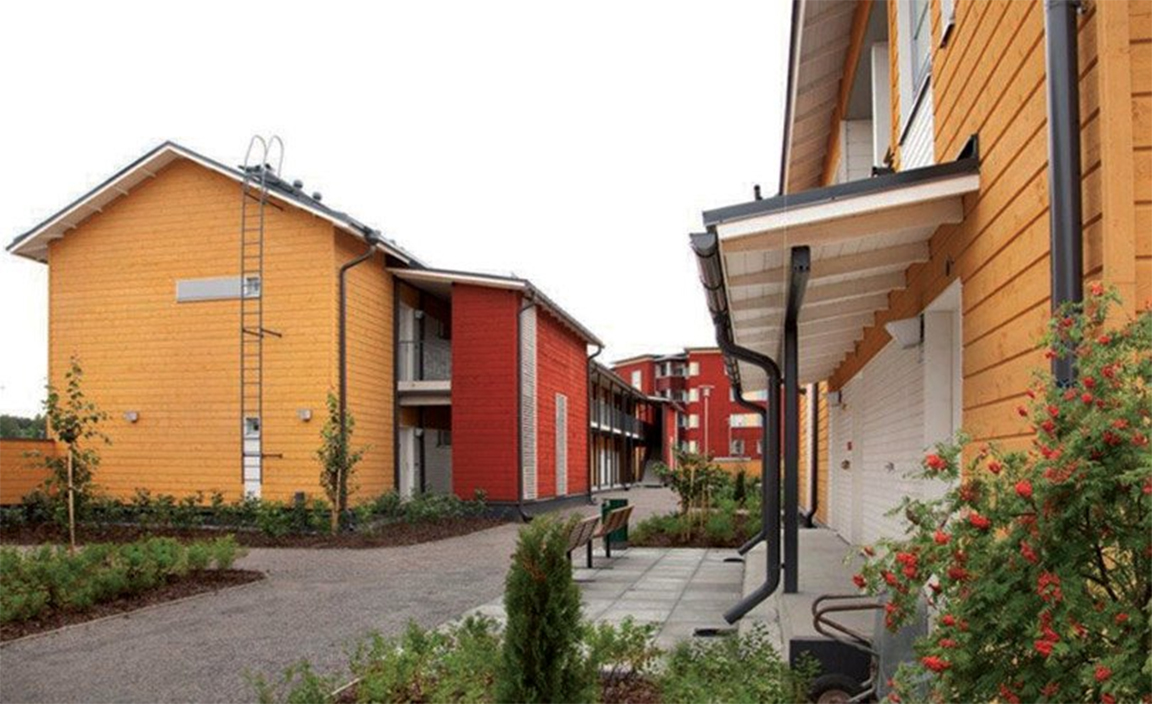 Finland's Y-Foundation focuses on mixed housing scenarios like these renovated apartments. Image courtesy of Y-foundation
The Cost, and its Benefits

After 3,500 units being constructed between 2008 and 2015 under PAAVO I and PAAVO II, the cost came out to approximately $328 million. The cost, although high, is said to have paid itself off as supporters of the project have created a huge influence that has bettered their community and improved their society. Morally, the citizens of Finland are said to continue to care for their less fortunate community members, as their actions are ethically the right thing to do and have truly come full circle.

A 2011 study of Finland's housing policy showed that Finland has saved $18,500 per homeless person who was placed in a rental unit. As residents are provided with care services for each rental property, the demand for emergency and medical services on the street have significantly declined, meaning that the government is able to save money and gain profits back from this project.

Finland is now recognized by many other European countries who are seeking to attend to their own issues of homelessness. For example, it's stated that Britain may soon adopt the Housing First policy that was demonstrated by Finland, also in an attempt to alleviate those large populations in need. "If other countries are inspired by our example, that's all for the better," Kaakinen said. "There is no quick fix to all situations however, we found. A solid base can provide the foundation upon which to improve the lot of the homeless, and ultimately resolve this issue."