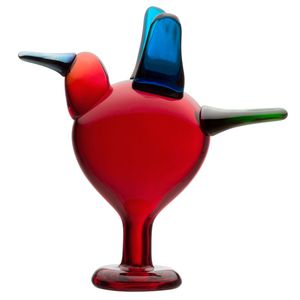 iittala Toikka Flycatcher
We are sorry but this fabric is sold out and no longer available.

This commemorative bird is a re-release of Toikka's original flycatcher. Produced by iittala in celebration of the Nuutajärvi glass factory's 215th anniversary, this bird is a must-have for any collector. The bird is unique even among other Toikka birds for its outstretched wings, which are a vibrant blue. Its plump body is a warm red that contrasts beautifully with its bright green tail.



While many have admired Toikka's first bird, few are able to call one their own. Now you can make Toikka's classic flycatcher part of your own collection. Only 380 will be available in the United States, so make sure you take advantage of this rare opportunity.
---
Home
>
Discontinued Items - 13
> iittala Toikka Flycatcher
iittala Toikka Flycatcher