Revenge is a dish best served with reindeer.

Former Italian Prime Minister Silvio Berlusconi joked in 2005 that one had to "endure" Finnish cuisine like "marinated reindeer." Finnish company Kotipizza made a great comeback by creating a special pie called "Pizza Berlusconi." The pizza is topped with tomato, cheese, chanterelle, red onion, and of course, smoked reindeer. It took first place in the 2008 America's Plate International Pizza contest in New York where it beat out the Italian American's pizza entry.
Hungry for Finnish candy, chocolate, and food? Shop our selection of Finnish Candy and Finnish Food.
Berlusconi was right that some Finns in Lapland eat marinated reindeer, but elsewhere in it is mostly served stewed or dried. He was, however, wrong about Finnish cuisine being something one has to endure. Finnish food is simple, comforting, and delicious. Fish and meat - primarily pork, beef, and reindeer - are staples in traditional Finnish cuisine. The country is also known for its fresh-picked mushrooms and berries, such as bilberries and lingonberries, used in cooking and baking. Here are 10 Finnish dishes you've got to try:
1. Karjalanpiirakka (rice pies)
Karjalanpiirakka are a very popular pastry in Finland originally from the region of Karelia. The rye crust is traditionally filled with rice porridge and topped with egg butter. It is eaten in Finland for breakfast, as a snack, and even served at weddings.
2. Ruisleipa (rye bread)
Rye bread may be nothing new to you, but Finland's version is genuine 100% rye bread made from unique Finnish yeasts to give it a dark, dense character. This bread is one of Finland's staple foods and a part of Finns' cultural identity for thousands of years. Leavened rye breads are often dried into thin crisp for open-faced sandwiches or to be snacked on with butter.
3. Leipajuusto (bread cheese)
Known as Finnish squeaky cheese in the US, Leipajuusto is a fresh cheese traditionally made from cow's beestings - rich milk from a cow that has recently calved. It's often served alongside coffee or with cloudberry jam.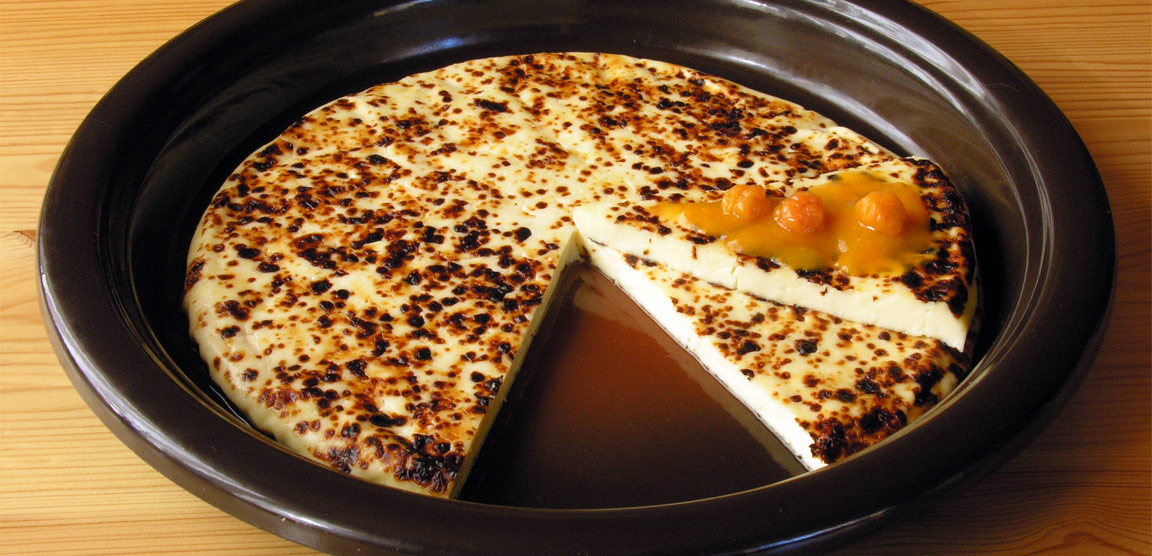 4. Kalakukko (fish pie)
Kalakukko originates from the Finnish region of Savonia. It is traditionally prepared with rye flour, seasoned with salt, and filled with fish, pork and bacon. When the bones of the fish soften, the meat and fish juiced cook throughout the bread in the oven for hours to result in a moist filling.
5. Korvapuusti (cinnamon buns)
Translating to "Slapped Ears" in English, Korvapuusti is a Finnish cinnamon roll and type of "Pulla," a Finnish sweet bread traditionally served with coffee. Delicious, fluffy dough is made into milk using fresh yeast and lots of ground cardamon.
6. Lihapullat (Finnish meatballs)
These meatballs are similar to the ones served in Sweden (hence, IKEA's big seller), but with less spices and herbs. Most importantly, the Finnish recipe calls for kermaviili, a curd cream. Lihapullat is traditionally served with cooked or mashed potatoes, gravy, lingonberry jam and cucumber pickles.
7. Graavilohi (cured salmon)
Finns love their salmon, and Finland is home to some of the freshest fishing sites. Graavilohi is a Nordic dish made from raw salmon which has been cured in salt, sugar and dill. The thinly sliced Finnish cuisine is often served as an appetizer alongside a dill or mustard sauce on bread or with boiled potatoes.
8. Mustikkapiirakka (blueberry pie)
In the summer months, Finnish forests are peppered with bilberries, the healthier Nordic cousin of the blueberry. Other berries, such as lingonberries, can be picked and used to make pies, but Mustikkapiirakka filled with yogurt and served with fresh milk is a much-adored Finnish cuisine.
9. Salmiakki (salty liquorice)
While black licorice is despised in some parts of the world, in Finland, it's a fan favorite. Salmiakki is a type of licorice flavored with ammonium chloride for an astringent, salty taste. The salty liquorice is usually eaten alone as a candy but can also flavor other things like ice cream, alcoholic beverages, and even meat.
10. Poronkaristys (sauteed reindeer)
Of course, we had to end with a reindeer dish. The steak or back of the reindeer is thinly sliced, fried in fat, spiced with salt and pepper, and cooked in water, cream, or beer until tender. This Finnish cuisine is then served with sugared lingonberries, mashed potatoes and cucumber pickles.