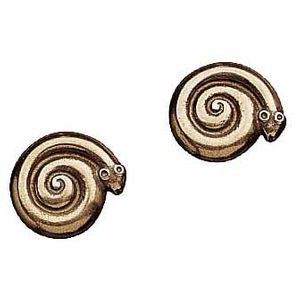 Kalevala Snake Bronze Earrings
This item is no longer available.
The snake is the symbol of the powers of the gods, a mythical creature that rules over life and death. It has an ability to rejuvenate and be reborn by sloughing its skin. Its venomous bite enables it to deliver sudden and unexpected death. A curled up snake depicts eternal life and the course of nature. It affords great protection against evil.

Bronze
Measures: 3/8" L x 1/2" W (.8 x 1.2 cm)

Made in Finland.

View our entire Kalevala Snake collection.
---
Home
>
Discontinued / Out of Stock - 2
> Kalevala Snake Bronze Earrings
Kalevala Snake Bronze Earrings