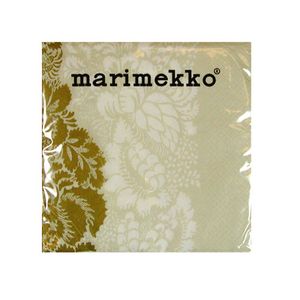 Marimekko Ananas Ecru Lunch Napkins
This item is no longer available.

These napkins by Marimekko feature the classic Ananas pattern in tones of beige and gold. Their neutral color scheme makes them perfect for just about any table setting, while their floral motif exudes a subtle elegance. Make these napkins a part of your dining décor and you'll love the effect they create.

Measures: 6-1/2" x 6-1/2" (16.5 x 16.5 cm) when folded.

(Sold in packages of 20.)

Please note: The Marimekko logo is on the packaging, not on the napkins.



---
Home
>
Discontinued / Out of Stock - 4
> Marimekko Ananas Ecru Lunch Napkins
Marimekko Ananas Ecru Lunch Napkins