Do you know someone in Finland who is getting married, or simply someone who is in love with Finnish design? These are the top five traditional Finnish wedding gifts that you can give instead of cash, for something timeless and memorable they are sure to cherish forever.

An iittala Aalto Vase is one of the most popular Finnish wedding gifts, and it's arguably one of the most famous glass pieces in history. Alvar Aalto designed the icon in 1936 and entered it in the Karhula-Iittala Glass Design Competition, in which it won first place. It was unveiled the following year at the World's Fair in Paris, where its simple and organic shape captivated audiences. There is some debate on what inspired the curves of piece. Some say the shape reflects the fluid lines of Finland's lake-rich landscape, but others point out that the title of the original sketches, The Eskimo Woman's Leather Breeches, suggests clothing could have been the muse. Symbolic to the hard but rewarding work a marriage takes, it requires 7 craftsmen, 12 work stages and 30 hours to create just one of these extraordinary vases. It also makes a meaningful traditional Finnish wedding gift when you consider all the anniversary, birthday, and "just because" bouquets it will hold in the years to come; perhaps the dried bridal bouquet will be the very first on display.



The same designer of the Aalto vase is just as well-known for his work with wood as glass mediums. Aalto invented a new form of laminated bent-plywood furniture, which he patented in 1933. The result of this unique method of bending birch wood is the "L-leg" that be can be found on many of his furniture forms, but most notably the iconic Stool 60 design. The three-legged, stackable stool is still made with the same production method today, and is also available in a four-legged version called Stool E60. Though many imitations of this chair have been produced, the only original and authentic by his founding company Artek can be found at FinnStyle. Finnish birch trees, aged 60-80 years old, are carefully selected and dried at the factory for one year before being crafted into one of these stools. The production of a single stool requires 45 stages, 25 of which are solely for the unique bent "L-leg." The teamwork it takes to create these stools with a strong, everlasting foundation is the perfect sentiment for a traditional Finnish wedding gift.


Since his glass birds first took flight in 1972, Professor Oiva Toikka has hatched more than five hundred designs. It takes year or even decades for the iittala master glassblowers to gain the expertise needed to create these mouth-blown beauties. Because each is handcrafted, no two birds are exactly alike. Any Toikka bird would make a meaningful memento, but there are a few species of birds perfect for the occasion. One is the Toikka MOG Puffin, because penguins mate for life. Another is the Toikka Dove, for the same symbolic reason that doves are often released at weddings. The Toikka Dove is also a lovely choice, as it represents purity, loyalty, unity, and love. Adding or starting a collection of Toikka birds is a wonderful traditional Finnish wedding gift and will forever serve as a reminder of their special day.
A Marimekko Dinnerware Set is a worthy investment for any couple, and you can help the newlyweds set the table in style and function. Made to mix and match, this set will pair with any existing pieces they have or will acquire in the future together. Each white stoneware piece is conveniently microwave, oven, freezer, and dishwasher safe. The black and white colorway is classic, as are the Marimekko Rasymatto and Siirtolapuutarha patterns that are featured on this bargain of a bundle. With four place settings of a mug, dinner plate, salad plate, and bowl, the 16-piece set is a useful traditional Finnish wedding gift as their family grows.
5. iittala Sarpaneva Cast Iron Pot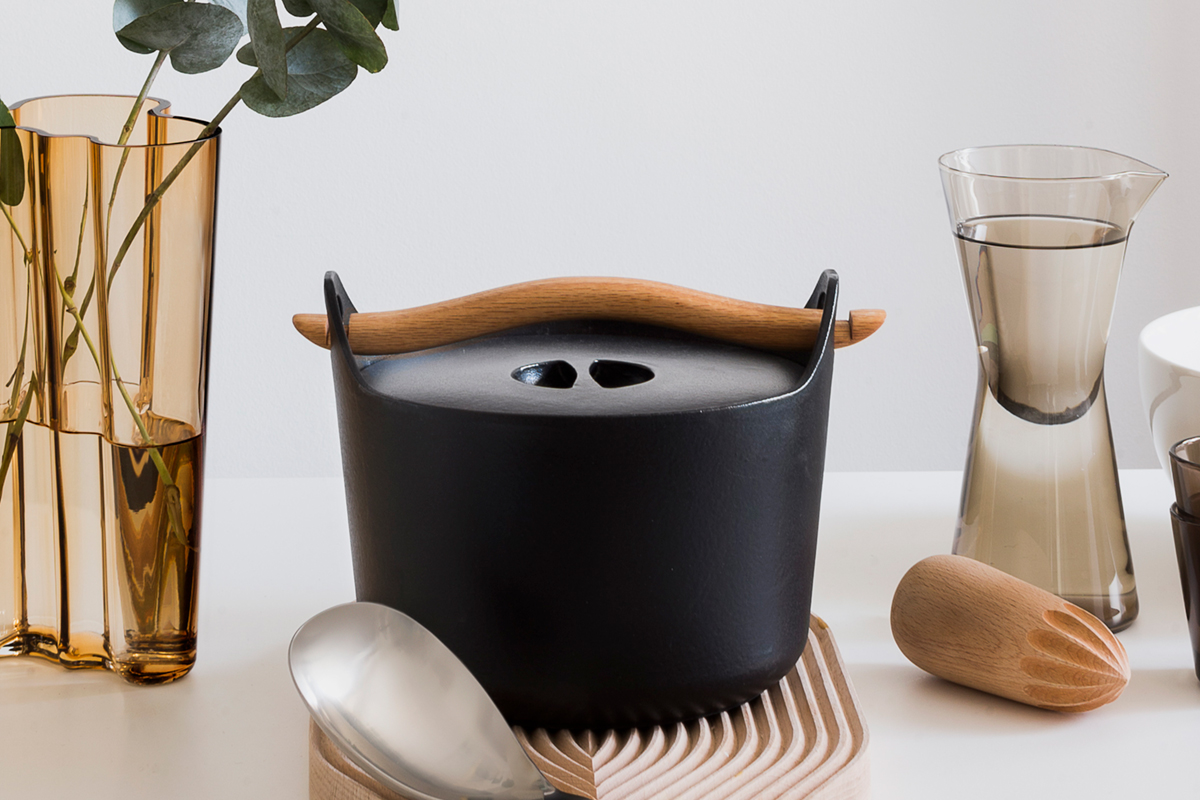 Every household needs a good cast iron pot, and the Sarpaneva is the very best you can get. Timo Sarpaneva's 1960 design has become a Scandinavian icon for its distinct style and unmatched quality and was once even featured on a Finnish stamp. Inspired by his blacksmith grandfather, the design took home the silver medal at the 1960 Milan Triennial and the International Design Awards. The cult-classic is instantly recognized by its detachable wooden handle, which allows you to open the lid and carry the pot from stove to table. The iittala Sarpaneva Pot makes a wonderful traditional Finnish wedding gift that will encourage sharing home-made meals together for years to come.