A set for the serious sauna lover. The genius blend of the heat-treated bamboo handles and metallic colorized aluminum basins gives this set both an industrial and natural look, allowing it to fit in traditional or more modern spaces. Both pieces easily cleaned, the bucket holds up to five liters of water and the ladle 12 ounces. These fine materials are also eco-friendly, so you'll have a feel-good sauna experience in more ways than one. Whether you give this as a gift or furnish your own sauna space, the Rento Thunder Blue Sauna Bucket & Ladle Gift Set will remain beautiful and useful for years to come.
Contents included (click on links to read each product description):
Sauna Bucket measures:
14" H (including handle) x 9" Diameter (36 x 23 cm). Holds: 1.3 gal (5 L).
Sauna Ladle measures:
17" (43 cm) L. Holds 12 oz (35 cl).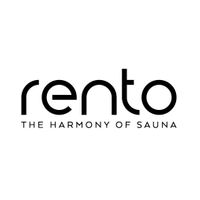 Bringing a new perspective to sauna products, Rento Sauna recognizes that sauna is the Finns' way of relaxing, and that each individual does it in their own way. "For us, bathing is more than a ladleful of water thrown on a hot sauna stove", Rento Sauna states on its website. "It is the sum... More Rento Sauna