Called 'Vihta', sauna whisks are an important part of Finnish culture. Gently slapping the skin with this bundle of dried birch twigs stimulates circulation and gives off a fresh aroma. There are many types of whisks, but birch is most popular for relieving muscle pain, cleaning the skin, and promoting ventilation of the lungs. Remove the packaging but leaving the netting around the whisk. Immerse it first in lukewarm water for 20-25 minutes, then carefully loosen the netting and let the whisk sit in warm water for another 5-10 minutes. You can start to use the whisk when your skin has warmed up nicely. After the sauna, lightly rinse the whisk and let it hang in a cool, dry place. You can reuse it following the same instructions. Do not leave the whisk in the sauna on the benches or the stove.
ITEM #: RS-232588
MATERIAL: Dried Birch
COUNTRY: Designed in Finland, Made in Finland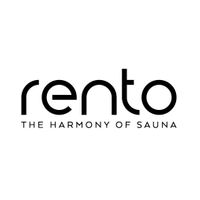 Bringing a new perspective to sauna products, Rento Sauna recognizes that sauna is the Finns' way of relaxing, and that each individual does it in their own way. "For us, bathing is more than a ladleful of water thrown on a hot sauna stove", Rento Sauna states on its website. "It is the sum... More Rento Sauna
100% Recommend this product
(
8
of 8 responses)
By Melissa
Massachusetts, USA
Sauna Joy!
December 22, 2022
I purchased as a gift and created my own gift basket with multiple Finnish sauna products. I was really proud to give it! Thank you FinnStyle for making me the "best gift-giver" this year!
THE REAL DEAL, I HOPE IT HOLDS UP.
November 15, 2021
I just completed my new sauna and for my last one that I built in Colorado in the '70s, I bundled aspen branches to make my own whisks. Kansas doesn't have any aspens near where I live, so I had to buy this one to get the full sauna experience.
I was pleasantly surprised at how close this "official" whisk was to my aspen versions. I followed instructions to the letter in soaking and preparing and was rewarded with the stimulating sensation of
gently "flogging" my back, legs and chest.
The percentage of leaves and twigs that fell off has me wondering how long this will hold up? It is well crafted and the twine binding includes a loop for hanging. It is inexpensive enough that if it lasts 4 or 5 uses it will be money well spent. I'll order several next time to save on shipping.
Finnish forest in our American sauna
August 5, 2021
If we can'€™t be in Finland, we'€™re happy to have a little bit of the Finnish forest for a special sauna.
Pros
Perfect traditional vihta. We use it outside since it gets a little messy, but it feels so good when you?re skin is still hot!
Packed and shipped well. No crumbling at all!
Koivu switch
June 6, 2021
Do you also provide cedar switches for sauna time?
Pros
Hold together longer than Koivu switches.
Cons
Cedar switches can clog the floor drain if you don't clean up before you wash up.
By Caroline
Porter Ranch, CA
Smells like summer in the woods
August 12, 2020
Large, generous amount of leaves and stems. I'm using it as a decorative item with a sauna bucket and ladle. Looks wonderful together.
Smells great
October 19, 2018
I don't have a sauna so I just purchase two for decoration. It has the smell of a kind of tea that I had during my trip in China. As decoration, it adds a idyllic and Christmas vibe to the room.
Great. Exacty what I wanteed.
September 4, 2018
Would order again.
Sauna fresh
August 15, 2017
Smells great. Authentic to a Finnish sauna. Packed well.
Jimmy
from Orr, MN asked:
June 6, 2021
Has the switch been cured before it is sent to you?

1 Answer
Yes - this is a completely dried and packaged whisk.
To use, you would re-hydrate it by soaking in water.
Submitted by:
Order Desk
on June 7, 2021
Bob the Whale
from New York City asked:
September 17, 2020
Will the whisk deteriorate and need to be replaced ?  Assume usage in a home sauna used 3+ times a week.   Thanks and be well
1 Answer
Over time, this item may wear out as it is a natural product. But it should last quite a while as long as it is properly hung to dry between uses.
Submitted by:
Order Desk
on September 21, 2020