The Kivi (Rock) collection by Anu Pentik brings a natural, neo-primitive playfulness to the setting. Dark in color like stone, the handcrafted ceramics are adorned with swirled detailing like that of an inner rock that leaves no two pieces exactly alike. This texture not only adds visual appeal, but can be felt, making dining a rich, tactile experience. Mix and match the Pentik Kivi Dinnerware with other Pentik pieces or let it stand alone in its strong simplicity.

Handcrafted at Pentik's studio in Finland, the human touch is apparent in every detail of the Pentik Kallio Dinnerware. Notice the perfectly imperfect shape of the rim, which lends it an honest and organic presence. Next, feel the striations on the outer surface and notice the subtle yet striking color variation. The earthy grey color lends the collection a modern appeal that is beautifully mixed and match with other Pentik pieces or strong left to tell its story on the table alone.The handles are attached to the cups by hand, and the edges are smoothened. The four bisque firing kilns are heated by LPG. The bisque firing temperature is 900 °C and time 24 hours. The waste heat of the kilns is sold to the municipal heating network. The glaze is applied on a product with a machine, sprayer or by hand. Then glazed product is fired in a kiln at 1,235 °C for 11.5 hours. If a product breaks in kiln, the pieces will be utilized in mosaics.


BRAND: Pentik
DESIGNER: Anu Pentik
MATERIAL: Ceramic
PATTERN: Pentik Kivi
COUNTRY: Designed in Finland, Made in Finland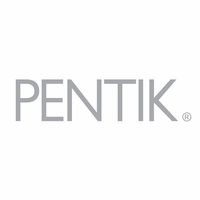 Pentik brings northern style and coziness to homes around the world. Pentik's ceramic items are made in Finland, in the northernmost ceramics factory in the world, right next to the Arctic Circle. Fine table linens and plush bath towels are among the Pentik goods that make home a haven. Gif... More Pentik
Valdis
from Silverton, British Columbia, Canada, V0G2B0 asked:
February 27, 2020
When did Pentik start to market this 'Pentik Kivi'?
1 Answer
I am not sure exactly when they started developing this pattern, however we have carried it ever since Pentik joined our line of manufacturers (2017)
Submitted by:
Order Desk
on March 3, 2020
Judith
from Corpus Christi, Texas asked:
May 11, 2017
Is there a Pentik dinner plate? It is not photographed and not priced in your latest email. What are the colors for the Pentik Kivi dinnerware?
1 Answer
Here is a link to the Pentik brand:
http://www.finnstyle.com/pentik.html
You can browse styles and see the dinner plates available for each in the categories. You can also see the Kivi dinnerware options there.
Submitted by:
FinnStyle Staff
on May 12, 2017