Named Kastehelmi (dewdrop) after the bubbled detailing on the pressed glass, this collection was originally produced from 1964-1988 and brought back to celebrate Oiva Toikka's 50 year mark as a designer. The bubbled design wraps around the jar, including the base, while the lid is contrastingly smooth. The lid protects the contents as it has a rubber seal, but it is also safe for popping on and off the jar, as it is made of acrylic in a completely matching hue. Stash mints, brooches or sentimental keepsakes in this petite and dewy beauty.
ITEM #: II-DEW365408
MATERIAL: Glass, Acrylic
Glass jar is dishwasher safe. Wipe lid clean with a damp cloth.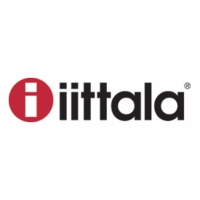 First founded as a glassworks company in 1881, iittala is now a leading company in modern Finnish design producing a range of dinnerware, glassware and art pieces. You'd be hard-pressed to find a Finn or fan of Finnish design that doesn't recognize the iittala logo, designed by Timo Sarpane... More iittala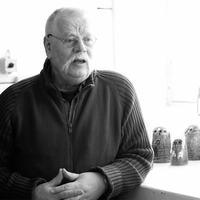 One, if not the most recognizable names in Finnish glass design, Oiva Toikka's boundless imagination has taken glass art to new heights. Best known for his Birds collection for iittala, he brings mouth-blown glass creations to life. Each one is hand-crafted so every piece is an original and... More Oiva Toikka
94% Recommend this product
(
30
of 32 responses)
By Armando
San Martin, CA
Beautiful & helpful
March 5, 2019
What a wonderful color to spruce up your home for the holidays.

I tend to fill it with candies without the lid and use it for safe-keeping trinkets, too.

One for each purpose, naturally.
Cranberry small jar
January 26, 2019
Unique and great quality
Pros
Lovely candy dish and good quality
love this RED
January 16, 2019
Happy to collect everything in this shade. So pretty and quality made.
Great for Valentine's Day candy hearts
January 5, 2019
This is a beautiful, rich red colored dish. I plan to use it for Valentine's Day and I can also imagine it looking great on the 4th of July and at Christmas.
Red Color Lovely.
January 2, 2019
Note: This lid is acrylic NOT glass as it would appear. My mistake as I missed the acrylic description in the Specification box.

I ordered (4) Red Jars and the acrylic lid tops came slightly scuffed from the manufacturer. Therefore I suspect these lids will not wear well through the years. No, I would not order again, nor give as gifts because of this feature.
Pros
Red color lovely. Red acrylic color matches actual glass well.
Cons
Received acrylic lids slightly scuffed from manufacturer. My first clue item was not actual glass.
Note: Acrylic does not wear well compared to glass - especially with a lid that will get constant use. Disappointed as image appears as glass and glass would be preferred.
Beautiful Color
December 31, 2018
This is the first glass I have purchased and it certainly will not be the last. The color is lovely and the workmanship is phenomenal. I can't decide what to use it for. Perhaps I'll just enjoy looking at it because it just makes me happy !!
Pros
Beautiful color
Feels wonderful to the touch
So many uses
A great gift is you can bear to part with it ! Better buy 2 !!
Attractive Jar
December 31, 2018
I purchased one for myself a while back. Decided to purchase more for gifts. Great to find them on sale.
Nice rich red.
Beautiful and functional
December 30, 2018
A very nice container, and bigger than it appears online. Beautiful rich color and a tight fitting lid.
Candy Dish for my Grandma
December 17, 2018
This is so adorable! Perfect gift for my grandma, since she loves to have candy or mints in the middle of her living room table.
Pretty And So Worth The Price
April 13, 2018
Very small and pretty! The berry/wine color is just perfect. The perfect way to store your everyday jewelry on your nightstand, or flat cotton pads in your bathroom. Personally, I prop the bowl part up on its own lid and use it as a candy bowl in the living room.
I received this as a gift but I would totally pay for this one. The red is so Christmasy! It is a gem
beautiful but small
February 10, 2018
Beautiful in red! Smaller than I thought it would be.

Charming!
February 3, 2018
This jar makes a great gift as well as a lovely, affordable decorative piece that is also useful. You really can't go wrong with the solidans elegant design of this air-rift jar.
Pros
Pretty
Functional
Air-tight storage
Classic style
Elegant
Gift!
Design detail
Nice Product!
January 16, 2018
I am very impressed with my purchase of the iittala Kastehelmi Cranberry Small Jar. I bought four. One for me and the others for gifts. Nice!
Timeless
January 13, 2018
Wow, this jar is truly timeless. Its like a small jewel... it will have endless practical and decorative uses! I took advantage of the lowest sale prices and bought many of these for gifting! I have lots of red in my home and cottage, so will enjoy them all year long with all of my Finnish friends!
By Kathryn
Boulder Colorado
Gorgeous clear color and design
December 26, 2017
Beauty, intense clear color, heavy glass container. Fast delivery
Pros
Quality and appearance is fabulous
Multiple Uses
January 21, 2017
This short but wide jar has many practical uses in both kitchen and office. The acrylic lid is thick, looks like glass and has a good seal.
Pros
Great addition to the Kastehelmi line. Made in Finland!
Beautiful iittala Kastehelmi jar
January 7, 2017
I was very pleased with the iittala Kastehelmi jar. It will look nice on display on an end table or will be a great gift.
By KK
Land of sky blue waters
Gorgeous Cranberry red
January 6, 2017
i purchased three of these for holiday gifts and i'm quite sure the recipients will be thrilled to receive them. the cranberry shade is SO beautiful, and perfect for Christmas decor and/or serving.
festive dish
January 4, 2017
great for decoration or for everyday storage
Pros
just a beautiful color, festive and useful
Jar has multiple uses
December 14, 2016
The red of the Iittala Kastehelmi Cranberry Jar is
wonderful with a votive candle in the center
as a pattern radiates out with the light. Lid can
join in with its own candle!

Nätti!
December 12, 2016
Kiva ja kätevä!
Small Cranberry Jar
December 10, 2016
I now have 2 of these jars, which are my favorite color. The first was a gift from my daughter, and the second I received free with and order.
By Valerie
movaru55@cox.net
Kastehelmi Cranberry Jar
December 10, 2016
This was a free gift when I purchased Christmas gifts for my niece and friend. It is absolutely gorgeous! Love it!
Cons
Pricey if you have to purchase it.
beautiful color
December 10, 2016
The color is even better than it looks in the pictures.
Perfect to store candy
December 19, 2015
Perfect place to keep my favorite Fazer Marianne Mint Candies close at hand.
By Julia
New Orleans, Louisiana
Beautiful deep color
December 16, 2015
Love the deep color.

Beautiful gift
December 14, 2015
Iittala makes the most beautiful glassware!
great jar
December 14, 2015
great jar, gorgeous colour
Dewdrop Cranberry
December 11, 2015
I am very happy with these little jars and bought one in every color.
Lovely Christmas gift
December 11, 2015
I bought these for Christmas gifts. Once I got them, I loved the red color of the jar I had to keep one for my own collection.