Bite into one of these heavenly Geisha hazelnut chocolates and you are sure to become a Fazer fan. Rich milk chocolate encases a soft hazelnut filling in a combination that is delightfully decadent. Fazer has been making chocolates and candies in Finland for over a century but their quality creations are craved worldwide. Introduce these Fazer Geisha hazelnut chocolate candies to your family this holiday season and they will disappear before you know it.

Ingredients: sugar, milk, whole milk powder, cocoa butter, hazelnuts, cocoa mass, vegetable oil (palm, shea), wheat flour, sunflower and soy lecithin (emulsifiers), salt, artificial flavor. Contains: Milk, hazelnuts, wheat, soy. Manufactured on equipment that processes other tree nuts.
ITEM #: FAZ-24329
COUNTRY: Designed in Finland, Made in Finland
Approximately 21 pieces of candy in one box
Please note: Only available for shipping within the United States.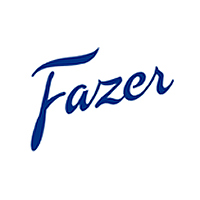 Considered a part of Finnish heritage, Fazer is a brand that most Finns have grown up with. Starting in 1891 as a small café in Helsinki by founder and Finland native Karl Fazer, Fazer has become one of the largest names in the Finnish food industry today. This brand is loved worldwide for ... More Fazer
99% Recommend this product
(
73
of 74 responses)
Bet you can't eat just one
April 13, 2023
These are delicious and I'm so glad I bought four boxes. I bought extra boxes to include in a gift for my mother. The hard part is not grabbing those that I have put away.
The chocolate is creamy and it melts in your mouth.
Love the taste
February 1, 2023
Great tasting, to be honest they were gone the day they arrived. My whole family loved the taste.
The best combination, dark chocolate and hazelnut center. Nice size pieces so you can at least start out with good intentions!
My Favorite Fazer
December 15, 2022
I blame my cousin for my addiction since he started it all by gifting me Geisha Hazelnut chocolates when he came to Texas to visit. I enjoy all the Fazer varieties but milk chocolate with hazel nuts is food of the gods. So creamy, so nutty, so good!
Pros
Lovely chocolate and nuts in a beautiful box, a treat for the palate and the eyes.
Cons
Hard to stop at just one! Or two?
Geisha! to die for!
December 7, 2022
I discovered these awesome treats in Finland, in the '80s. They were sooo delicious! When I got married in 1990, I had my relatives send them to me for my wedding reception (probably bankrupted them!). Coincidentally, my colors were the same as the wrapper! You can't get any better milk chocolate treat, with a soft hazelnut filling, than Geisha!

I still love Geisha candies. Unfortunately the marriage didn't last! But my love of Geisha did!!
By Julie
, Rocky Point NC
Fazer Geisha Hazelnut Chocolate Box
October 27, 2022
I was first introduced to these chocolates on a flight to Finland, many years ago. Since then they have been my favorite Finnish chocolates. Numerous friends of mine in this country have also been introduced to these chocolates and their delight in how delicious they are have only increased my desire to purchase more of these chocolates - as gifts to them also.
Love it!
October 25, 2022
I really love these candies. milk chocolate and nuts šŸ˜‹drive me crazy
My go to chocolate!
February 15, 2022
Great for skiing snacks!
Great taste
January 6, 2022
I missed Finish candies so much. This one is definitely a great representation of Finish candy. Love it!
My Favorite
January 1, 2022
My favorite Finnish chocolate. Great taste.
The best every chocolate
December 18, 2021
This is my and my husbandā€™s favorite Fazer chocolate. Quite a small box, but at least some Finnish taste during Christmas time. This is a must at Christmas. Ordered for the first time online 2 boxes together with other ?tems and everything arrived carefully packed in good condition.

Geisha Hazelnut
November 26, 2021
This is so amazing chocolate. Everyone love is!
Great gift idea!
My Favorite Fazer
August 30, 2021
Geisha is my favorite Fazer chocolate! Delicious and so rich, unlike any other chocolate here in the U.S.
One of the best Fazer chocolate.
February 25, 2021
I have been buying Geisha for many years way before it was available in the US .
Very tasty and fresh !! I love to give it to friends and family .
Pros
Small but satisfy any sweet tooth.
Cons
Because it small and delicious it?s addictive. Easy to finish the Whole box in no time .
By Christina
Pleasant Grove, UTAH
Delicious!
February 18, 2021
My favorite chocolate from my childhood.
Hazelnut wrapped in chocolate. Is there anything better?
Sanokaa Fazer kun haluatte Hyvaa!
Ash for Fazer when you want something good!
By Ryan
Salt Lake City, UT
Delicious!
January 24, 2021
A Finnish friend of mine, gifted me a box of these for Christmas. I liked them so much that I bought more.
Great for sharing at parties
December 17, 2020
We brought this to a holiday party, where it was very well received.
Yummy and Pretty
December 10, 2020
Love this delicacy: yummy chocolate (personal favorite) in pretty pink wrapping
Hazelnut and milk chocolate deliciousness!
December 1, 2020
A childhood classic that never fails (me or anyone else I have ever offered one)!
Fazer Geisha
April 24, 2020
Very nice chocolates. Brought me years back when I had them again...
OMG....What a flavor
April 23, 2020
The marriage of Karl Fazer milk chocolate & hazelnuts is wonderful
No one does chocolate like Fazer. Smooth milk chocolate with hazelnut filling
soft and creamy
February 18, 2020
very light in flavor and texture. I'm betting children will like them especially because the whole effect is of rich MILK chocolate.
Geisha is our favorite chocolates in the world!
February 16, 2020
Received shipment quickly. My husband was very happy to get his favorite treat.
Pros
Received quickly. Free shipping with large order.
By Andrea
Apple Valley, Minnesota
Awesome chocolate 👍🏼‼️
December 27, 2019
A velvety, smooth, totally melt in your mouth special treat from Finland; my granddaughters love the Geisha chocolates.
Pros
A very thoughtful hostess gift.
you can't go wrong
December 10, 2019
I fell in love with these while visiting family in Finland.
Pros
easy for gift giving, or for pretending to gift give and just eat them yourself!
Delicious!
November 11, 2019
These little bonbons are exquisite. The silky milk chocolate and crushed hazelnuts make a sumptuous combination.
Super yummy candy
April 28, 2019
Excellent chocolate filled with hazelnut paste. I love these so much I donā€™t even share them but hide them from others in the house.
Creamy Fazer milk chocolate with a bit of crunch from chopped hazelnuts. What's not to love?
Tasty treat
December 30, 2018
Smooth chocolate, a perfect sweet treat
Delicious!
December 19, 2018
After reading all the great reviews on these candies, I decided to try them myself. These were promptly reordered and placed into all of my holiday gift baskets. Delicious chocolate and if you can try to avoid biting into them right away, it has a slow melt and then the hazelnut flavor really appears. Enjoy!
Taste like heaven
October 22, 2018
I used to get these when I was a kid, it still taste the same.
my favorite candy
March 22, 2018
I fell in love with this candy on my trip to Helsinki. it's so great that I found it is available in the states!
Quality
February 27, 2018
Best chocolate ever!
DELICIOUS
December 15, 2017
Fazer is my favorite candy maker and this is definitely in the top 3 of my favorites
Quality you can trust
December 9, 2017
Perfectly smooth and creamy chocolate over a soft and flavor rich hazelnut mousse filling. If only the box were bigger! Goes well with a nice hot cup of coffee.
My favorite chocolate
December 9, 2017
This is possibly the best chocolate in the world. I always buy these also for gifts. Highly recommended.
By Josiah
Morgan Hill, CA
Simply the Best!
December 7, 2017
You can't go wrong with Geisha; it's one of the best chocolates I've ever tasted. If you're a chocolate lover, you're in for a real treat!
Childhood memories
November 24, 2017
Geisha chocolates bring back so many childhood memories! If you can't go to Finland, you must have these at your Independence celebration!
Good chocolates but...
April 16, 2017
I purchased two boxes of these and two more of the Geisha dark chocolates; the dark chocolates did not arrive.
By Minna
, Newpaltz, new york
Best chocholate ever!!
December 12, 2016
Bigger box would be nicer!
By Sophie
South Burlington
Delicious!
December 12, 2016
Haven't had these in a while and they tasted just like I remember them!
Fresh and yummy
November 15, 2016
A family favorite - arrived fresh and delicious.
Geisha!
November 15, 2016
Best chocolate ever!!
Delicious chocolate, wonderful hazelnut filling!
March 25, 2016
Safe, delicious candy for my grandchildren's Easter egg hunt!
Why named "Geisha?"
Pros
No high fructose corn syrup, or artificial colorings in this delectable candy!
Cons
Hard to resist eating more than one!
Thank you these chocolates were dispatched nicely and were great. Not melted which was excellent!!!

I will be buying from this site again. very happy

Nice chocolate truffles
February 21, 2016
My husband's favorite Finnish candy. It is not quite as creamy as Lindt's truffles, one can feel the fine flakes of hazelnuts in the filling, excellent.
By Linn F.
Lindaspensala@aol.com
Everyone's favorite....Finn chocolate & Hazelnut
February 7, 2016
Yum....a PERFECT combination....Fazer creamy chololate and hazelnut....go for it!
Pros
It just a hint of hazelnut mixed with chocolate creaminess....a dream candy....
By Helen
Huntington Beach, CA
Beyond delicious
January 26, 2016
I was very happy to find the Geisha chocolate candy online here. I ordered it for my American friends and told them that we have the best chocolate in Europe. After tasting Geisha, they agreed.
received on perfect condition
December 17, 2015
always tastes good!!!!
Beguilingly good.
December 15, 2015
Be sure not to overlook this gem in your chocolate shopping! Simply outstanding.
The Cream of the Crop Fazer Treat
November 8, 2015
My Finnish husband's favorite and a true love of the Finns. This made excellent gifts for friends and family so they got to try true, quality Finnish chocolate. A real treat fro everyone!
Fazer Geisha
November 1, 2015
This chocolate is so good you could eat it all up at once.One star missing due to short expiration date.
Quite tasty!
December 24, 2014
I received a couple of pieces of this candy as a gift and really liked it. I was very happy to see that Finn Style carried it and am sharing it with my friends this Christmas. Melts in your mouth-yum!
By Elouise K.
Savannah, GA
fabulously tasty
November 15, 2014
Delicious!
By Helena
Huntsville, Texas
Fazer Geisha Hazelnut Chocolates
November 10, 2014
Thank you for importing this wonderful delicacy from Finland.
By Dennis H.
United States
Excellent!
November 4, 2014
This is a new addition to the Fazer line. We enjoyed a lot of this chocolate in Finland this summer.
What we needed is a "resupply". So glad Finnstyle carries it.
A must have candy
October 24, 2014
My family looks forward to Geisha Chocolate every holiday. It is one of our favorite traditions.
These are best when eaten slowly.
April 27, 2014
These packages are great presents and they are a favorite of many friends.
Great service
January 20, 2014
I am very pleased with how easy it was to order and the shipment was well packed and did not take long to receive. I would definitely order again.
By Brittney
Framingham, MA
Wonderful
January 15, 2014
Best chocolate and fast shipping!
Fantastic chocolate, the individual wrapped candies are great when you a small piece of Fazer.
Best Chocolate Ever!
June 13, 2013
It's creamy and center is filled with nutty flavor with a little crunch.
Creamy ......for the chocolate lover
June 2, 2013
These Finnish Geisha chocolates are a favorite in our house....creamy....chocolate and the perfect bite size....Fabulous!!
Pros
Great size and well packaged....not too sweet and sugary....
By Lauren C.
Richmond, Virginia
Very pleased.
March 19, 2013
I was able to try these delicious chocolates 2 years ago from a Finnish friend of mine. I instantly fell in love. I searched for these chocolates forever and finally found them at your website. I'm very happy with my purchase! The chocolates are wonderful, and the shipping was very fast. They came earlier than expected.
Special Holiday Treat
January 12, 2013
I bought these for the holidays, and they were enjoyed by all. Will be ordering more (and trying the dark chocolate version!) to give as gifts. I also found them to be a good value for the price. Thanks, FinnStyle!
My favorite from childhood
January 6, 2013
This Chocolate is creamy, delicious and has multiple flavor surprises as it melts in your mouth. I ordered four boxes of it this Christmas and gave them as presents. Everybody loves it.
Pros
It is amazingly fresh and reasonably priced for an import chocolate. Usually, unfortunately, as you buy European chocolates at a typical grocery store, the chocolates are not fresh. (not Fazer chocolate, which I cannot find in stores).
By Abigail
Bartlesville, Oklahoma
A treat for one, or many.
May 17, 2012
Great decadence in a small package, Geisha chocolates are a lovely, nutty treat to be enjoyed by oneself or shared with (only good) friends.
Pros
Good size
Balance between nut and chocolate
Great gift
If you like hazelnut and chocolate Fazer Geisha is the way to go. One of my favorites.
Geisha chocolate
December 10, 2011
Tha best chocolate palatal experience yet!!!!! Smooth, creamy and not too sweet. Fazer makes the best chocolate inthe world.
Geisha is one of my favorite chocolate. Its creamy with hint of hazelnut.
best chocolate ever
June 22, 2011
When I was an exchange student in Finland, I got hooked on this delicious chocolate.
Pros
- very creamy
- not overwhelming flavor
- generally delicious
Cons
- it's very difficult to get in the US
alex
from Cincinnati OH asked:
April 5, 2014
I would like to place an order but I need to know about the expiration date. What is the expiration date ? Please respond asap so I would place my order asap. thank you.
1 Answer
The Best By date of our current stock of Geisha is 6-13-14
Submitted by:
FinnStyle Staff
on April 7, 2014
Patty
from Boonton, NJ asked:
January 30, 2014
Will you be getting anymore of the Geisha candy in and if not where else can I order it.
1 Answer
We currently have Geisha in stock, however due to freezing temperatures we have had to put a hold on shipping them out. Due to the cold temperatures, the wrappers are breaking and disintegrating so the candy arrives unwrapped. Once the temperatures settle, we will make this and the Fazermints available for purchase. Our apologies for any inconvenience.
Submitted by:
FinnStyle Staff
on January 31, 2014