Finnish design can be spotted all over media like movies and TV shows. While it may seem like background props to some, those who know and love these products can recognize them right away. We've rounded up 15 of our favorite finds in recent and classic media with links to shop some.

1. Marimekko Unikko in Black-ish

This American comedy-drama follows the lives of an upper-middle class African American family. Broadcast on ABC, the sitcom featured Unikko pillows and curtains as part of its set design.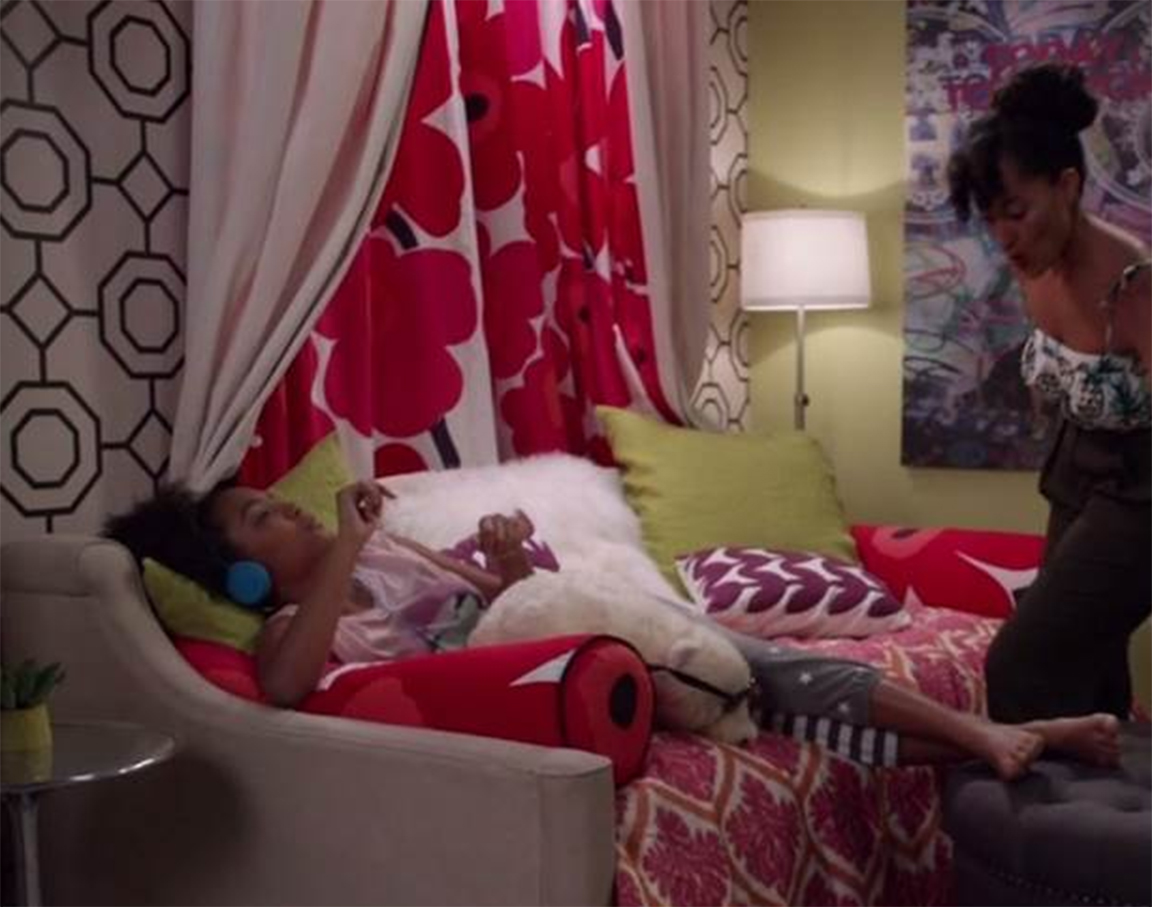 A still shot showing Marimekko Unikko items in the ABC show Black-ish.
2. iittala Sarjaton Mug in The Girl on the Train

The 2016 American mystery thriller The Girl on the Train is based on a book of the same name by Paula Hawkins. It stars Emily Blunt and Luke Evans, both of whom use iittala Sarjaton Metsa (Forest) mugs in the film.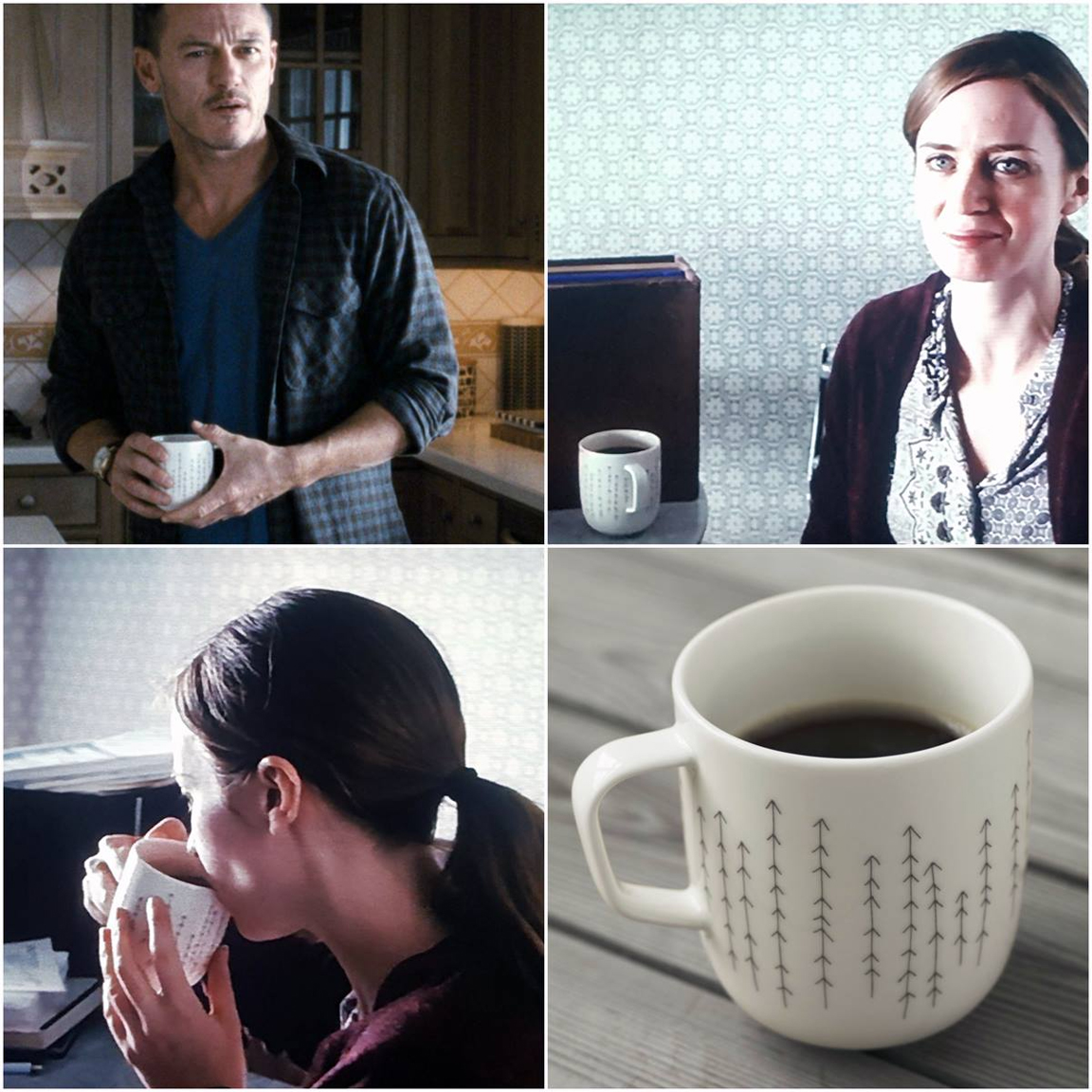 Characters from the film The Girl on the Train sip from iittala Sarjaton mugs in a kitchen scene.
3. iittala Origo Bowl in Along Came Polly

A scene in the 2004 romantic comedy Along Came Polly uses multiple iittala Origo bowls in a restaurant scene. The colorful stripes are the perfect complement to the film's lighthearted and quirky characters.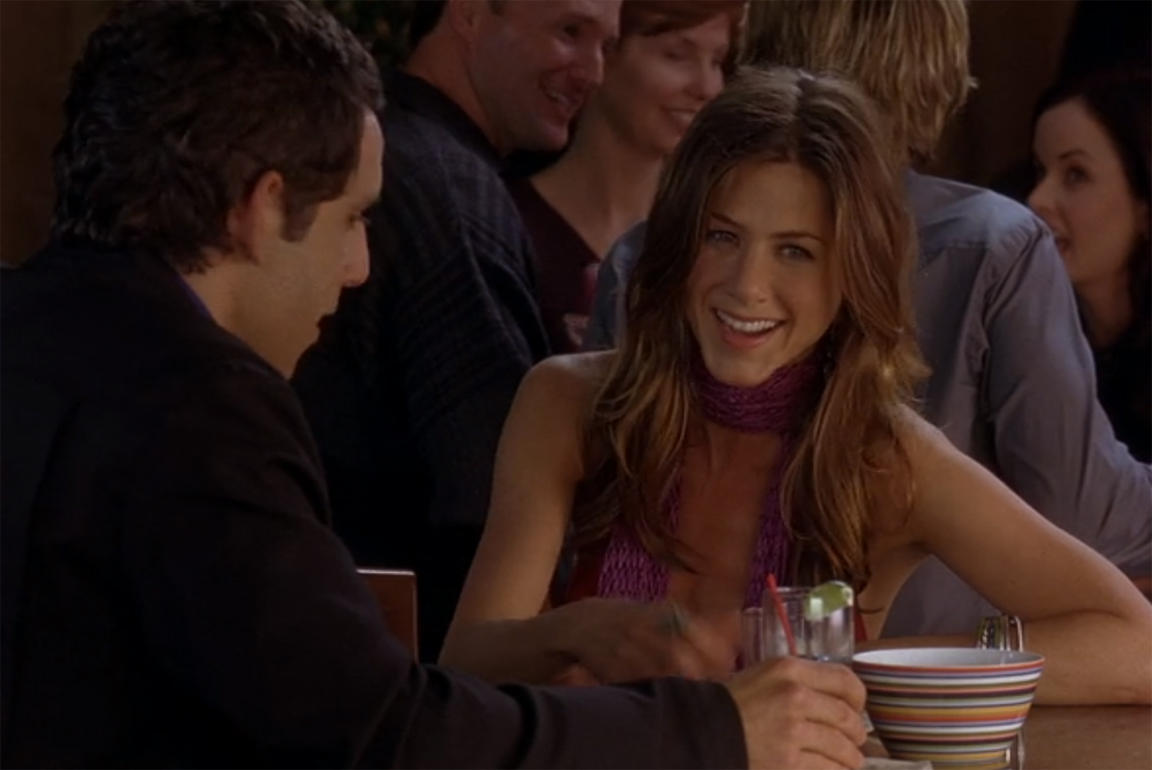 Polly (Jennifer Aniston) and Reuben (Ben Stiller) talk and dine alongside the classic striped dinnerware.
4. Marimekko Mugs in Suits

The American legal drama Suits stars the newly British royal Meghan Markle, so you know it's chocked full of good style. Marimekko Rasymatto (Rag Rug) and Siirtolapuutarha (Community Garden) mugs can be seen in the USA show.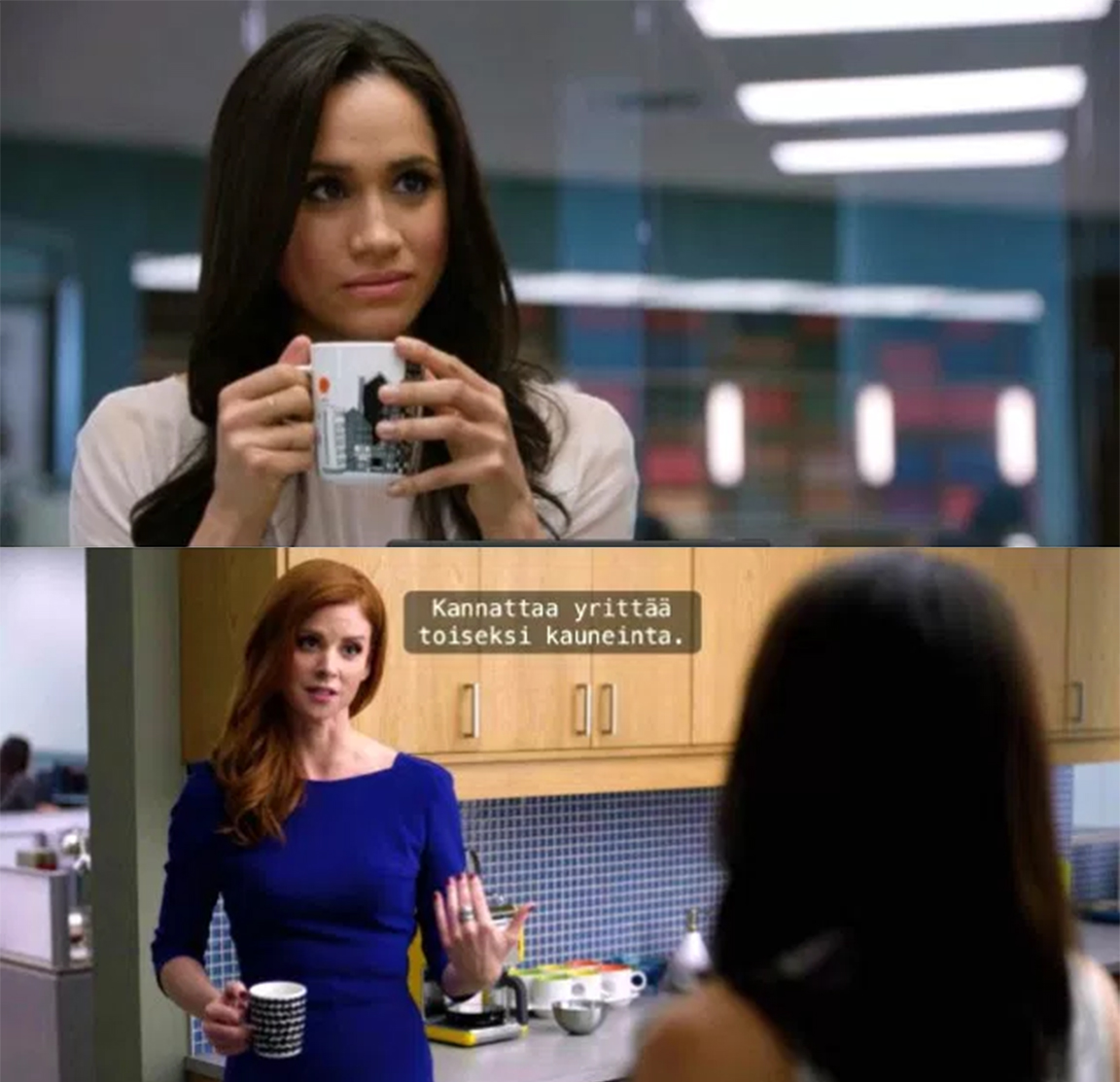 Suits stars sipping in style. Image courtesy of Krista at Hungrygals.com
5. Marimekko Dress and Curtains in Sex and the City: The Movie

A film sequel to the wildly popular HBO series of the same name, Sex and the City: The Movie has featured Marimekko in both its home decor and fashion. Carrie's worn Marimekko dresses and incorporates Marimekko curtains into her fabulous New York apartment.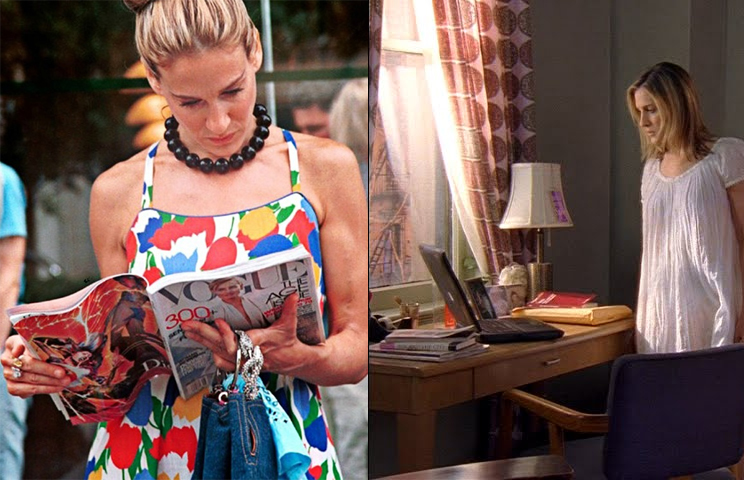 Marimekko Tantsu (Dance) is the pattern that graces Carrie Bradshaw's windows above her desk in the 2008 film.
6. Marimekko Shower Curtain in Modern Family

As the name implies, the ABC hit Modern Family features modern design aplenty. Even the bathroom is styled with beautiful art; the Marimekko Kaiku shower curtain is instantly recognizable.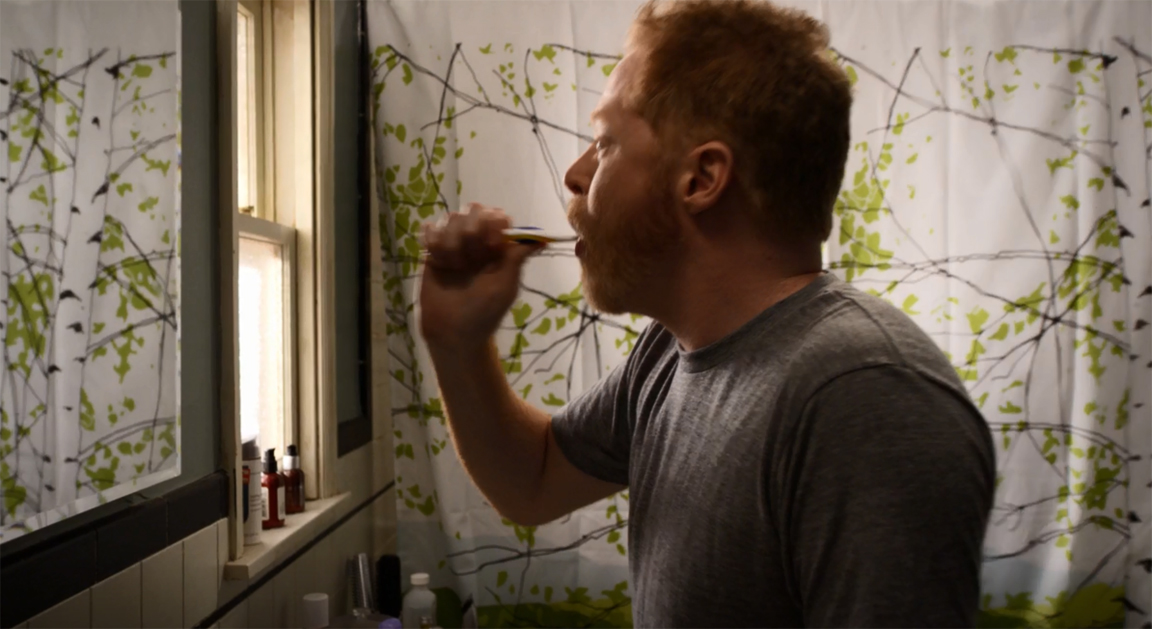 Mitchell from Modern Family, portrayed by Jesse Tyler Ferguson, brushes his teeth in from of a Marimekko shower curtain.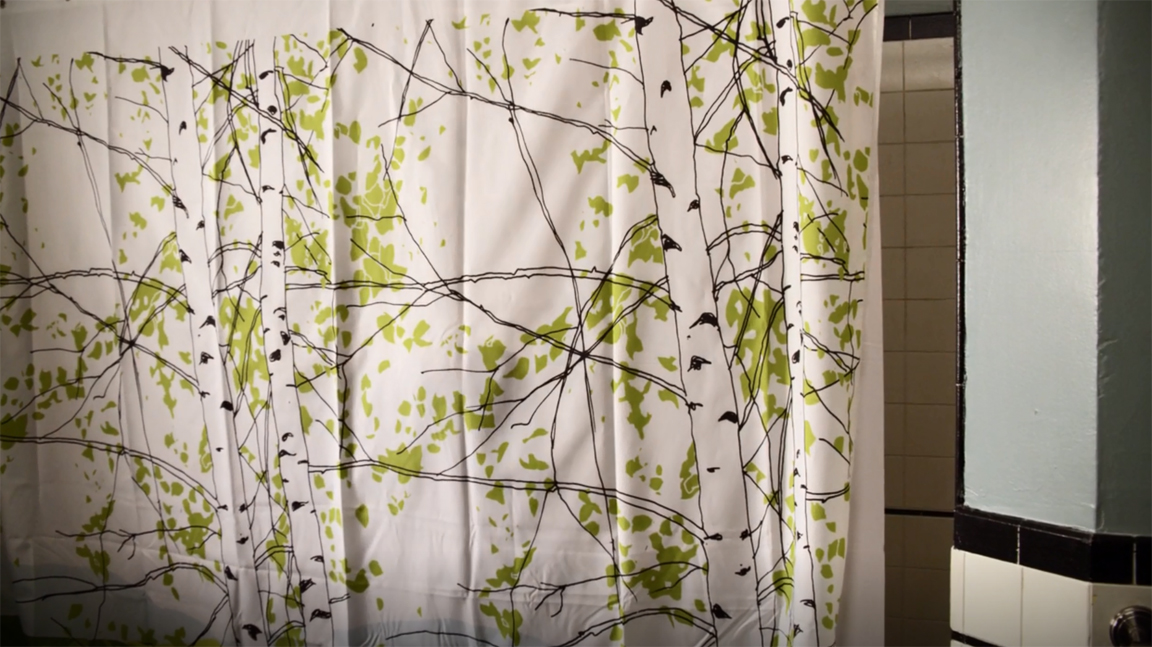 7. Marimekko Unikko Bowl in Dexter

The Showtime series Dexter is about a vigilante serial killer, so this Marimekko Unikko bowl placement was some welcome cheer in the often dark and gruesome show.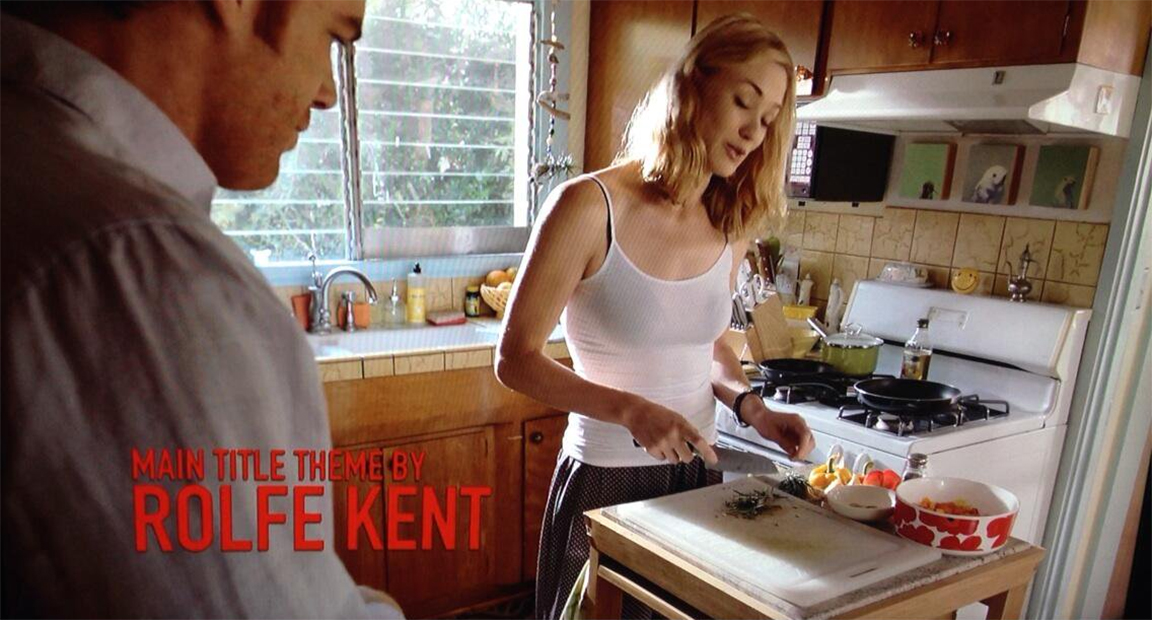 Dexter (played by Michael C. Hall) and his girlfriend use a Marimekko Unikko serving bowl while cooking in an opening scene.
8. Marimekko Mugs in Pretty Little Liars

The American teen drama and thriller Pretty Little Liars is loosely based on books of the same name by Sara Shepard. Fans of the show will quickly pick up on how often the young women drink coffee, often gathering at the local coffee shop "The Brew." It's only fitting that this scene should feature the colorful Marimekko Rasymatto mugs.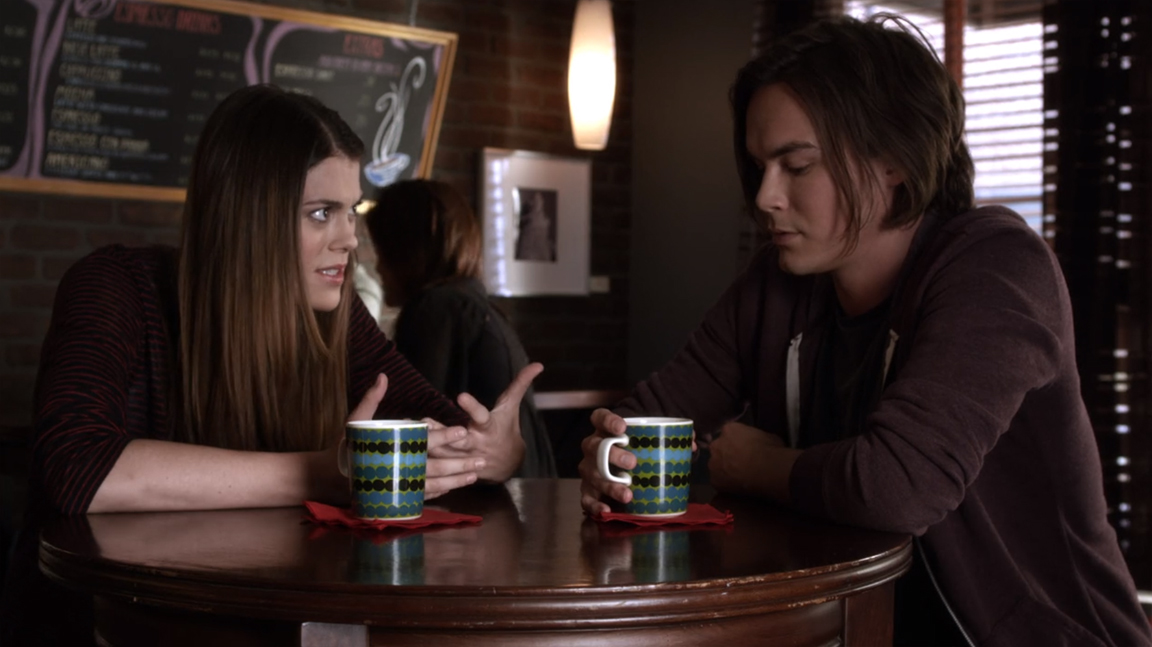 Characters Caleb (Tyler Blackburn) and Paige (Lindsey Shaw) have a discussion over coffee using Marimekko mugs.
9. iittala Taika on Grace and Frankie

Two women (played by Jane Fonda and Lily Tomlin) are brought together after their husbands announce that they are in love and getting married. The American comedy features an abundance of iittala Taika dinnerware, from plates to mugs.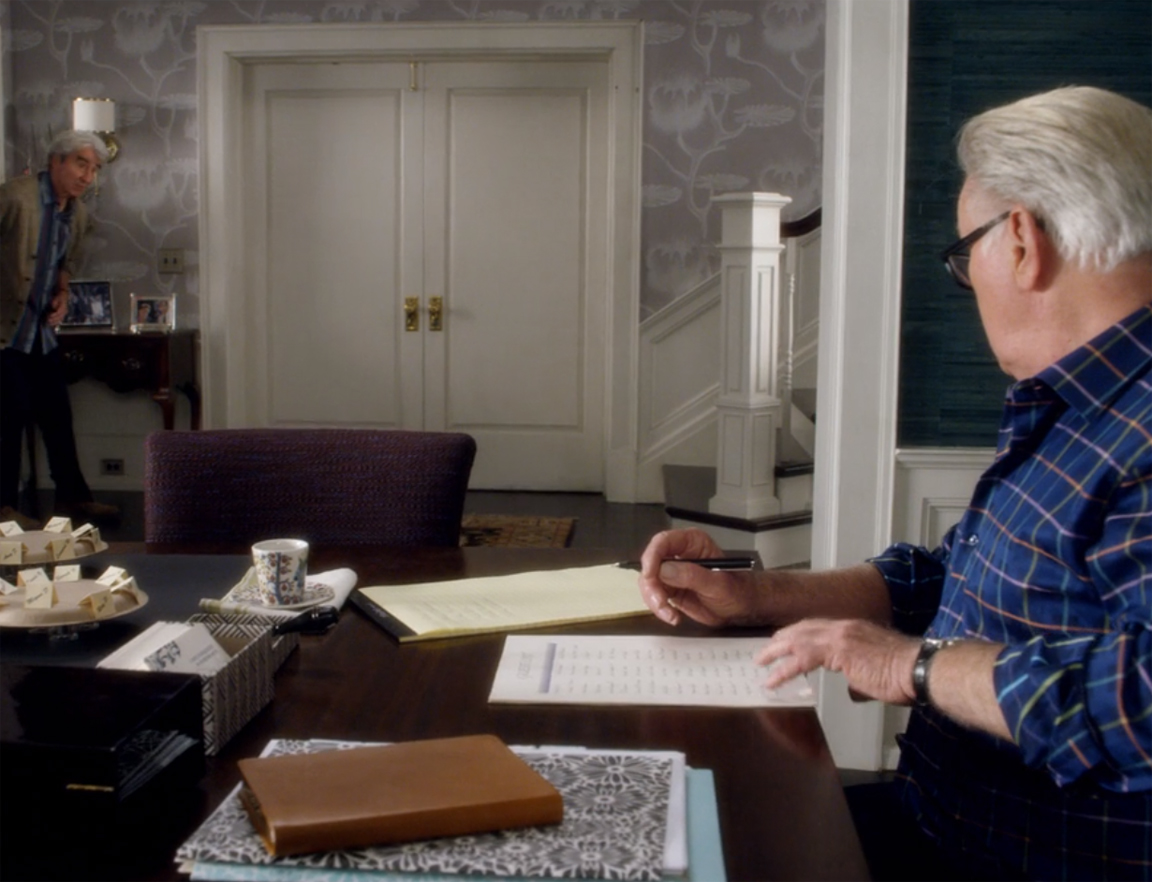 An iittala Taika espresso cup and saucer occupy a cluttered workspace.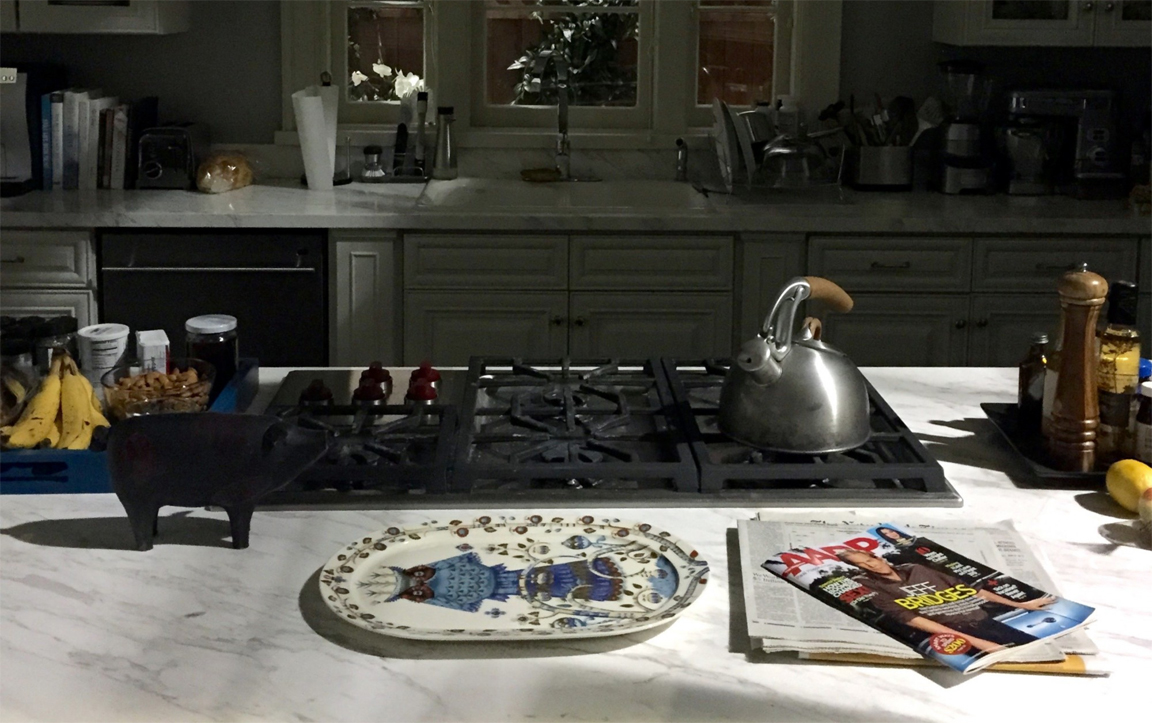 10. Arabia Paratiisi Plate in Madam Secretary

This traditional Finnish plate appeared in the CBS show Madam Secretary. Arabia Paratiisi was designed by Birger Kaipiainen in 1969, but remains one of Finland's most beloved tableware motifs.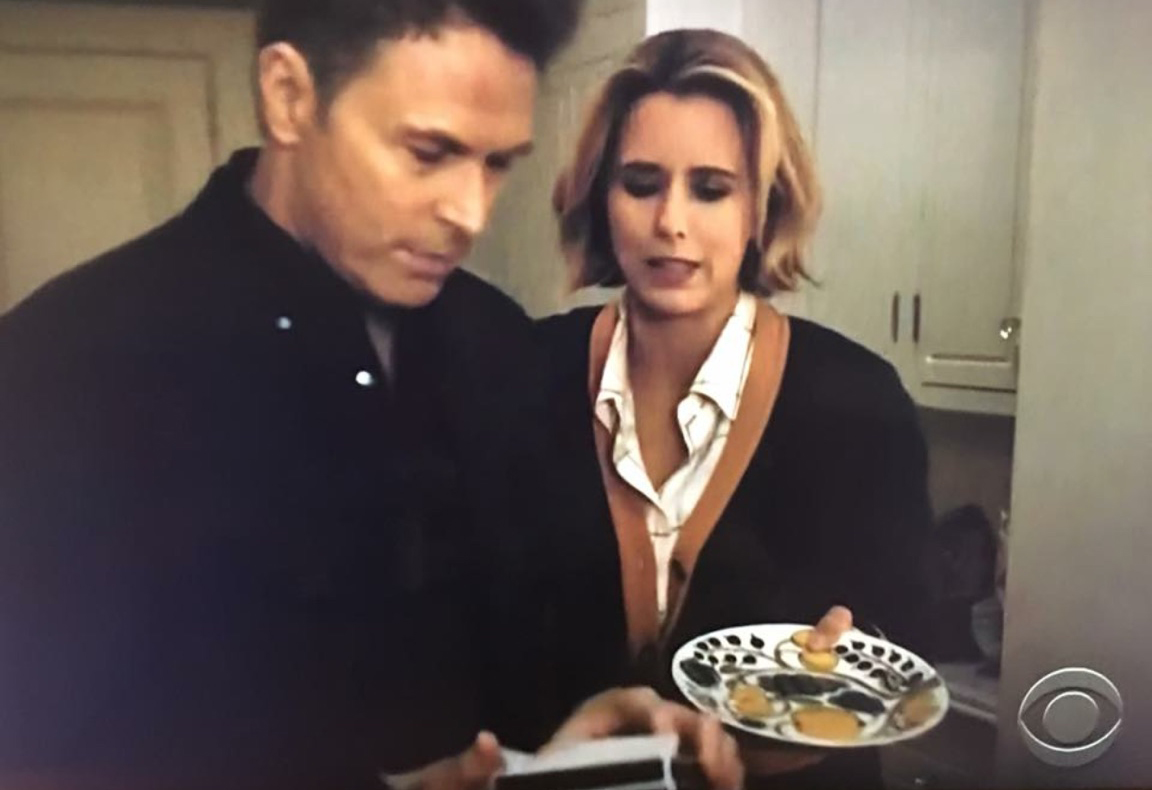 Secretary of State Elizabeth McCord (Tea Leoni) passes the Arabia Paratiisi plate in this still shot.
11. Tulip Chairs in Star Trek

Even those not familiar with Finnish design may recognize these famous seats. It's amazing how a mid-century modern design can feel so futuristic and resonate with so many. Designed by Eero Saarinen, the Tulip chairs were a prominent part of the Star Trek set. It's been revealed that the chairs used were actually a reproduction by Burke, but the design is indeed still a Finnish one.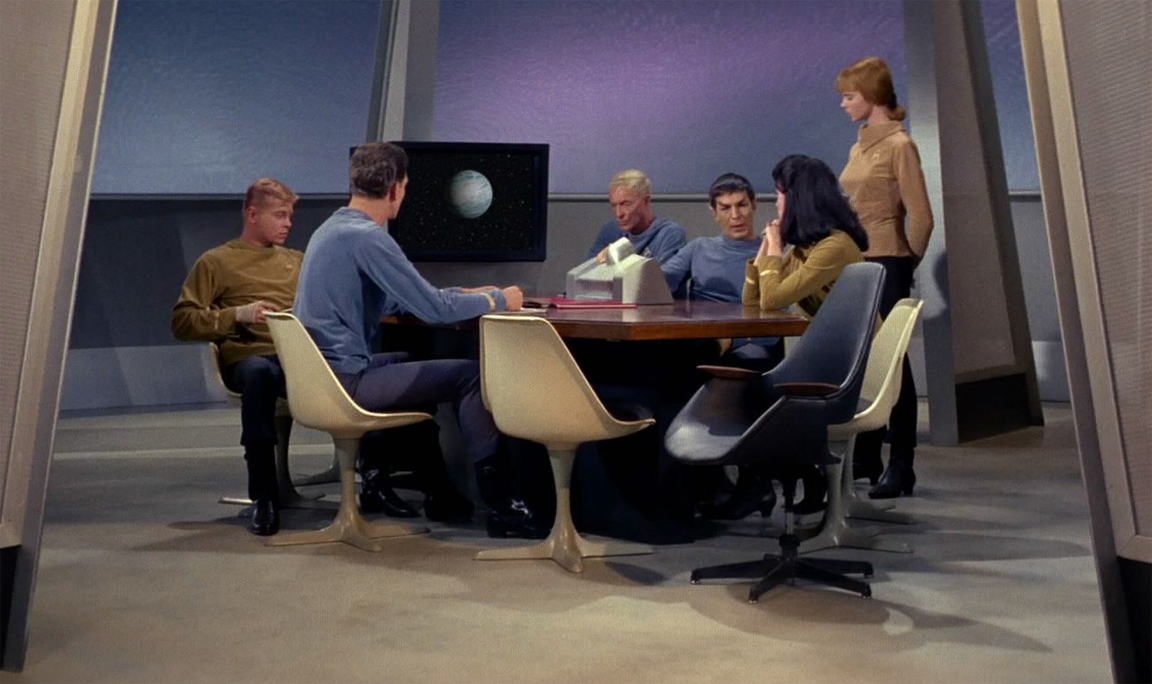 Star Trek has gained a cult-like following, much like the mid-century furniture used in the sets has.
12. Womb Chair in Down with Love

Down with Love came out in 2003 but it's set in 1962, making the decor a mid-century modern design fan's dream. One of the standout pieces of furniture was a pink Womb Chair, designed by Eero Saarinen.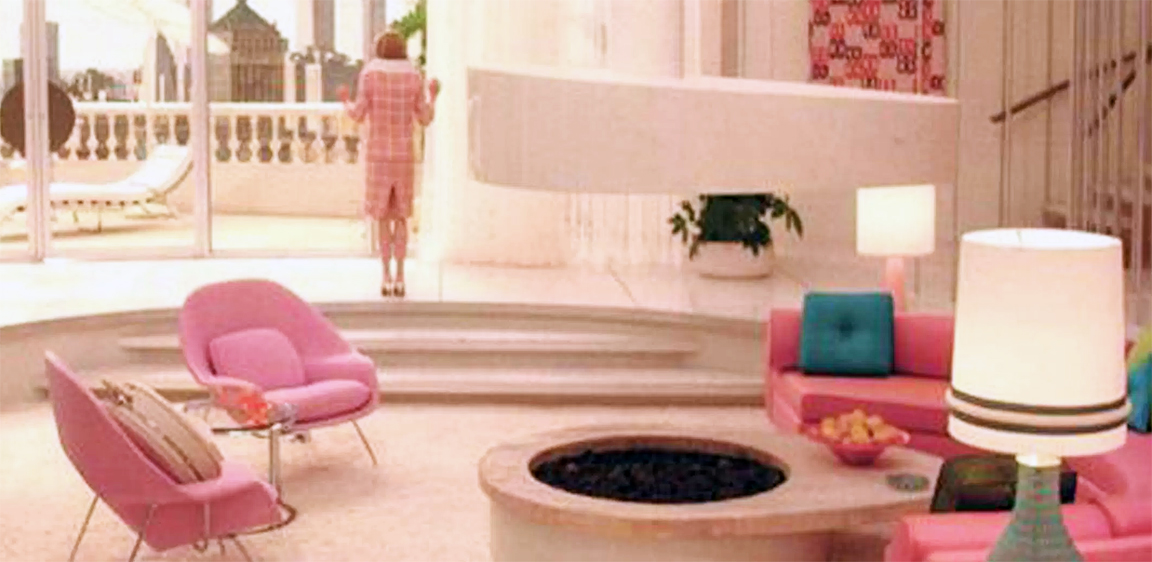 The perfectly pink living room from Down with Love, featuring Saarinen Womb Chairs.
13. Ball Chairs in Mars Attacks!

Retro and futuristic, Eero Aarnio's unmistakable Ball Chairs were the perfect choice for Mars Attacks! The 1996 film is a science fiction comedy and stars Jack Nicholson.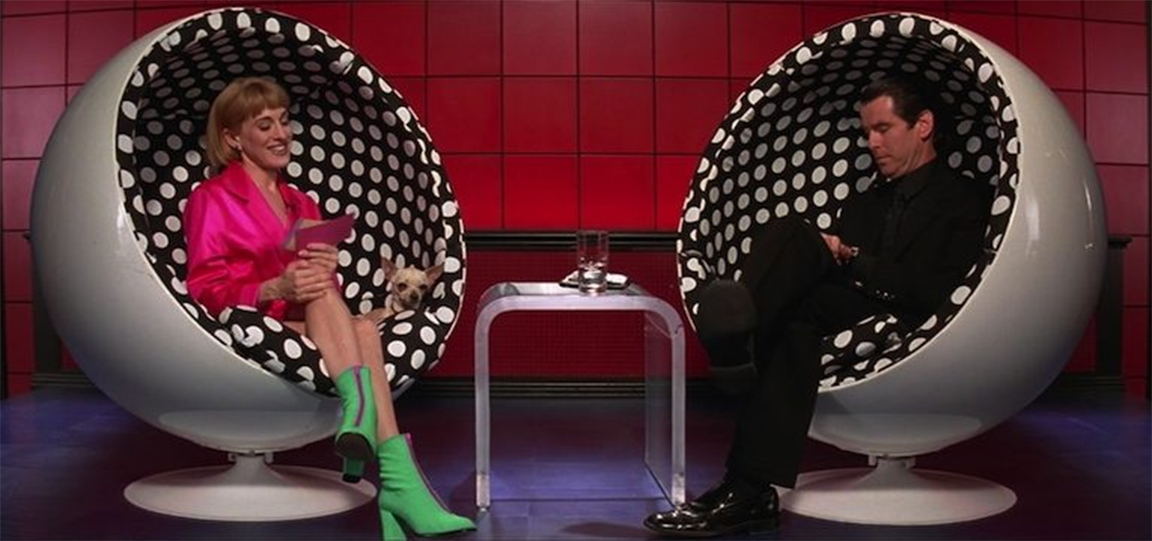 Eero Aarnio's famous ball chairs are often used to shoot model portraits.
14. Lapponia Necklace in Star Wars

Aptly named Planetoid Valleys, this necklace from Lapponia is a memorable piece worn by the late Carrie Fischer as Princess Leia in Star Wars. It quickly became one of the most renowned necklaces after 1977, when it was featured in the George Lucas film.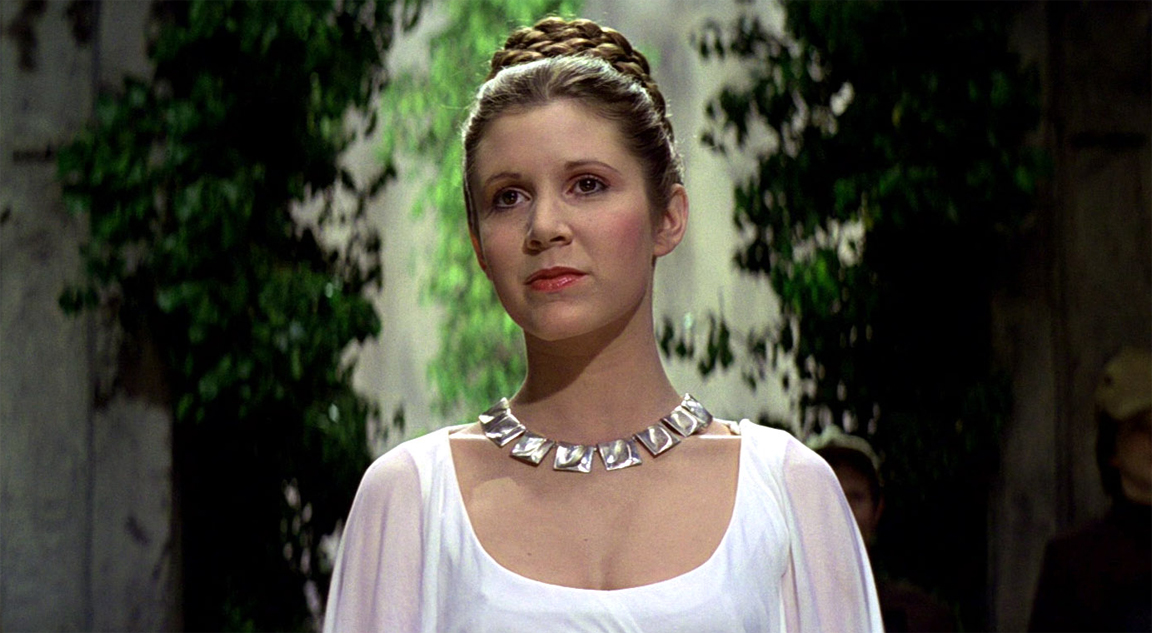 Worn in the final scene of the movie, this stunning Lapponia necklace was designed by Bjorn Weckstrom and is crafted from silver.
15. Tulip Table in Mad Men

It's no surprise that Mad Men should feature mid-century modern design, as the show takes place in 1960s New York. The show chronicles the Madison Avenue advertising firms, where offices are filled with desktops like that of this Tulip Table.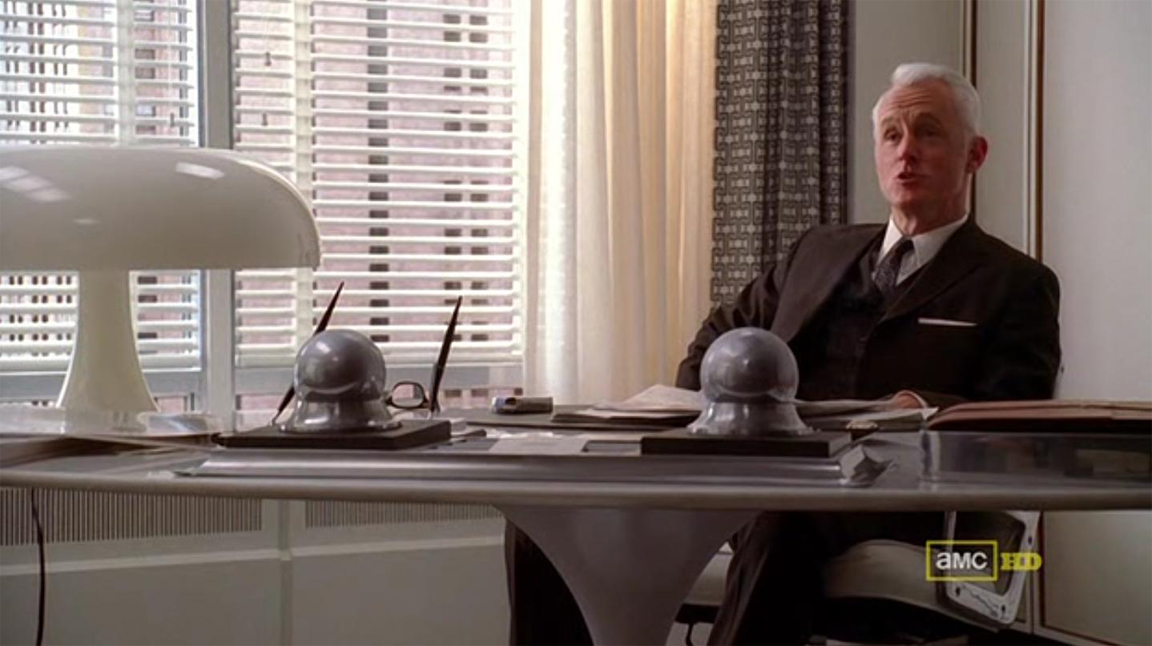 Designed by Eero Saarinen, the Tulip table complements the tulip chairs that appeared earlier in this post.