Marianne candies are a classic Fazer favorite. Each piece of Marianne candy has a crunch peppermint shell and is filled with mouth-watering Fazer milk chocolate to surprise the taste buds. Fill a small vase or tray with these for a beautiful holiday presentation thanks to the festive red-and-white striped wrappers. It's the perfect tasty treat at holiday parties, though they also make a unique after-dinner mint at restaurants or corporate events.

Ingredients: sugar, glucose syrup, cocoa mass, milk, vegetable oil (palm, shea), cocoa butter, skimmed milk powder, soy lecithin (emulsifier), natural flavor (peppermint oil), artificial flavor (vanillin). Contains: milk, soy. Manufactured on equipment that processes tree nuts, wheat.
ITEM #: FAZ-24351
COUNTRY: Designed in Finland, Made in Finland
Approximately 48 pieces of candy in one bag
Net weight: 7.75 oz (220g)
Please note: Only available for shipping within the United States.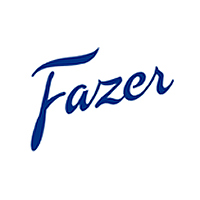 Considered a part of Finnish heritage, Fazer is a brand that most Finns have grown up with. Starting in 1891 as a small café in Helsinki by founder and Finland native Karl Fazer, Fazer has become one of the largest names in the Finnish food industry today. This brand is loved worldwide for ... More Fazer
100% Recommend this product
(
85
of 85 responses)
Marianne mint
May 16, 2023
So good!
By Rita
Mashpee, Massachusetts
Fazer Marianne Mint Candy bag
May 14, 2023
Love these mints. Grew up having them. Love the idea I can still buy them from you.
Anyone must love it
April 7, 2023
It does not have much mint flavor.
Great taste!
By Ginny
Pacific Northwest
Delicious mint with chocolate inside.
March 8, 2023
This is a classic mint, so delicious. Have a bowl ready at all times for a snack or for visitors.
Excellent inside and out!
December 24, 2022
Part hard candy and part soft, these candies have a gentle mint hard shell with chocolaty soft inside. Excellent tastes and textures, and even attractive wrapper and design on the candy. Quite a treat!
Marianne Mints
December 16, 2022
Great tasting mint and chocolate.
One of our favorites!
November 17, 2022
One of our favorite Finnish candies for sure. Love the creamy center!
My All Time Favorite
October 20, 2022
These are sooo good! Crispy mint coating on the outside, smooth chocolate inside.
What a treat!
Arrived on time, no problems, was just what I wanted
By Cheryl
Libertyville, Illinois
My 10 yo granddaughter brought these to share with her school today. She chose Finland for an International Day!
Perfect After Dinner Treat
February 3, 2022
I love these mints. They are the perfect after dinner treat. I am not a sweets or dessert person, but sometimes I want a little something after dinner. These mints are perfect. The chocolate inside is very high quality. A definite repurchase!
Always a favorite
January 1, 2022
Great tasting Finnish candy. A favorite.
Delicious candies
December 29, 2021
Ordered for the family for Christmas. Easy to order, arrived on time, no damages, all good !
I will definitely order from Finnstyle again
By Catherine W.
Minnesota
Marianne
December 28, 2021
A gift for one of my grandkids, so I have yet to hear her review. However, it is expected to be excellent'
Awesome!
December 5, 2021
Theese candies are awesome! Been eating while quitting smoking.
My family loves Marianne candy so I bought a bag and had Finnstyle deliver it to a friend. This is what she wrote about receiving the gift: " I think they have captured two of the finest combinations possible. I am savoring one now as I type, excellent chocolate with just the right amount of peppermint. It always feels like a little visit to another country when tasting foods or a treat..."
Great gifts and delicious
February 15, 2021
This candy is a perfect blend of mint and chocolate, not too overpowering mint and a perfect chocolate that melts in your mouth. I keep bags of these on hand for special thank you gifts if someone has done something nice for me and when they taste them they love them and usually tell me how addicting they are, you really can't just have one.
Delicious candy
February 15, 2021
Love the melt in your mouth flavors and textures.
It is such a treat.
Absolutely amazing!
January 24, 2021
My mother is from Finland and would receive all kinds of candies and goodies in packages from her parents throughout our childhood. These particular ones were one of our absolute favorites! Mint and chocolate. Need I say more? They're just as delicious as in my childhood, and I'm so glad we know where we can buy them!
Pros
Taste, value, fast shipping
By Linda
Portland, Oregon
These are beyond delicious!
December 25, 2020
These are absolutely the very best candy in the whole wide world! I purchased them to fill Christmas stockings, and they were loved by everyone.
Delicious candy
December 17, 2020
Marianne candy by Fazer is my personal favorite. Delicious combination of flavors.
Terrific candy
December 17, 2020
You can't go wrong with Finnish candy.
Fazer Mariannes
December 12, 2020
I love these. No need to say more.
very fesh
December 2, 2020
Well package, candies are fresh as expected.
By Katerina
Bakersfield California
Memories from home
November 2, 2020
I love Marianne candies. They remind me of my home Turku Finland and childhood. I have only been able to buy them when I travel to Finland so I was so happy to find them in the states.
Sweet finish
October 29, 2020
This was the first candy I tried on a trip to Finland several years ago. It begins as a refreshing peppermint, and ends with a note of chocolate filling. It's a great Christmas or holiday candy. I know it's one I'd like to find in my stocking on Christmas morning.
By Eleanor
Washington, D.C.
Tasty mint chocolate treats
May 1, 2020
Hard mint outside, small bit of chocolate inside. Great for when you just need a quick bite of something sweet.
By Rosemary
Havertown, PA
Stress relief
April 29, 2020
When your favorite candy that can only be found in Finland, and you're at home during a pandemic, you order stress relievers!
Soooo good! Very pricey though compared to what you pay for it in Finland but didn't mind it this once just to get a delicious reminder of home. ;)
By Barbara
Prescott Valley, AZ
The best mint chocolate
January 5, 2020
I have loved Marianne Mints from the first time I ever tasted them. I was so excited to find this site, and I buy the mints when they are on sale.
Pros
Fresh mint chocolate taste!
Wonderful products and fast shipping!

By Andrea
Apple Valley, Minnesota
Special blend of mint and chocolate; my granddaughter's favorite.
December 27, 2019
This was an unusual, unexpected treat for the kids in their Christmas stockings !! They especially love the red Marianne sweets !!
Pros
Greet stocking stuffer, for Easter baskets, for an extra little something to tuck in with a present, to have in a pretty bowl on your buffet table.
Love Marianne
December 23, 2019
Always good candy.
another classic long-time favorite
December 22, 2019
We used to eat these daily when I was a girl. The mint is crisp and the chocolate inside is lovely. I can't say more.
By Carolyn
Dripping Springs, TX
Great candy
December 10, 2019
Great candy for Christmas. Not too sweet.
By Solveig
New Mexico, US
My grandchildren's favorite Finnish candy
November 30, 2019
Personally I find the mint candy cover too thick compared to the original ( year and years ago.)
I give then at times as hostess gifts but repack them in nice red and white boxes of my own design.
The plastic bag seems a little "flimsy†for a gift cover. I just cut out the product description and put it inside the box with the candy. ( makes it easier to wrap as well.

Pros
Attractive candy wrapping.. reasonably prized. Guests love them as After- dinner Mints.
Cons
The plastic bag is not a plus.
I?d prefer a non-plastic box, which is environmentally more correct.
Delicious
November 29, 2019
Bet can't eat just one... I'm not a big fan of candy but these are just simply delicious.Perfect mix of mint and chocolate.
Had to hide the bag!
February 3, 2019
Marianne candy is so delicious that I had to hide the bag from the family before it was all gone the same day it arrived! I had first tasted it in Finland on a trip and was hooked on the wonderful mint and chocolate flavors after one bite.
Frazier Marianne mint
January 26, 2019
Smooth and soothing after dinner mint
Great service
December 2, 2018
I'm very satisfied with the speed and quality of the customer service. Love Marianne candy. Glad i know that it's so easy to purchase.
Yummy AND pretty!
May 8, 2018
Love these pretty little wrapped candies (and they're delicious, too)! With the red and white wrapper, they look particularly festive set out for the holidays. I look forward to having these around the house every Christmas! I've also used these as small hostess gifts, or if a friend needs a pick-me-up, and they are always a hit.
I love the thin crispy minty shell and the chocolate inside is perfectly balanced; not too sweet and oh so creamy!
Delicious Mariannes
December 7, 2017
When I was growing up, we always received a bag of Mariannes from relatives in Finland at Christmas. I continue the tradition by ordering them for my family every year. It wouldnâ€â"˘t be Christmas without them! And they are still just as deliciousĂ°Ĺ¸Ëœâ€ą
By Raili
Salt Lake City, Utah
Delicious Marianne!
November 21, 2017
I completely like and appreciate your shipment of one of my favorite candies. The price is
moderate, the items were carefully packed and sent quickly. Thank you very much. I am enjoying
the candy from my native country.
By Cheryl
Denver Colorado
Simply the Best!
September 29, 2017
These have to be the best candy on the planet! The mint shell surrounding the creamy dreamy dark chocolate... the Best!
These candies literally melt in your mouth, and when they do, you'll be rewarded with a rich taste of chocolate. Also, my girlfriend's name is Marianne, so what's not to like?
These are a kick back to my time in Finland and they do not disappoint! Crispy minty shell and delicious, creamy dark chocolate in the center. Incredible combination!
A sweet chocolate filling wrapped in delicious mint. They are wonderful.
The best candies ever
March 19, 2017
All my American friends LOVE this candies. The combination of the hard mint shell and the fab Fazer chocolate inside is unbeatable. I give these as gifts all the time.
Pros
So very, very good. Put one in your mouth and wait for the candy shell to break and the chocolate to ooze out; heaven.
Delicious and Best Price
February 22, 2017
I remember my grandmother having these when I was younger. These are absolutely delicious and look great in my small iittala dewdrop bowl! These are definitely best price anywhere!
Pros
Delicious, best price, beautifully wrapped.
Fazer Marianne Mint Candy
February 18, 2017
New packaging is very nice. Of course these candies are so delicious!!!
Such a great candy on it's own and super to use making peppermint bark.
Childhood memories
December 24, 2016
They were fresh and delicious. Fast shipping. Favorite candies from my childhood. Will be ordering again!
Pros
Fast shipping
Fresh product
Delicious!
Mmmmm Good
December 15, 2016
The chocolate surprise inside the mint is out of this world.
By Pauliina
Denver Colorado
Marianne candies are such a treat!
November 19, 2016
I love these candies and wish I could find them here. Love the hard coating over the chocolate! Remember eating them with cousins years ago....
Pros
Wonderful flavor and texture combinations
Fazer Marianne Mint Candy bag
November 19, 2016
great service, if you like mint, then you must try this candy. Great taste.
The BEST mint chocolates EVER!!!
October 17, 2016
I had these when we were on a trip to Stockholm and found them in a duty free store. I bought a huge box and finally found them here. The hard thin mint shell and the delicate chocolate center are an amazing combination and sure to please. They are addicting, so expect to buy a couple or more bags.
By Jane B.
Mobile, Alabama
Don't know what this means
May 14, 2016
Love it.
These are delicious and as good as I remember for many years
Marianne Mint Candy
March 30, 2016
They have always been my daughter Marianne's favorite candy, deservedly so!
Found at last
March 25, 2016
I had these decades ago at a Scandinavian place in NYC and happy to find them again! Crisp outside, soft inside
By Carol S.
Castro Valley California
After meal mint
February 3, 2016
Bought all three; Fazermint Chocolate Creams (bulk box), Fazer Marianne Mint Candy Bags, Fazer Marianne Toffee Mint Candy Bags. I mix them up and make a variety gift bag for when I'm invited as a guest at their home, theater, restaurant, trips, bowling...you get what I do. Everyone loves the little nice mint treat.
Pros
A yummy after meal mint, or with cup of coffee, or hot chocolate.
Placed order and was emailed with tracking number and invoice immediately.
Delivered promptly and packaged well.
Great Customer Service
Addictive little candies
December 19, 2015
My favorite - can't get enough of these mint and chocolate candies.
Perfect combo of mint and chocolate
December 11, 2015
Hard mint candy on the outside and chocolate on the inside is a perfect combo. I just need one after dinner! I originally bought them out of intrigue but when my mother saw them, I was thrilled. She remarked how she hadn't had them in a long time and they really put a smile on her face. I can leave them in a dish on the counter but because of the texture combo, no one scarfs them down, and they last a while.
delicious candy
November 24, 2015
I bought Fazer products for myself and friends.
So Good!
November 5, 2015
I have been looking for these mints for some years. I used to get them at a large Scandinavian distributor (and I was willing to make the 2-hour drive north for them!), but they were discontinued quite a while ago. So needless to say, from a true peppermint and chocolate connoisseur, these mints are delicious and I love that I can find them again.
Finnstyle was very prompt and efficient in their responses, packing the correct order and shipping the order, and I believe I received my package of chocolate peppermint bliss within 5-6 days of placing the order. I expect to pay shipping on a smaller order, and the costs were reasonable. I am a happy customer! Thank you!
And of course, please keep carrying these mints and other yummy fine European items!!
Choco with a Hint of Mint
October 30, 2015
These are so yummy with their hard crunchy minty core and soft chocolate belly. They are even pretty to look at!
Cons
A bit high priced but cheaper than a trip to Finland!
Fantastic
October 20, 2015
A Swedish friend gave me one and I immediately ordered several bags to share with friends. Delicious.
Pros
Minty shell with rich chocolate inside
This candy is the best. I love it and everyone I give a piece loves it too. Keep selling it.
By Mark H.
Kaysville, Utah
Love this candy!
December 29, 2014
I started eating this candy when I lived in Finland, and can never get enough! There are many great Scandinavian candies, but this one may be the best!
By Tom
Berkeley, California
Addictive!
December 27, 2014
The hard candy shell and the slightly minty chocolate inside are a killer combination! Used to buy them on Amazon, but they are cheaper and fresher here on FinnStyle! Once you try them, you are going to start watching FinnStyle for candy sales, guaranteed.
fazer marianne
November 22, 2014
Peppermint hard shell with fazer milkchocolate filling. A great combination. And as always the best sweets in the world are made by Fazer :)
best candy ever
October 20, 2014
this is my favorite candy. every time I go out with friends they are always expecting me to have some with me for treats.
once you get to the chocolate, it is heaven.
By helena t.
travelers rest , sc
excellent item, good flavor
April 11, 2014
fast shipment, nice package
Very good mints!
March 29, 2014
These candies are delicious! They are subtle mints with a delicious chocolate center. I brought them in to my office to share and the whole bag was gone in 10 minutes!
These are the best mints I have ever had. Learned of them from an exchange student from Finland that we had in 1988. I love these mints.
By Melissa S.
Jacksonville, FL
Excellent
December 3, 2013
One of my favorites!
FAzer Marianne Bag
May 21, 2013
I am originally from nland and I learned to love this candy11 I still do and now I can buy it in the USA. Thank you.
By Jeff E.
Southern Illinois
Best Candy Ever
February 16, 2013
I grew up in Finland, and as a child I loved these minty little delicacies!
I moved the the States where I couldn't get these ANYWHERE, except
for Christmas on occasion. But now I've finally gotten my hands on these
again, and it lets me enjoy that slice of Finland once again! This site not
only had the best price, but shipped super fast!
Pros
Not overwhelmingly minty, delicious chocolate on the inside!
Cons
The wrappers prevent me from getting to them faster.
FAZER MARIANNE CANDY
February 8, 2012
THESE CANDIES ARE TO DIE FOR! MY WIFE MARIANNE AND I FIGHT OVER THEM! I HAVE TO HIDE THEM FROM HER.
Pros
BEST HARD CANDY I EVER HAD.
Cons
WHAT'S NOT TO LIKE. PRICE IS HIGH BUT SO IS THE QUALITY. SAVE FOR SPECIAL OCCATIONS.
By constance
Sartoga Springs, NY
winter in helsinki
December 3, 2010
delicious and friends love them
Pros
real mint flavour. creamy chocolate and festive
Helsinki in December
claire Friedman
from Topeka, Kansas asked:
October 25, 2013
how many pieces are in each package?
1 Answer
The number of pieces is not listed on the packaging, as they are measured by weight rather than quantity. However, if I had to guess I would say around 40-50 pcs in each bag
Submitted by:
FinnStyle Staff
on October 28, 2013