Treat yourself to 200 grams of chocolaty, raisiny, hazelnutty goodness. When you taste this superior chocolate you'll understand why Fazer brand chocolate is loved not only in Finland, but worldwide.

Comprised of delicious Fazer milk chocolate with raisins and hazelnut pieces, this chocolate bar is nothing short of indulgent. Delight in the taste this gourmet treat from Fazer, and be sure to order extra to give as appreciated gifts to the host or hostess during the holiday season.

Ingredients: milk, sugar, cocoa butter, cocoa mass, raisins, hazelnuts, emulsifier (sunflower, soya lecithin), salt, flavorings (natural vanilla). May contain traces of nuts, almonds and wheat.

Please note: Best by date is February 2012. Only available for shipping within the United States.
ITEM #: fazer-chocolate-raisins-hazelnuts
Weight: 7 oz (200g)
Made in Finland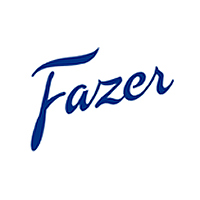 Fazer is a brand that most Finns have grown up with; it's considered part of Finnish heritage. Those who are introduced later in life to the famous Fazer chocolate may have a hard time going back to their old favorite candy bar. Fazer is loved worldwide for its delicious taste, quality ingr... More Fazer