In 2000, iittala Arabia started a collectors' series of art plates. Finnish fables that imaginatively tell about folklore and the richness of Finnish nature were selected to be the theme of these collectors' items. Two art plates – one square and one round – that depict the animals and plants that appear in the stories are released each year.

For 2011, iittala Arabia presents us with an ant and reindeer lichen. This pair of art plates is based on the fable titled, "The Tale of the Raven and the Ant."The Tale of the Raven and the Ant

A raven and an ant made a bet on who could carry the biggest stone. They agreed that the stone had to be as big as them. The winner would receive all of the eggs in the loser's nest. The ant made the first attempt. Using her jaws to seize a stone her own size, she hauled it to the topmost braches of a tall pine. At the tip of the highest branch, she reared onto her hind legs and hoisted the stone aloft upon her forelegs.

Next came the raven's turn. With her beak she grasped a stone her own size, but was unable to lift it off the ground. And so she lost the bet. The raven then turned to the ant and said, "Beloved ant, I do not dare lay a single egg while you are at large, but shall do so in the early spring, when you are still deep in your winter slumber." Ever since, the raven has made her nest and laid her eggs while the winter still grips the land. At that time, the ant is still hibernating and cannot climb the raven's tree to steal its eggs.
MEASUREMENTS: 8" L x 8" W (20 x 20 cm)
BRAND: iittala
DESIGNER: Eeva Sivula & Pekka Toivanen
PRODUCT FAMILY: Wall Plates
ITEM #: AP500488
MATERIAL: Porcelain
Collectible wall hanging plate
Color scheme: Turquoise and Blush
Care: Handwash only
Includes a hook on the back of the plate for hanging on your wall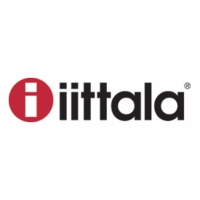 First founded as a glassworks company in 1881, iittala is now a leading company in modern Finnish design producing a range of dinnerware, glassware and art pieces. You'd be hard-pressed to find a Finn or fan of Finnish design that doesn't recognize the iittala logo, designed by Timo Sarpane... More iittala